When was the last time you've switched on a radio? In your car, maybe. And at home? In the kitchen? In your garage? And when was the last time you've listened to music from a tape?
Most (publicly funded) radio stations in Germany suck, as they often only play dumb music ("Formatradio") – so if you're into music and live in Germany, you'll probably prefer golden silence or music from an mp3 source.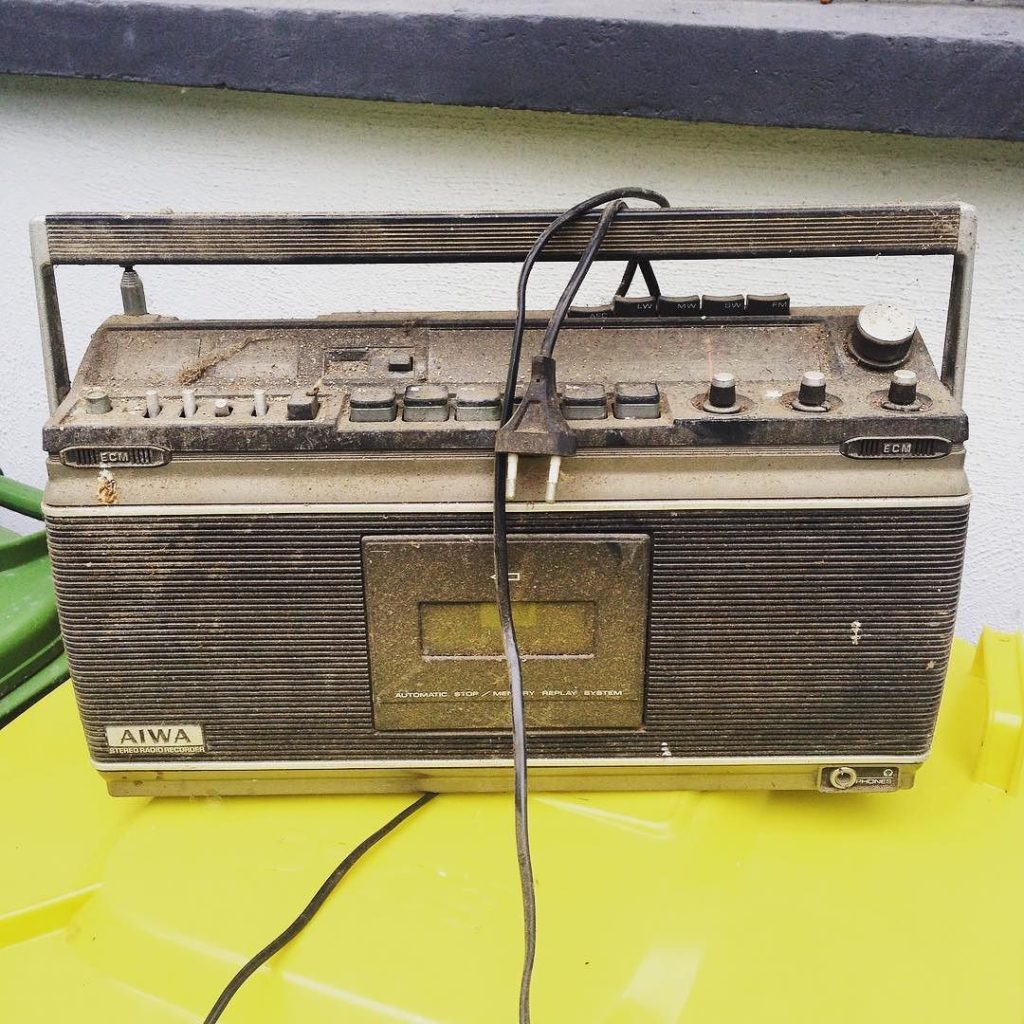 If you're a fan of radios though, have a knack for fixing stuff and don't mind the space vintage equipment takes up in your tiny city apartment, then you probably can't let go when you come across a neglected radio full of chicken shit and which has a need for some TLC.
And here's why:
Japan, Kenya
Back in 1975, my father bought a stereo radio cassette player in Japan. An AIWA TPR-930 which was top-notch back in the days, with an extra switch for CrO2-tapes and one for loudness, a great Line-In, 2 VU-meters, 2 internal mics and 4 speakers. And everything in a densely packed box which also has connectivity for the 12V from a car or a set of batteries. Hence the perfect boombox, it seems.
This radio served us well and it was quickly followed by better radios and tape decks, like the Sony CFS-D7 which my father liked SO much that he bought two! And he used these Sonys to record heaps of tapes with classical music from the Japanese NHK broadcast back in the days. We still have all these tapes. On top of that, we also have a Nakamichi Dragon which – in 1983 and probably also later on – represented the high-end of consumer tape decks. Living in Japan also meant that you had a much better access to high-tech audio equipment. Soooo… radios have always played a part in my life, I guess, and this AIWA TPR-930 was my "first Sony Aiwa".
In 1996, this Aiwa TPR-930 was given to our good friend Stephen "Githingithia" Kamau wa Gitau, who had it repaired by some jua kali artists and used it in his shack in Kangemi. Notice the DIY-knobs and the missing cassette compartment. 2006 – that's like 10 years ago! Doooh.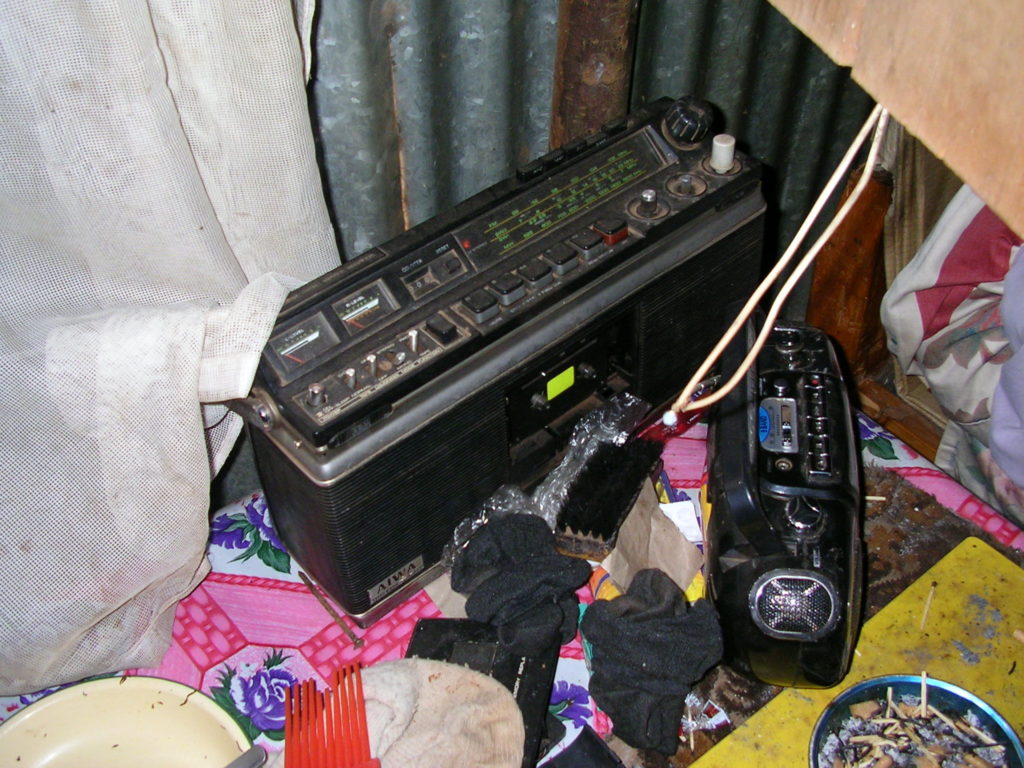 Germany
Last week, a friend of mine called me and asked for some help, cleaning out a garage full of vintage hardware that her late father had collected over the years. Outside the garage, on a wooden ladder and near the old chicken coop, there was another AIWA TPR-930, but as a German version with DIN-connectors for Line-In/Out/speakers and a German description on the frequency band. So OF COURSE I asked if I could have this radio and refurbish it to restore its old glory. This radio represents part of my childhood, and as a radio ham, radios are more important to me than computers.
Refurbishing meant a total dissassembly, washing all exterior parts, cleaning the interior, replacing three old belts (which I still need to fix again) and reworking some dry contacts inside. All capacitors still seem to be ok, but should probably also need to be replaced soon. The overall build quality of this radio is very nice. It's a joy to see this kind of engineering and an honour to refurbish such vintage radios. This radio is as old as I am! And oh boy, isn't it sexy?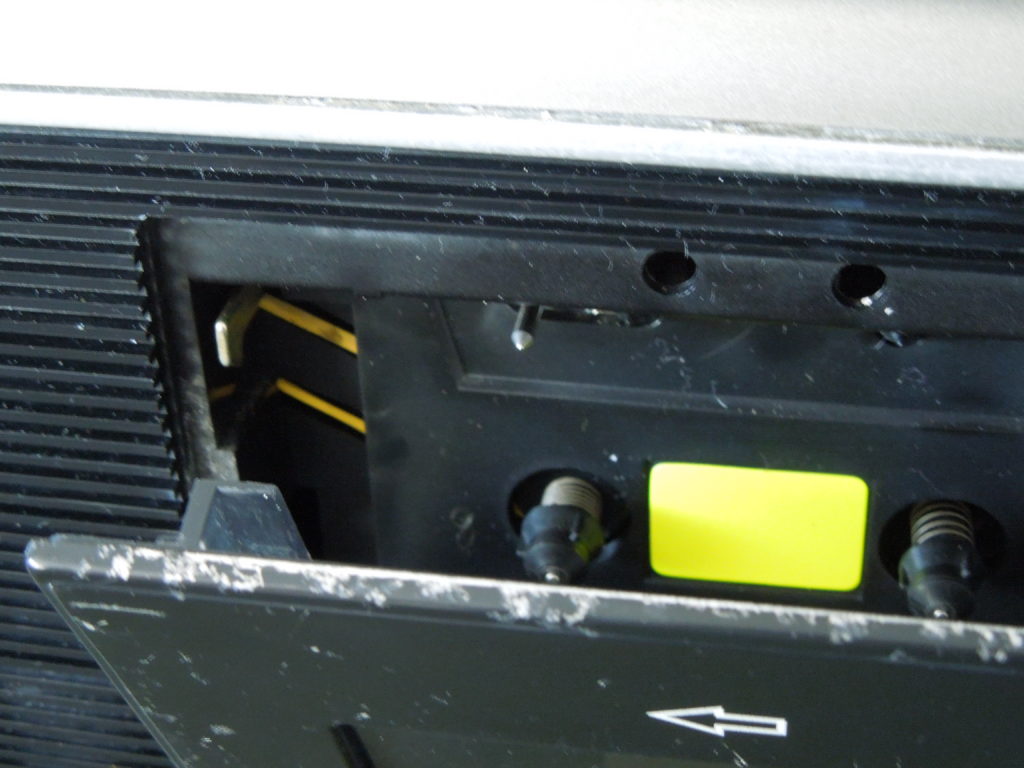 I will keep this one next to my Nordmende Globetrotter Amateur. Vintage radios are great!