Plans for satur­day* actual­ly inclu­ded a visit @ Nani in Kiten­ge­la and taking a refres­hing bath @ Maa­sai Lodge, but things tur­ned out com­plet­ly dif­fe­rent. And better.

Waru­ku (~ New Mut­hanga­ri), Nai­ro­bi, Kenya
I'm lea­ving on Wed­nes­day and I still wan­ted to meet my old friend Ste­phen Kamau wa Gitau who has spent the last 30 years living in Waru­ku — that area bet­ween Kan­ge­mi and Mut­hanga­ri (poli­ce sta­ti­on) in Nairobi.

Wel­co­me to Waru­ku, home of Nai­ro­bi River! Ima­gi­ne I used to catch crabs here while gro­wing up in this neighbourhood…aterere…
As a mat­ter of fact, i recent­ly blog­ged about him as I was goog­ling for "Waru­ku" and came across a sto­ry in the DN about his son who'd been taken away (and shot?) by the poli­ce for no spe­ci­fic rea­son. The sto­ry also fea­tured a pic of him – so I knew they were tal­king of him. Mee­ting him on my 3 weeks stay in Kenya immedia­te­ly beca­me a man­da­to­ry task.
The idea was to track him down in Waru­ku by asking peop­le from pla­ces he'd most likely visit: the local bar/pub. Which I did.
I descri­bed him to one of the bar­kee­pers ("old man, big bel­ly, fun­ny – Kiri­ma-1970s-hairstyle", full name) and soon got the desi­red ans­wer that Kamau actual­ly lives near by.
We hadn't seen each other for ten yeas and I often won­de­red what he'd be up to the­se days.
Someo­ne from the bar show­ed us the way and when I saw him stan­ding the­re in the crowd that curious­ly fol­lo­wed the work of ONE man in a Cater­pil­lar (dig­ging up the road), I just couldn't belie­ve that he actual­ly lives at the very same spot I assu­med him to be during all tho­se years.
Kamau, who's nick­na­med Git­hin­githia (ear­th­qua­ke) due to that Git­hin­githia song he often play­ed, now owns a small duka in the midd­le of Waru­ku – some 30m away from Nai­ro­bi River. Busi­ness isn't that good, but he somehow mana­ged to sur­vi­ve and con­si­de­ring that he never lear­ned how to read or wri­te, he's still doing fine with his ~66 years and has remai­ned the same per­son during all the­se years: a strong, inde­pen­dent sur­vi­vor who knows how to feed 15 child­ren and to remain very popu­lar among his neighbours.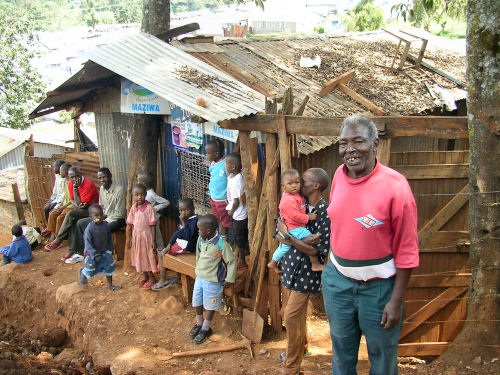 Ste­phen Kamau "Git­hin­githia" wa Gitau in front of his duka
Mee­ting Kamau "Git­hin­githia" after all the­se years real­ly made me very hap­py and I pro­mi­sed to arran­ge some sort of Haram­bee for him among tho­se ppl he's been working for before.
And the best thing: I have the con­ta­ct details of his most favou­rite joint – so whenever I feel like get­ting in con­ta­ct with him, I can just send a short mes­sa­ge or even "assist" him in one way or ano­t­her as I con­si­der him part of my exten­ded family…
NB: Mama Dak­ta­r­im­bi­li, the Lady who runs that Medi­cal Office in Waru­ku next to the bar and who open­ly fights with tho­se drunkards who­se wifes are her bea­ten-up cus­to­mers, put this sign on the bench for her cus­to­mers. She told me that the Soma­li refu­gees, who seek assi­s­tance at this Soma­li branch in Waru­ku every day, nor­mal­ly occu­py and van­da­li­se it, so she was for­ced to teach them a les­son in her own style.…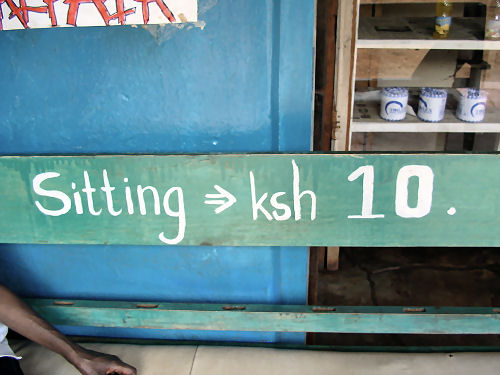 With women like her (yes, tha­t's her arm :-), I know what Madar­a­ka real­ly means and what kind of dai­ly strug­gles Ken­yans take upon them sin­ce Independence…
(*= I wro­te this on Sunday, 28th May while stay­ing in NBO…)