Plans for saturday* actually included a visit @ Nani in Kitengela and taking a refreshing bath @ Maasai Lodge, but things turned out completly different. And better.

Waruku (~ New Muthangari), Nairobi, Kenya
I'm leaving on Wednesday and I still wanted to meet my old friend Stephen Kamau wa Gitau who has spent the last 30 years living in Waruku – that area between Kangemi and Muthangari (police station) in Nairobi.

Welcome to Waruku, home of Nairobi River! Imagine I used to catch crabs here while growing up in this neighbourhood…aterere…
As a matter of fact, i recently blogged about him as I was googling for "Waruku" and came across a story in the DN about his son who'd been taken away (and shot?) by the police for no specific reason. The story also featured a pic of him – so I knew they were talking of him. Meeting him on my 3 weeks stay in Kenya immediately became a mandatory task.
The idea was to track him down in Waruku by asking people from places he'd most likely visit: the local bar/pub. Which I did.
I described him to one of the barkeepers ("old man, big belly, funny – Kirima-1970s-hairstyle", full name) and soon got the desired answer that Kamau actually lives near by.
We hadn't seen each other for ten yeas and I often wondered what he'd be up to these days.
Someone from the bar showed us the way and when I saw him standing there in the crowd that curiously followed the work of ONE man in a Caterpillar (digging up the road), I just couldn't believe that he actually lives at the very same spot I assumed him to be during all those years.
Kamau, who's nicknamed Githingithia (earthquake) due to that Githingithia song he often played, now owns a small duka in the middle of Waruku – some 30m away from Nairobi River. Business isn't that good, but he somehow managed to survive and considering that he never learned how to read or write, he's still doing fine with his ~66 years and has remained the same person during all these years: a strong, independent survivor who knows how to feed 15 children and to remain very popular among his neighbours.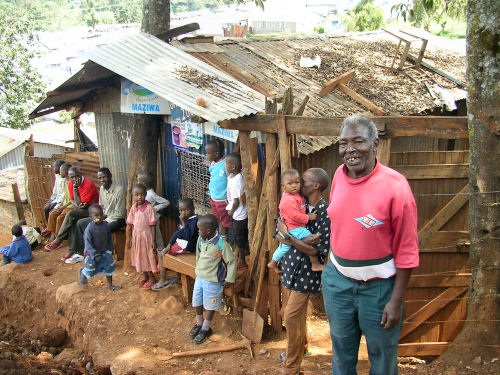 Stephen Kamau "Githingithia" wa Gitau in front of his duka
Meeting Kamau "Githingithia" after all these years really made me very happy and I promised to arrange some sort of Harambee for him among those ppl he's been working for before.
And the best thing: I have the contact details of his most favourite joint – so whenever I feel like getting in contact with him, I can just send a short message or even "assist" him in one way or another as I consider him part of my extended family…
NB: Mama Daktarimbili, the Lady who runs that Medical Office in Waruku next to the bar and who openly fights with those drunkards whose wifes are her beaten-up customers, put this sign on the bench for her customers. She told me that the Somali refugees, who seek assistance at this Somali branch in Waruku every day, normally occupy and vandalise it, so she was forced to teach them a lesson in her own style….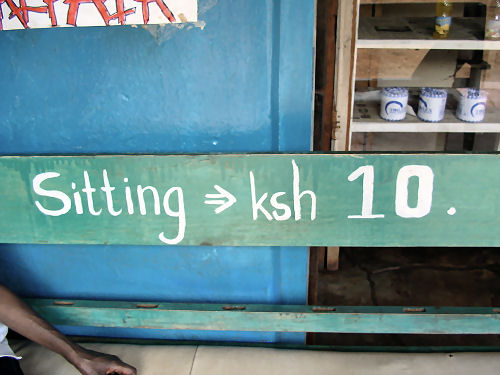 With women like her (yes, that's her arm :-), I know what Madaraka really means and what kind of daily struggles Kenyans take upon them since Independence…
(*= I wrote this on Sunday, 28th May while staying in NBO…)