Kikuyu­mo­ja (form­er­ly Kikuyu­mo­ja's Realm) is my web­log and covers just about ever­ything that does­n't fit into my sketchbook.
Ati? Sketch­book?
Ndi­yo, my sketch­book is some sort of diary/journal/log which con­tains things I've come across so far and that somehow fit bet­ween two she­ets of paper. The idea behind all this is to even­tual­ly give all tho­se small things a place — a place whe­re they all mix to one big pic­tu­re, to my pic­tu­re of how I see everything.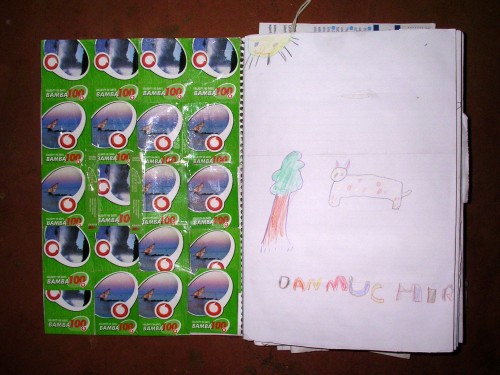 Peop­le like me collect stuff, we hard­ly throw away things and befo­re ever­ything ends up in a dra­wer or in a box some­whe­re in the base­ment, I'd rather put it in my sketch­book and add some addi­tio­nal art to it. Of cour­se, tho­se works have been great­ly inspi­red by peop­le like Dan or Peter, who — as I see it — took exis­ting mate­ri­al and chan­ged it in order to beco­me their own. The fol­lowing pic­tu­re by Peter Beard comes qui­te clo­se to the idea I am try­ing to exp­lain here: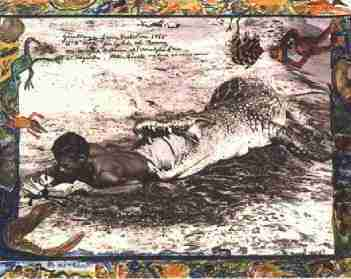 The idea of a man lying wit­hin a mouth of a cro­co­di­le and wri­ting in his sketch­book is cra­zy enough. And now Mr. Beard took (t)his pic­tu­re and added his own frame to it.
So, for me, the inspi­ra­ti­on behind this was to tell my own sto­ries and add my very own frame to it.
Ok, com­ing back to this blog — Eng­lish isn't my mother­tongue. I am Ger­man, hence many ent­ries here will be writ­ten in a healt­hy mix­tu­re of all tho­se lan­guage frag­ments that rum­ble around in my head.
Kikuyu­mo­ja® is my nick­na­me sin­ce I've been online for the first time way back in 1996. Too me, Kikuyu­mo­ja is just a name — my name. I'm not a Kiuk, nor the first Kiuk or whatsoever, just me. I don't sup­port tri­ba­lism and I guess in today­'s world of mixed up eth­nic groups it does­n't make sen­se to stick to one spe­ci­fic tri­be. What I DO like though is having a clo­ser look at dif­fe­rent cul­tures and their customs.
Pro­fes­sio­nal­ly, I am a trai­ned water & sani­ta­ti­on engi­neer from Leu­pha­na Uni­ver­si­ty with a spe­ci­fic inte­rest in eco­lo­gi­cal sani­ta­ti­on and know­ledge manage­ment. You'll also find me over at Afri­Gad­get — "a web­site dedi­ca­ted to show­ca­sing Afri­can inge­nui­ty" as well as on saniblog.org whe­re I some­ti­mes cover water & sani­ta­ti­on rela­ted news. I am part of the team that orga­ni­zes the mon­th­ly Web­mon­tag Frank­furt event, and also con­tri­bu­te con­tent on HalloFrank­furt, #FFM365, and Frank­furt Gestal­ten.
As of Novem­ber 24th 2015, I am also a licen­ced radio ham with the Ger­man call sign DO2JKE. It took me twen­ty years to even­tual­ly turn my inte­rest in radio stuff into an ama­teur radio licence, and this real­ly makes me happy.
enjoy,
jke
—————-
Dis­c­lai­mer:
1. Con­tent
The aut­hor reser­ves the right not to be respon­si­ble for the topi­ca­li­ty, cor­rect­ness, com­ple­teness or qua­li­ty of the infor­ma­ti­on pro­vi­ded. Lia­bi­li­ty claims regar­ding dama­ge cau­sed by the use of any infor­ma­ti­on pro­vi­ded, inclu­ding any kind of infor­ma­ti­on which is incom­ple­te or incor­rect, will the­re­fo­re be rejec­ted. All offers are not-bin­ding and without obli­ga­ti­on. Parts of the pages or the com­ple­te publi­ca­ti­on inclu­ding all offers and infor­ma­ti­on might be exten­ded, chan­ged or part­ly or com­ple­te­ly dele­ted by the aut­hor without sepa­ra­te announcement.
2. Refer­rals and links
The aut­hor is not respon­si­ble for neit­her con­tent lin­ked or refer­red to from his pages (unless he has full know­ledge of ille­gal con­tents and would be able to pre­vent the visi­tors of his site from viewing tho­se pages), nor for any dama­ge that may occur by using the infor­ma­ti­on pre­sen­ted the­re. Fur­ther­mo­re, the aut­hor is not liable for any postings or messages publis­hed by users of dis­cus­sion boards (comments sec­tion), guest­books or mai­ling­lists pro­vi­ded on his page.
3. Copy­right
The aut­hor inten­ded not to use any copy­righ­ted mate­ri­al for the publi­ca­ti­on or, if not pos­si­ble, to indi­ca­te the copy­right of the respec­ti­ve object. When he repro­du­ces a copy­righ­ted image, he does so only to the extent necessa­ry to com­ment upon or dis­cuss it.
Except whe­re other­wi­se noted, con­tent on this site is licen­sed under a Crea­ti­ve Com­mons Attri­bu­ti­on-Non­com­mer­cial-Share Ali­ke 3.0 Unpor­ted licence.
4. Pri­va­cy policy
If the oppor­tu­ni­ty for the input of per­so­nal or busi­ness data (email addres­ses, name, addres­ses) is given, the input of the­se data takes place vol­un­ta­ri­ly. The use of publis­hed pos­tal addres­ses, tele­pho­ne or fax num­bers and email addres­ses for mar­ke­ting pur­po­ses is pro­hi­bi­ted, offen­ders sen­ding unwan­ted spam messages will be punished.
5. Legal vali­di­ty of this disclaimer
This dis­c­lai­mer is to be regar­ded as part of the inter­net publi­ca­ti­on which you were refer­red from. If sec­tions or indi­vi­du­al terms of this state­ment are not legal or cor­rect, the con­tent or vali­di­ty of the other parts remain unin­flu­en­ced by this fact.