Kikuyumoja (formerly Kikuyumoja's Realm) is my weblog and covers just about everything that doesn't fit into my sketchbook.
Ati? Sketchbook?
Ndiyo, my sketchbook is some sort of diary/journal/log which contains things I've come across so far and that somehow fit between two sheets of paper. The idea behind all this is to eventually give all those small things a place – a place where they all mix to one big picture, to my picture of how I see everything.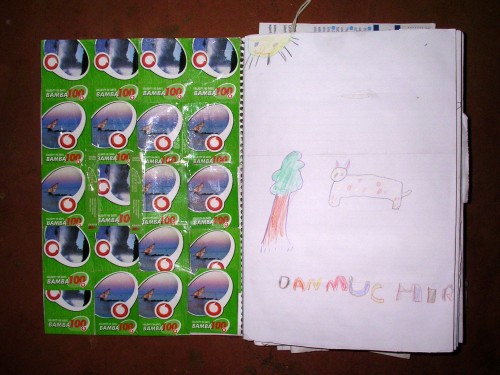 People like me collect stuff, we hardly throw away things and before everything ends up in a drawer or in a box somewhere in the basement, I'd rather put it in my sketchbook and add some additional art to it. Of course, those works have been greatly inspired by people like Dan or Peter, who – as I see it – took existing material and changed it in order to become their own. The following picture by Peter Beard comes quite close to the idea I am trying to explain here: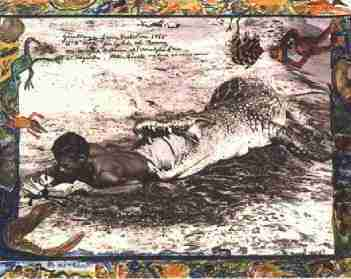 The idea of a man lying within a mouth of a crocodile and writing in his sketchbook is crazy enough. And now Mr. Beard took (t)his picture and added his own frame to it.
So, for me, the inspiration behind this was to tell my own stories and add my very own frame to it.
Ok, coming back to this blog – English isn't my mothertongue. I am German, hence many entries here will be written in a healthy mixture of all those language fragments that rumble around in my head.
Kikuyumoja® is my nickname since I've been online for the first time way back in 1996. Too me, Kikuyumoja is just a name – my name. I'm not a Kiuk, nor the first Kiuk or whatsoever, just me. I don't support tribalism and I guess in today's world of mixed up ethnic groups it doesn't make sense to stick to one specific tribe. What I DO like though is having a closer look at different cultures and their customs.
Professionally, I am a trained water & sanitation engineer from Leuphana University with a specific interest in ecological sanitation and knowledge management. You'll also find me over at AfriGadget – "a website dedicated to showcasing African ingenuity" as well as on saniblog.org where I sometimes cover water & sanitation related news. I am part of the team that organizes the monthly Webmontag Frankfurt event, and also contribute content on HalloFrankfurt, #FFM365, and Frankfurt Gestalten.
As of November 24th 2015, I am also a licenced radio ham with the German call sign DO2JKE. It took me twenty years to eventually turn my interest in radio stuff into an amateur radio licence, and this really makes me happy.
enjoy,
jke
—————-
Disclaimer:
1. Content
The author reserves the right not to be responsible for the topicality, correctness, completeness or quality of the information provided. Liability claims regarding damage caused by the use of any information provided, including any kind of information which is incomplete or incorrect, will therefore be rejected. All offers are not-binding and without obligation. Parts of the pages or the complete publication including all offers and information might be extended, changed or partly or completely deleted by the author without separate announcement.
2. Referrals and links
The author is not responsible for neither content linked or referred to from his pages (unless he has full knowledge of illegal contents and would be able to prevent the visitors of his site from viewing those pages), nor for any damage that may occur by using the information presented there. Furthermore, the author is not liable for any postings or messages published by users of discussion boards (comments section), guestbooks or mailinglists provided on his page.
3. Copyright
The author intended not to use any copyrighted material for the publication or, if not possible, to indicate the copyright of the respective object. When he reproduces a copyrighted image, he does so only to the extent necessary to comment upon or discuss it.
Except where otherwise noted, content on this site is licensed under a Creative Commons Attribution-Noncommercial-Share Alike 3.0 Unported licence.
4. Privacy policy
If the opportunity for the input of personal or business data (email addresses, name, addresses) is given, the input of these data takes place voluntarily. The use of published postal addresses, telephone or fax numbers and email addresses for marketing purposes is prohibited, offenders sending unwanted spam messages will be punished.
5. Legal validity of this disclaimer
This disclaimer is to be regarded as part of the internet publication which you were referred from. If sections or individual terms of this statement are not legal or correct, the content or validity of the other parts remain uninfluenced by this fact.