I did­n't know if I should blog the fol­lowing — becau­se stuff like this is usual­ly shared on inter­net forums, but sin­ce I'd been wri­ting about this befo­re — and not only once — I thought about sharing it with you on my blog. Bes­i­des, I don't do forums for various reasons.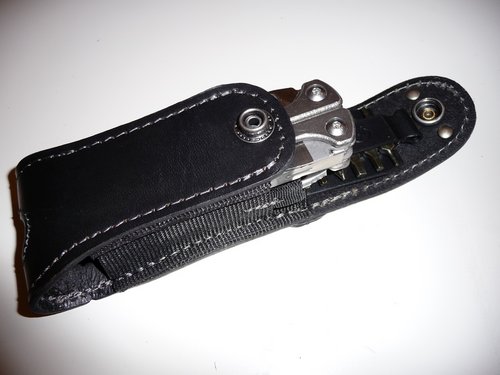 the stu­pid Lea­therman sheath
Some mon­th ago, I bought a Lea­ther­man Char­ge TTi mul­ti­tool which came with a very bad lea­ther sheath. The famous inven­tor of mul­ti­tools once pro­du­ced very fine lea­ther sheaths, like the beau­ti­ful brown one that came with my first Lea­ther­man Wave in 2003. But for some stu­pid and unknown (mar­ke­ting?) rea­sons, their cur­rent sheaths (sin­ce 2004, actual­ly) are eit­her bul­ky, ugly or too stiff — and also do not real­ly offer the space requi­red for a Lea­ther­man Char­ge TTi (or Wave 2004) and its bithol­der. Ever­ything fits insi­de but it takes a lot of for­ce to pull the bithol­der out. The­re's a hole at the bot­tom of the sheath which is sup­po­sed to be good + so that you can rest the ope­ned tool insi­de the sheath. I've never used this though, and also don't like it that much.

SCHRADE TOOL, nylon alter­na­ti­ve sheath (good, used this all the time)

Lea­ther­man Char­ge TTI wit­hin the Lea­ther­man Wave (I) sheath from 2003.
Tool fits, but + bithol­der doesn't :-(
I may not be the only one with this pro­blem, and have in the past used a varie­ty of other sheaths to tack­le this pro­blem (tool & bithol­der in one place, see SCHRADE TOOL nylon sheath pic­tu­red abo­ve). The­re seems to be a mar­ket for cus­to­mi­zed solu­ti­ons, and while I am sure I could easi­ly get a modi­fied sheath in the US or even Kenya, I just could­n't find a good sheath in Ger­ma­ny (local­ly or impor­ted), so I had to make my own. This time I wan­ted to make a sheath out of leather.

Bought this one (Vic­to­ri­nox L sheath) from eBay which unfor­tu­n­a­te­ly is too short.
Now, I don't know much about lea­ther and do not even own many lea­ther pro­ducts. Shoes, belts and a pouch/sheath (made from arti­fi­cial lea­ther) that came ship­ped with my pho­ne. But still, the­re's some sort of magic to this mate­ri­al that will make you want to crea­te some­thing out of it. I was told that my gre­at gre­at gre­at grand­par­ents once owned a tan­ne­ry, so may­be it's some­whe­re in the genes. Sijui.
First step was to surf around and check various online resour­ces for inspi­ra­ti­ons. I actual­ly alrea­dy knew what I wan­ted to build — my first Lea­ther­man Wave sheath from 2003 had set the stan­dard for me. I wan­ted some­thing like this.… but only bigger.
Next step: lea­ther. Found a very nice & cheap offer for lea­ther stri­pes (2–3 mm thic­kness) on eBay, which was exact­ly what I was loo­king for.
Ok, now how do I get this mate­ri­al into shape? Does it real­ly requi­re to be for­med into shape? And when does this need to be done? Pri­or to or after sewing the parts together?
Some­ti­mes you just have to do things your way. If it feels right, do it. So i damp­ened the lea­ther, sea­led the kni­fe and bit­ho­ler in a plastic bag and pla­ced it insi­de the lea­ther which I then pres­sed into shape. Pla­ced all of it on the hea­ting in the bathroom and wai­ted for it to dry up. Oh, and I used a stap­ler to hold it all together.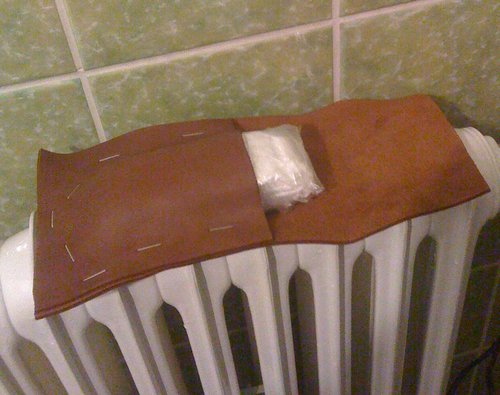 Next morning: lea­ther is dried up and in shape. Great!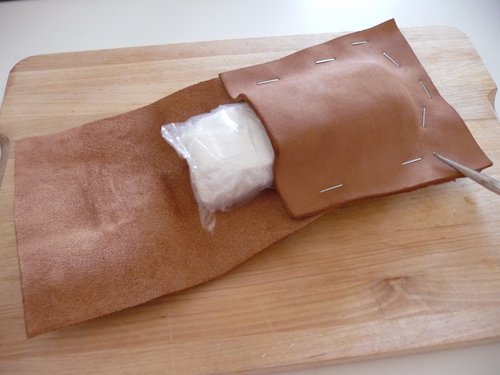 Next step: holes. Lots of them. I think the­re's a wheel to mark the cor­rect pitch bet­ween the holes, but sin­ce I do not own such an advan­ced tool, I just mar­ked ever­ything by rule of thumb and pun­ched holes with an awl.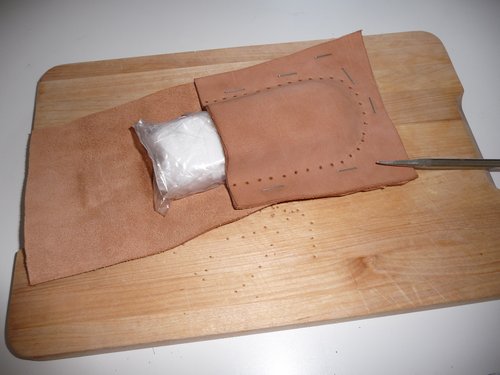 front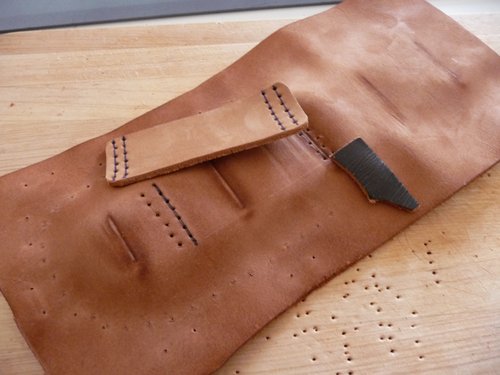 back
After the first stit­ches with spe­cial lea­ther yarn, I rea­li­zed that the one I used is too thin (2x, left), so I went for the only thi­c­ker one I had (3x, right).
I may not be a pro­fes­sio­nal and my seams may show that I am a bloo­dy begin­ner, but at least I am using two needles.

stit­ching on the left: too thin


both sides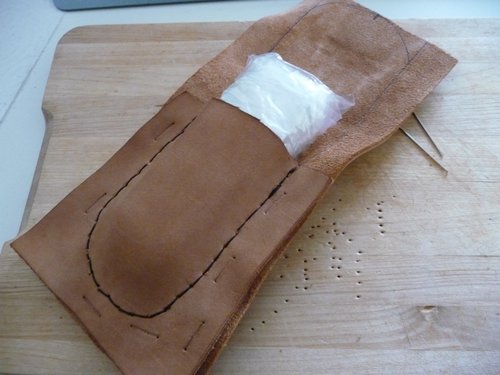 next up: the main seam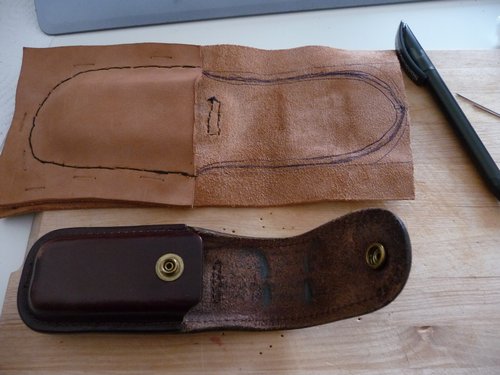 big & small, won­de­ring about the design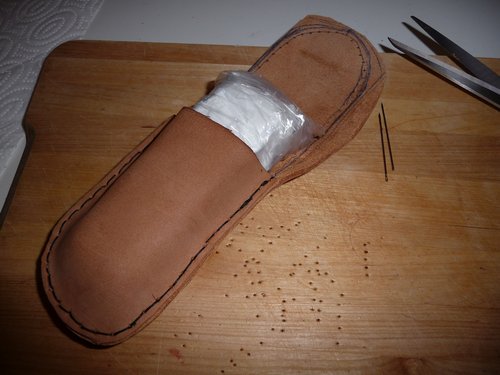 slow­ly get­ting there

Almost done. The white packa­ge con­tains the Lea­ther­man Char­ge TTi + the bitholder.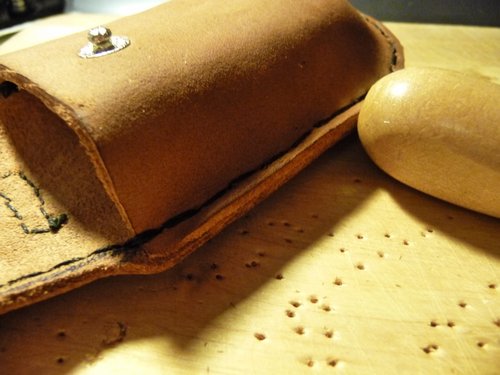 I then damp­ened the lea­ther again and used the wod­den knob to flat­ten the edges of the lea­ther. Again, I am no expert and may­be the­re's a pro­per way for doing this, but I just loo­ked at the old sheath and rea­li­zed it had to work out somehow. Well, it did. Edges are smoot­he­ned now and qui­te shiny. Nice!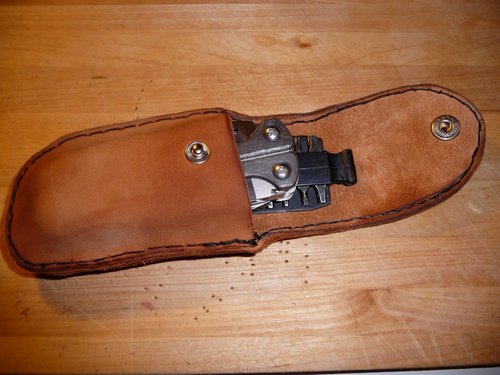 new sheath

new and old sheath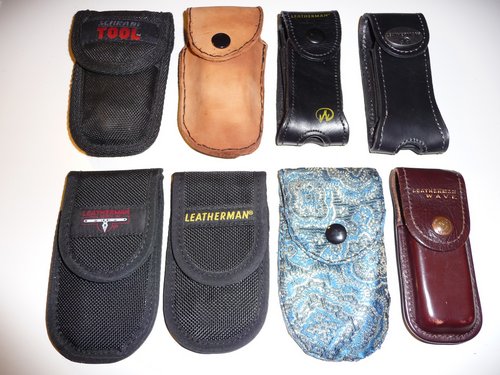 The com­ple­te collec­tion: ope­ned and closed.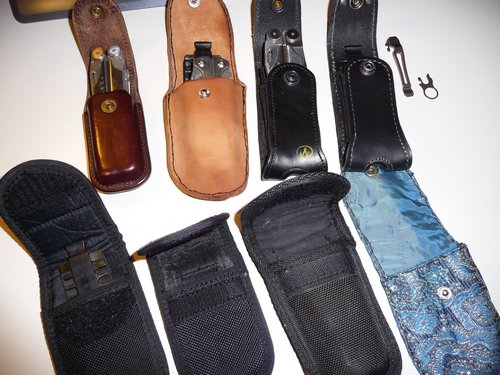 You may note the nylon sheaths. The­se are also fine but (except for the SCHRADE TOOL sheath) only accom­mo­da­te the tool its­elf, not the bithol­der. Again, I don't know why Lea­ther­man does not pro­du­ce pro­per sheaths. Some­thing like the dark brown sheath (which imo is the best) from 2003, but big­ger. You will also noti­ce my begin­ner's style and how dumb my own sheaths (noti­ced the blue one? :-) actual­ly look when com­pa­red to the pro­fes­sio­nal solutions.
One pos­si­ble solu­ti­on would pro­bab­ly have been to fur­ther app­ly some wax on the new sheath and dar­ken it. Well, I polis­hed it with some spe­cial lea­ther wax, but also app­lied this dark brown (imo a bit too dark, damn..) lea­ther colour onto it. Loo­ks ok, but I also know what to impro­ve on next time. Ah well… as long as it works it is ok. I real­ly wish someo­ne would serious­ly teach me a few tricks though, like how to get strai­ght seams. For this, howe­ver, I would pro­bab­ly also requi­re a table for my tools and a bench vice.
Working with lea­ther is a fasci­na­ting experience!
(Wenn ich noch­mal 20 wäre, wür­de ich mich nach einer Leh­re als Sattler/Feintäschner/etc. umschau­en. Bin ich aber nicht mehr und habe auch schon eine Leh­re hin­ter mir, das reicht. Als Abend­kurs in der VHS wäre eine Fort­bil­dung in Leder­ar­bei­ten aber sehr inter­es­sant — auch wenn ich im Moment kei­nen wei­te­ren Ein­satz­zweck für Leder­pro­duk­te habe. Nach die­ser Arbeit kann ich aber sehr gut ver­ste­hen, wie­so es anschei­nend ziem­lich vie­le Leu­te da drau­ßen gibt, die in ihrer Frei­zeit Leder pun­zie­ren (= mitm Ham­mer Mus­ter ins Leder trei­ben) und/oder ihren India­ner/Ro­cker/S­M/­wha­te­ver-Trieb damit aus­le­ben. Is aber alles nich so mein Ding, will ja nur ein pas­sen­des Leder­etui für mei­nen Lea­ther­man haben. Ich ver­mu­te übri­gens, dass man durch ver­senk­te Näh­te (Ril­le ins Leder trei­ben) und den Ein­satz von Stech­ei­sen schon gera­de­re Näh­te hin­be­kom­men wür­de, aber das hebe ich mir fürs nächs­te Mal auf. Das nächs­te Pro­dukt aus den ver­blie­be­nen Leder­res­ten wer­de ich aber nicht mehr anma­len, oder zumin­dest nicht mit so einer dunk­len Far­be, auch wenn das jetzt nur auf den Bil­dern im Blitz­licht so schlimm ausschaut..).