The Lea­ther­man Tool Group (Inc.) deli­ver most of their mul­ti tools with sheath (Nylon or Lea­ther sheath) which are nice for wea­ring a mul­ti tool on the belt. Alt­hough their pro­duct ran­ge inclu­des an intel­li­gent approach on a lot of details with tho­se tools, they appar­ent­ly igno­red the sheath issue: that thing is just too small for all the tools inclu­ded (the LM Wave + a bit set + a small mag­li­te® soli­taire) and way­y­y­y­y­yy toooo bul­ky on the belt.
The moment I orde­red the new Wave a mon­th ago (ship­ping from the US takes time!), I alrea­dy thought about kee­ping my old brown lea­ther sheath — and the new Wave fits into that old sheath as well so things could have been ok.…
On the other hand though, I wan­ted to use pie­ces of that LM Bit Kit which came along (con­sis­ting of 21 pie­ces) and may­be also have a small hols­ter for that mag­li­te® — which of cour­se did­n't fit into the old sheath. Should I use the bul­ky, new and awful­ly desi­gned sheath?
NO WAY!
The solu­ti­on? Make your own sheath: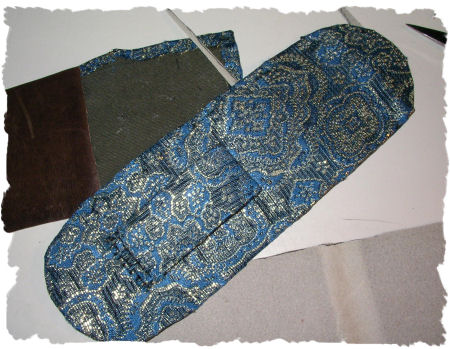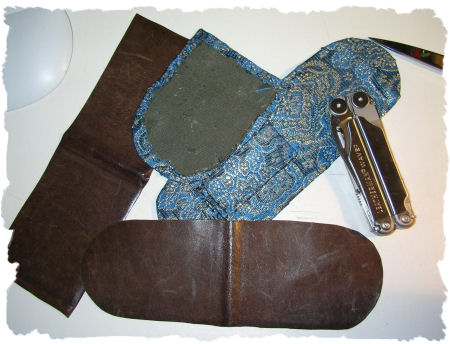 That green can­vas which I use as a basic mate­ri­al comes from Kenya, the blue pais­ley sty­led fab­ric is my very spe­cial Kikuyu­mo­ja ver­si­on of Bubu­diu (the sto­ry goes that it once was my grand­ma's ball gown that I've mean­while used on dif­fe­rent pro­jects .…so what am I sup­po­sed to call it except for Bubu­diu? pon­cey?) and the leather.…well, I did­n't use that one in the end.
The result:
A sheath big enough to accom­mo­da­te all my desi­red tools. Perfect!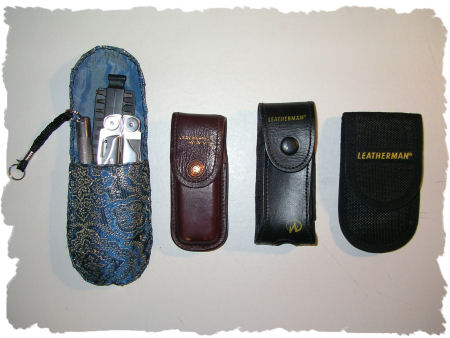 The size com­pa­ri­son: my new sheath, the old brown one (love it!), the ugly new one and a smal­ler nylon ver­si­on for the Bit Set or the Wave alone.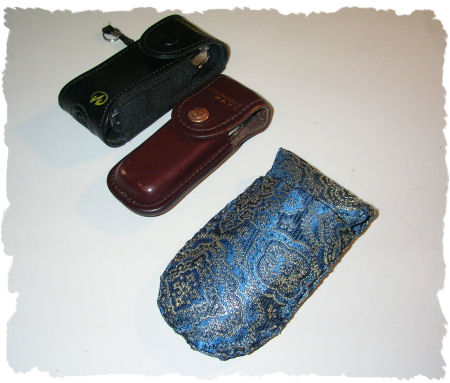 I've also added a but­ton / snap fas­te­ner on it so clo­sing and ope­ning on the blue thing will be much more convenient.
Yani, I know some of you will keep on won­de­ring why I used that blue fab­ric ins­tead of just using that green can­vas along with some lea­ther on the side.…actually, I don't know. I think it's some sort of pas­si­on :-)
P.S.: My new blue sheath is a bit big­ger than the others but less bul­ky, so it does­n't wear up under­ne­ath the jacket!