I recently bought a new notebook (HP 6930p) and made sure it also comes with extra antennas (next to the WLAN antennas on top of the display) so that I could install a Wireless Wide Area Network (WWAN, pictured below) adapter which I had to buy separately.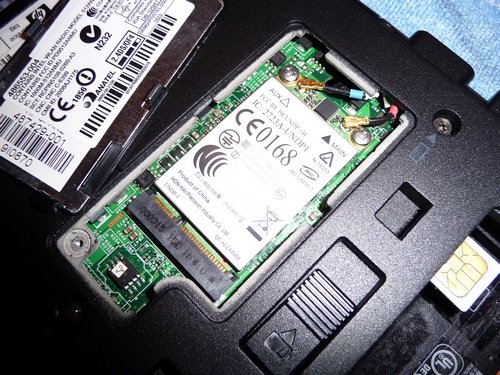 HP un2400 wwan adapter on the HP 6930p
The good part about this wwan adapter – an HP un2400, also known as Qualcomm Gobi 1000 – is that it supports different frequency bands so it can work in many different parts of the world. This, however, and maybe that it is hidden under a cover inside this computer so you don't have to carry extra gadgets, is the only good part about this modem.
My other computer is a netbook which also has a wwan modem – an Asus eeePC 1000HG. Just slip in your SIM card (underneath the battery), boot into WindowsXP or Ubuntu and you're ready to go online, simple as that.

HUAWEI EM770 Mobile Broadband modem on the eeePC 1000HG
The HP un2400 modem on my HP notebook, though, will ONLY work when the (main) battery is inserted. HP names "carrier certifications" as the reasons for this requirement as:
This prevents SIM fraud

This prevents any possible corruption if the SIM is removed while the notebook PC powers on
Yeah…right.
Just to remind you: the 3g modem on my Asus eeePC will work either way – whether the battery is inserted or not, it just works.
And then there's this thing called "Firmware" – which also is a very peculiar process on the HP modem. Whereas most gadgets will normally come with their own (preloaded) Firmware (which may or may not be updated by end users), this Qualcomm Gobi modem requires an initial load of the firmware prior to its use (HP's Connection Manager will take care of this under Windows XP). Once you restart your computer, you will have to reload the firmware. The only possible reason for this – to my understanding – is that it enables the modem to adjust to different wwan environments. But that's about it. Needless to mention that you won't find any drivers for this device for Win7, and I've only come across a few users who managed to get this device working under Ubuntu after lots of fiddling.
And again, no problems with my netbook & its Huawei EM770 3g modem. Real plug & play, regardless of the operating system.
"So where's the problem?", you may ask, "aren't laptops/notebooks and netbooks designed to be run from battery power anyways?" – Well, yes, BUT! I always remove the battery on my notebook when I'm about to connect it to a stable power supply for a longer period. Like when I plug it into the docking station at home, I always remove the battery. I do this to save it from being constantly charged. It's a precaution that helps me keeping the battery at ~90% initial charging capacity after three years usage (as seen on my old HP nx8220 notebook). It's a proven method that worked for me and saved me from spending another EUR 80,- on a spare battery.
And the worst part about this wwan adapter is that HP locked the BIOS to _ONLY_ use these modems. It wouldn't be possible to use the 3G modem from the eeePC on the HP notebook.
Alternatives
Now, this is the part where I actually want to talk about alternatives to these internal solutions, which are often still considered to be the optimal solution. As described above, it's a not-so-perfect solution for those who want to use other operating systems then Windows XP and/or Vista. It's an epic fail that HP still needs to realize. An epic fail on all of their "EliteBooks" as HP calls this series (HP 2530p, 6930p, 8530p).
The eeePC I have is also available without such a 3g modem – the price difference used to be EUR 100,- less. People (not me, I got it cheaper :-) actually paid this difference in order to get a netbook with an internal 3g modem. As for the eeePC, the price difference is (was) justified as you had to cough up about the same amount for an external modem some time ago.
However, now, in September 2009, things are a bit different. Be it Germany or Kenya, you're actually able to get an external USB-based 3g modem for something like EUR 20,- to 30,- – which is a decent price, I'd say. Sure, you could even get it for less (in Germany) if you go for a 24month contract with a network provider but I am only talking about prepaid solutions here.

the popular Huawei E169
And these USB sticks are the very reason for blogging all this. I think that these external 3g modems are still the best solution for the following reasons:
they are supported by different operating systems & often well documented on the internet

they often come with their own software so you won't have to worry about that part

power consumption on these devices is moderate, also because they are easier to remove (and wouldn't require a software switch on the OS) – just unplug them

some of these sticks come with an extra socket for an external (UMTS) antenna

some of these sticks come with an extra flash memory capacity

they are relatively cheap these days

they can be used on more than one computer – just unplug them and hand them over to your friends (provided you have an unlimited data plan)
The disadvantage of course is that you'd have an extra device at the side of your notebook which blocks one of the often limited USB ports.
In the past I've also used thethering my Nokia phone to the computer and using its 3G capabilities to surf the net; and on my old & beloved (and now sold) HP nx8220 notebook I had used a PCMCIA (PC-Card) version of these 3G modems which I blogged about earlier. The PCMCIA version worked fine, albeit the PCMCIA port being known for quickly draining the battery (which also became obvious as it heated up pretty quickly). My new HP notebook has an ExpressCard slot, so this could also be an alternative if USB ports are really limited and already used for other devices.
To be honest, with this limitation of the internal 3G modem on my HP 6930p to Windows XP & Vista (and probably also Win7 one day), I'd probably go for another machine in future. I actually don't know about the 3G modems on a Dell E6400 or Lenovo T400(s) – all of them seem to come with a Gobi device these days -, but I hope they aren't as crippled as this Qualcomm Gobi? HP uses on their EliteBooks.? And signal strength (RX/TX ratio) actually isn't so much better with the internal antennas which have to compete with the WLAN antennas for the limited space above the display. However, I understand that it isn't the modem which sucks (some websites claim it even comes with an internal GPS chip?!) but rather HP's policy which prevents us from using alternative operating systems and even locks the system down to this device only.
And with my policy of drawing a clear line between user data and the operating system + hardware, the external USB modem is just so much more convenient. It's a plug & play device that adds modularity & flexibility to the system.