As alrea­dy men­tio­ned some days ago, I'd recent­ly lost my nor­mal (DSL) inter­net broad­band con­nec­ti­vi­ty the other day and urgent­ly nee­ded to get back online. So I quick­ly went for a Fonic SIM card (ope­ra­ting wit­hin Ger­many's O2 net­work) which offers the che­a­pest (not cheap, but still che­a­pest) surf & go flat­rate for UMTS / GPRS con­nec­ti­vi­ty up to HSDPA (3.5G) (2,50 EUR / day). All other flat­rates cur­r­ent­ly on offer eit­her come with a 24-mon­th sub­scrip­ti­on, or do not offer HSDPA (3.5G) speed.
I'd used the Fonic SIM card on the Nokia N95 — my mobi­le pho­ne I nor­mal­ly use for ano­t­her line. Fonic also offers USB UMTS modems made by Hua­wei — howe­ver, the­se exter­nal modems often sell for 60,- EUR and abo­ve (Fonic sells them for ~ 100,- EUR with a new SIM card). USB modems are nice, also becau­se they con­nect to any USB device (desk­top pc, note­book, net­book) — but they are still too expen­si­ve for me. Also, I do have a PCMCIA II slot on my note­book I've never real­ly used so far (except for my Har­ry's TV card which is still with Har­ry — ati bwa­na, die­se Lösung hier ist auch für Dich interessant).
So I che­cked out eBay and found this real­ly gre­at offer whe­re someo­ne had this "Voda­fone Mobi­le Con­nect HSDPA / UMTS / EDGE data­card" PCMCIA II card in an auction..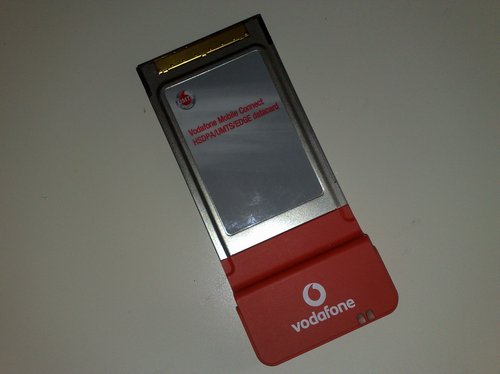 …which I mana­ged to secu­re for just 2,- EUR! :-)
It's a "Qual­comm 3G CDMA" PCMCIA II card, also known as "Opti­on GT 3G+ EMEA". Oh, and it also has an extra port for an exter­nal anten­na, so this may be of par­ti­cu­lar inte­rest to tho­se who are living far away from the next base station.
Well…don't be foo­led by the Voda­fone bran­ding — this card isn't SIM- or net­lo­cked, and it will just work. Took me about 20 minu­tes to search for a valid dri­ver packa­ge and pro­gram­me to run it, and 3 minu­tes to install it.
The pro­blem I had was that the­se Voda­fone (T‑Mobile, OEM, etc.) cards aren't offi­cial­ly sup­por­ted by Opti­on, which is why I had to find a dri­ver packa­ge for this card in the first place.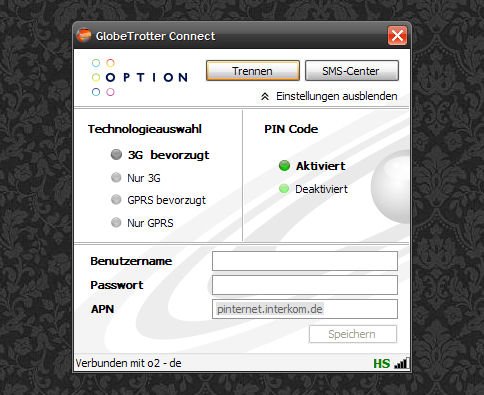 Opti­on Glo­be­trot­ter Connect
I'd pre­vious­ly used Voda­fone's 86mb packa­ge (Voda­fone con­nect) to get the dri­ver, but even after deinstal­ling it later on, I think the dri­vers are still on the sys­tem, so I can't real­ly tell right now if I am cur­r­ent­ly using the Voda­fone dri­vers or the ones from this hid­den Opti­on Glo­be­trot­ter Con­nect suite which is much smal­ler (2,6 mb vs. 86 mb). On the other hand, both soft­ware packa­ges have dri­vers made by Opti­on, so I guess they are all the same (except for Voda­fone pro­vi­ding bloat­wa­re along with the plain dri­ver packa­ge). [Update]: The abo­ve men­tio­ned Opti­on Glo­be­trot­ter Con­nect suite is all you need. Install it, plug in this card, it will auto­ma­ti­cal­ly select the dri­vers and you'­re rea­dy to go. Simp­le as that.
Ano­t­her inte­res­ting alter­na­ti­ve, and my initi­al rea­son for this blog post, is MWCONN — a real­ly per­fect litt­le free­ware (WinXP) access tool for mobi­le inter­net con­nec­tions. Per­fect, as it pro­vi­des lot's of inte­res­ting details to the run­ning connection: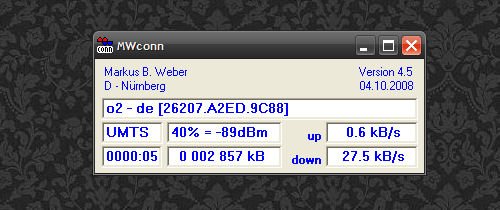 The who­le set­up still needs to be opti­mi­zed and the speed impro­ved (the net­work here cur­r­ent­ly only sup­ports up to 1,8 Mbit/s, not 3,6 or even 7,2 Mbit/s). Also, sin­ce it's based on a PCMCIA card, it will only work via PCMCIA slots (which is one of the rea­sons I'd thought about going for a used 12″ sub­note­book ins­tead of a 10″ net­book). But still — this inter­net con­nec­ti­vi­ty is bet­ter than not­hing + it is a dedi­ca­ted solu­ti­on that does­n't requi­re any swap­ping of SIM cards + car­ry­ing an extra cable for the pho­ne as Blue­tooth alo­ne is too slow. Also, MWCONN on the other hand also has this *100# pre­paid credit balan­ce check built in — which makes sen­se becau­se the­re's no key­pad as on a pho­ne to type in such a basic command.
The only down­si­de to MWCONN is the mis­sing dri­ver packa­ge, so if you'­re cheap like me and into buy­ing hard­ware only via eBay, just go for the Opti­on packa­ge abo­ve. It real­ly is all you need for WinXP.

Voda­fone sucks big times — and so does their branding :-)
Now let me see how it per­forms with Ubun­tu 8.10…read some­whe­re that it is natively sup­por­ted the­re. Which means: plug & play!
[UPDATE]
It just took me 2 minu­tes to get this thing online via Ubun­tu 8.10 — out-of-the-box, that is. Plug­ged it in, cho­se the new net­work manage­ment tool, selec­ted mobi­le broad­band and ent­e­red the fol­lowing data for Fonic:
APN: pinternet.interkom.de
pri­ma­ry DNS: 195.182.96.28
secon­da­ry DNS: 195.182.96.61
Com­pa­red to all the stress I used to have with such toys back in the days, this set­up just works.
Ver­dict: if you own a mobi­le device with a PCMCIA II slot and want to get online, don't spend a lot of money on USB devices if you can also have it this way. Works with WinXP SP2 & Ubun­tu 8.10.