It's about time for another hardware review as it reflects what's on my mind these days. I know that a lot of people just go for anything they are recommended, but if your income depends on the performance and reliability of your computer at home (= home office), you'll maybe pay extra attention to this and I know a lot of geeks who are much more demanding when it comes to their computer.
So I bought a new notebook today because I felt that my old machine from 2006 doesn't deliver what I need for some applications. Mind you, I am a PC guy, running WinXP and Ubuntu only, where the performance of my old machine was sufficient for most tasks.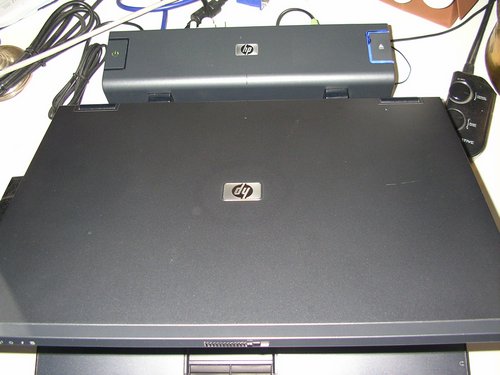 My setup consisted of an HP nx8220 notebook on a docking station with an external mouse + keyboard and a 22″ LG W2242T TFT. The computer is in a local network with an HP OfficeJet 7210 printer, a 500GB NAS and a VoIP phone + her notebook as well as both our netbooks.
The nx8220 proved to be a loyal workhorse, surviving dusty rural Kenya as well as running 24h/d. The docking station really is a huge advantage over to conventional consumer notebooks as it provides a) much more ports (e.g. DVI-D for the 22″ TFT) and b) makes it easier to use only one machine for both home office and mobile needs. This is also why I could never go for a MacBook as they afaik do not provide connectivity to a docking station.
Most users are better off buying a conventional consumer notebook and not a business machine like mine. It's similar to cars: extras on a Mercedes or Volkswagen cost extra, while you'd get all of that for a much lower price on a SE Asian car. So you'll equally have to pay extra for an LED screen or UMTS modem which you'll also already find on cheaper Acer or Asus notebooks. Most of these consumer notebooks do not have a docking connector though and are usually designed for a 3years usage pattern (5years on business notebooks).
Since this docking station already existed (eBay is a great resource for used business hardware in mint condition), the idea was to get another HP as I would then just have to swap notebooks.

On the other hand, Dell offers a very nice Latitude E6400 (with an illuminated keyboard & LED screen – similar to MacBooks!) that comes close to my current choice – and the (IBM) Lenovo T400 with an LED screen and internal UMTS modem is one of those *i want! i want!* machines.
I've tested the T400 in a shop and was surprised how great it actually looks. I think I'll have to buy an older T42(p) one day to satisfy my IBM-needs. Built quality wasn't that good though – most reviews on YouTube where customers are comparing this IBM-successor are somehow true, at least when it comes to the material used on these machines. But still, I'd love to test the Lenovo T400 for a longer period one day.
Comparing these to cars, I'd say that IBM ThinkPads are like Volvos.
Back to my choice: I eventually settled for an HP 6930p which comes with a 14,1″ screen size (old notebook was 15,4″) and weighs "only" 2.4kg. Compared to my old notebook (2.85kg), it's much lighter. It still seems to be heavier than other 14,1″ notebooks – but honestly: 200gr more doesn't matter to me. What matters, though, is the power supply on HP notebooks which is really really shitty. Too big, too heavy, to bulky. Apple has the best power supplies, imho. And I of course also like those small ones that came shipped with the netbooks (Kensington also produces light-weight power supplies – may have to look into those one day).

power supplies: HP nx8220 vs. Asus eee 901
So my notebook is on a docking station most of the time and needs to deliver 24/7, which is why I went for a machine with an ATI graphics card even though it itsn't that much better than the internal Intel graphics core and even though the ATI card drains the battery faster. Took me some time to decide on this though, as well as the screen resolution which is at 1440×900 (unfortunately no LED screen, just CCFL ) and I was afraid that it may be too small. But it isn't.
Funny thing is: I bought this machine for a really good price on eBay (hey…!) and the offer said "Screen resolution: 1280 x 800". Picked it up in the store (in Hanau, outside of Frankfurt) and realized it's 1440×900. Thought they made a mistake and asked them a few times but it seemed to be correct. So now I am the proud owner of a notebook with the follow specifications:
HP "EliteBook" 6930p (p/n GW683AV)
Intel Core 2 Duo P8400

1x 4GB 800MHz DDR2 RAM (32bit OS like WinXP = max. 3 GB)

320GB Western Digital 5400 SATA II HDD (initially 120GB Seagate)

WXGA+ 1440×900 matte display

Intergrated 2 megapixels webcam

Keyboard light

Intel 5100 ABGN wireless

Bluetooth 2.0

Dual pointing devices

Intergrated Fingerprint reader (crap..)

DVD+/-RW with LightScribe

Firewire 1394a, 3x USB, LAN, Modem, SD/MMC reader, SC card reader, ExpressCard

internal UMTS modem (ordered, hasn't arrived yet. Again, used spare part from eBay)

2.400kg with battery

6-cell battery (55 Wh)

3 years Warranty
No PCMCIA II card slot, so my PCMCIA / PC-Card UMTS modem (eBay, EUR 2,- :-)) can go into early retirement.
For a list of professional reviews on the 6930p, pls check out this page by notebookcheck.com (best site on this subject, imho).
As mentioned, the 6930p I got was really cheap as it is a used machine. Used ….as in: brand-new without any scratches or other damages but isn't originally sealed. Which is why HP sells them for a lower price to wholesalers who are then reselling them on eBay (check for HP Renew or similar). That's one sweet way of buying hardware and also how I got our printer, btw. You're still given 3 years Warranty (checked the serial number via HP's website) and get a proper receipt so basically it's a new machine. Besides, I am geek enough to fix problems on my own and I do not have the resources to send in my machine for three weeks, anxiously waiting for a repair.
The machine came shipped with Windows Vista Business which is….well, I don't know. I deleted it. You also get a downgrade option from M$ to exchange your Vista installation for XP (which I did).
Already tested Ubuntu 9.04 running as a live version from a USB key and: Heeeeyyyyy…. I may be a bit behind when it comes to modern hardware from 2009, but this Dual Core CPU and the RAM really kick ass on Ubuntu. Plugged it in, booted it up in less than 30 seconds and ..*baaam* , ready to go. Nice.
I also did a Geekbench benchmark on all four machines:
HP nx8220 GB score:

1.312

(@WinXP)

HP 6930p GB score:

3.060

(@Ubuntu 9.04)

Asus eee 1000HG netbook GB score:

935

(@WinXP)

Asus eee 901 netbook GB score:

924

(@WinXP)
Meaning: you can really feel the performance increase. It was a good idea to invest some money on a new machine.
Based on my first impressions so far, here's a list of things I noticed on this HP "EliteBook":
1. Pictograms, indicating the position and function of ports on each side are just next to the port, not on top (like on my old nx8220). Would be better to have them on top to see where the USB ports are.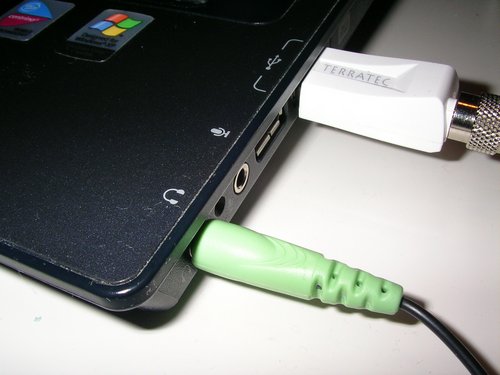 old: nx 8220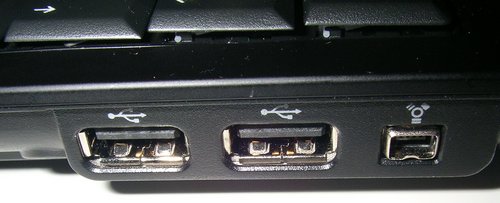 new: 6930p
2. Comparing the nx8220 with the 6930p is a bit unfair as it should rather be a comparison between the nx8220 and the 8530p.
I am used to the 15,4″ notebook with the headphone socket on the right side instead of the positioning of these ports on the left side on the 6930p. This really unimportant detail actually means a lot to me.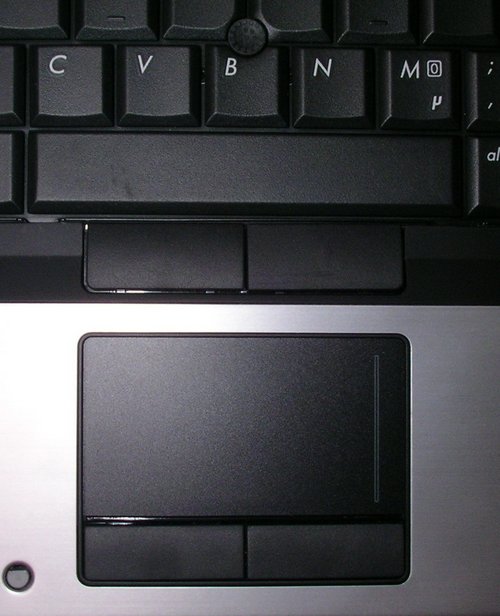 3. The touchpad and the pointing stick on the 6930p are a bit too cheap. There's almost no pressure point on both touchpad buttons. Why not? You won't notice the weakness of the touchstick unless you've compared it to an IBM laptop so this really isn't a serious issue.
4. Webcam is 2mpx and is ok. Also comes with a special OCR software that reads business cards and adds them to your address book. Seriously, who comes up with such ideas? It's funny. Tested it once, didn't work for me, gave up. My business card is different anyways as it comes as a QR-code (see right sidebar on my blog). I am sure there's QR-Code software out there that will enable this webcam to read barcodes (like the one on my phone).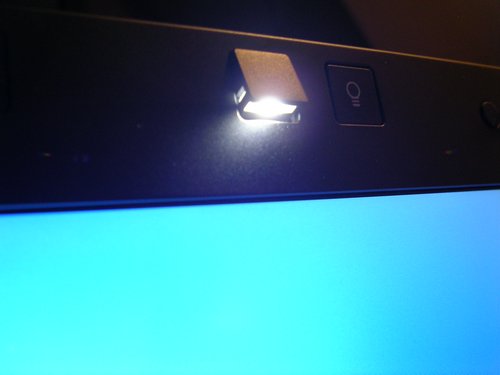 5. Next to the webcam is a keyboard light which may not be that strong but is one of the reasons why IBM ThinkPads have in the past ruled the business world. Ok, not really, but their keyboard light has always been the little extra gimmick that made you me long for a ThinkPad instead of a Dell or HP (not knowing that the keyboard light on an IBM isn't really that great). Good move, HP! The light elegantly pops out by pressing the button with the bulb icon and comes with a little diffusor in front of the integrated LED (no diffusor on IBM = problem!).
6. Keyboard is nice and firm, similar to my old one. Keyboards and displays are THE MOST IMPORTANT parts of a notebok. Which is probably also why Acer notebooks are so popular.

(a nice example which shows that some cameras just aren't capable of getting straight lines – this Sanyo cam from 2003 has a splendid macro mode but is really bad on horizontal lines due to the internal prism lens)
7. The scratch-resistant external aluminium panels and the casing made of aluminium, plastic and magnesium really kick ass. Almost solid as a rock. Good quality. I actually only miss the clamshell design known from ThinkPads on this HP.
I am also mentioning this as you can easíly test the overall stability yourself by pushing the display back and forth and seeing where there's tension on the body. My old nx8220 has a slight crack on that part due to its age and usage but this is normal with most other notebooks I've tested and seen so far.
8. Hinges: remember the Dellicious story? Broken hinges are soooo Dell and Acer. The hinges on my nx8220 are still fine (even though I've already tightened them a bit, using a simple screwdriver).
9. The 1440×900 (WXGA+) screen resolution produces slightly better colours than the normal 1280×800 (WXGA) screen (both CCFL technology). Relatively low contrast, brightness is ok, viewing angels are average. Not good for serious photographers and I am afraid to admit that but I think that you'll either have to go for a Sony notebook or MacBook if you can't edit photos on an external screen (and mine is just a cheaper, low-end TFT from LG but still better than both notebook screens). I actually don't know why HP uses such bad displays on business machines and the better LED screens on their cheaper consumer notebooks. Well, I knew that and skipped this point in the end because of the external monitor I am using for editing pictures. And who knew that I'd be blessed with a better screen resolution & picture quality for the same price? I paid for WXGA screen and got a WXGA+ … how cool is that? :-)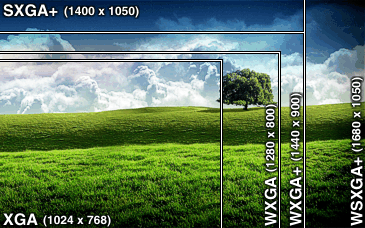 Display also comes with a light-sensor to automatically adjust brightness. Deactivated it – like on my old nx8220.
LED displays are available from HP for this series, albeit at WXGA (1280×800) only and very hard to obtain and/or expensive (at least in Germany).
10. LEDs to indicate Wireless/Power/HDD acitivities are much better on the 6930p than on the nx8220 (and other, similar machines from that era in 2006). I once had to glue a little piece of plastic back between those LEDs on the nx8220 as it had broken away.

old: nx8220
new: 6930p
11. Weight: 2.4kg are a good weight. My Asus 1000HG netbook weighs 1.5kg and comes with a 10″ screen at 1024x600px screen resolution. There are those moments where you wish to have a bigger (!) machine (not neccessarily on the screen, but to elegantly balance it on your lap = laptop!) and forget about the weight issue. A 12″ notebook would also be nice, but these machines often only come with a crippled CPU, an expensive 1.8″ HDD and/or are ridiculously expensive. So the 14,1″ notebook is a perfect alternative. And yes, 13,3″ MacBooks are even better, at least size-wise.
12. The display latch: many customers on user forums actually complained about the latch/lock on the display, arguing that it would require them to use both hands to close it (true) and some force (true). I like it this way, even though it easily pops open even if you only slightly touch the button. So it may accidentally open inside a bag. Not good. Too much tension.
13. Design: I think it's rather ugly. This mixture of silver and black colours..is this the influence of peculiar Asian taste?
There's a row of touch-sensitive buttons on top of the keyboard which is a bit too bright & has too many different LED colors which may be a bit irritating, but else it is working fine for me. This touch-sensitive panel replaces conventional buttons (that would provide more tactile feedback), and a lot of users actually complained about the volume "slider". The problem is: it isn't really a slider, it just looks like a slider. Because if you don't try to "slide down volume" but instead keep your finger on the "Volume (-)" area, it will quickly reduce volume. So users got irritated, thinking it works like a slider and consequently complained about it.
Why touch-sensitive controls instead of conventional buttons? Me thinks there are three posssible reasons for this: a) the SEAsian geek influence & an affection for iPhone-alike features, b) costs and c) less trouble with designing the PCB / more space.
14. Fan design still sucks. Maybe I am too much of an engineer, but I'd prefer if the intake could be on the back side of the notebook, not below the machine. IBM/Lenovo is a bit better on this. Proper heat dissipation is an important issue. Fortunately, the machine comes with an otherwise good cooling system and isn't too loud.
I've also set the BIOS to "fan always on" as I've had good experience with this on my nx8220. Keeps the machine colder right from the start.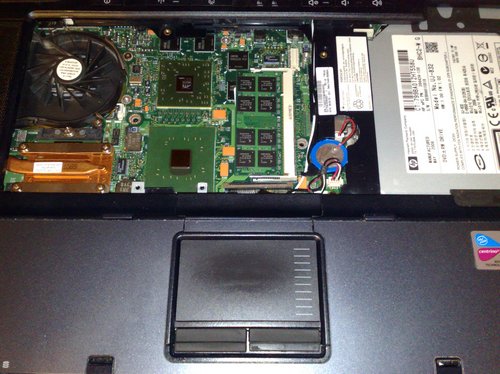 open fan on the nx8220 (without aluminium cover & removed keyboard)

6930p: heatpipe may remain on all chips even when the fan is being cleaned
Also interesting to see that there's no extra cover for the pcb as compared to the nx8220 which had an aluminum cover betweeen the keyboard and the pcb (which also had the heat dissipitation pipes connected to it). Would be interesting to know what this looks like on the 8530p. On the other hand, it always irritated me having to remove the heat pipes from the graphics & northbridge processor just to clean the fan and I am glad it is different on the new machine. There usually is a lot of dust in between the fan and the cooler (= what you see as copper-coloured grill from the outside) which is only accessible once you open it up and use tweezers to remove the dust. Also helps using a vacuum cleaner and/or a camera lens blower to clean it
14. Users can exchange the HDD, the battery (now try that with a MacBook), add a UMTS modem or add more RAM – all without voiding the warranty. Nothing great, but still important as the Apple example shows that not all gadgets come with similar warranty conditions.
To know what's "possible", HP uses two different screw types. A Torx for service and conventional cross slot screws for upgrades from customers. Pls also note the sleeve for a business card which I also already know from my nx8220. HP was smart enough to hide both the licence key and service tag stickers underneath this protective cover. Simple, but effective.
15. This 6930p is a custom made model, hence the 120GB HDD it came shipped with as well as 4GB of RAM on a single board. Knowing that 32bit operating systems can only address a maximum of 3GB, I am wondering why it comes with 4GB and Windows Vista Business 32bit? (and don't even get me started on the 800MHz vs. 1066MHz discussion the RAM is running on – these 4GB are at 798 MHz instead of 1066 // DDR2 vs DDR3).
Oh, and Vista ist just crap. This is MS Windows Vista Business and it instantly failed to reboot (endless loop of booting up and down) after an initial update. And needless to mention that I actually failed getting the HP Backup tool to do a copy of the installation. Vista alone used 20GB on the HDD. Incredible.
Now I am left with an XP downgrade & drivers DVD and will probably (& hopefully) never need a Vista backup. I've tested Windows7 on my Asus eee 1000HG the other day which is a bit better.
16. The battery is a bit too loose which is partly also due to the hook on the battery. I am used to this from the nx8220 though and these guys found the same fault on their test notebook. So I am not the only one who pulls out the sliding calliper to measure the play between the battery and the notebook body (I hope :-).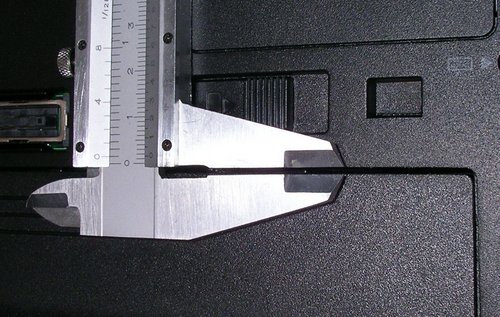 17. CPU Whining (CPU generates a high frequency sound): yes, it is there, but only slightly audible. Good.
18. The docking station I am using is an HP PA286A (used, cheap, eBay…) which *officially* doesn't work with an EliteBook notebook but actually it does. It just doesn't match the silver cover as it comes with the old grey colour tone as used on the nx8220. If you've come here searching for an answer on this: yes, it works. The PA286A 120W HP docking station is compatible with the HP 6930p (at least most standard ports – don't know about Video-S which was supported by the nx8220 but not the 6930p). HP used to mention it on their website but have since removed this remark, probably due to marketing reasons. I initially had some problems with it as the LAN port wouldn't respond but it was due to my 6930p which seems to have a picky docking connector that doesn't properly sit on the docking station.
The socket for the docking station on the notebook itself also isn't secured by any protective cover which may seem to be a potential problem. If in doubt, just use adhesive tape to cover it up. As mentioned earlier, the nx8220 also didn't have this cover and it has never really been a problem.
19. Internal 2G/3G modem: this 6930p didn't come with an integrated 2G/3G (GSM, UMTS) modem but with the internal 3G antennas already set up and a SIM card slot behind the battery cover. You actually just buy the additional UMTS modem card, plug it in, install drivers and start surfing. I must however admit that – based on my experience with this same procedure on the Asus 1000HG netbook – the internal antenna setup on top of the display usually isn't that much better than a conventional, external USB 3G modem. Still have to double-check this though.
———————————–
Soooo…is the 6930p any good? Yes of course! It's a good notebook for most tasks and it comes with a good mixture of usability and performance. It may not be the best notebook for serious photo editing (due to HP's shitty displays), but it already is a best seller in all other categories and just delivers what it was made for. I'd recommend it to anyone who has previously worked with HP notebooks, likes them and wants to use a stable machine for the home office.
Comparing it to my old nx8220 and seeing the performance increase, I am really happy that I eventually upgraded my computer hardware. I especially like the Dual Core thing which will ease up a lot of tasks on my notebook.
I am also happy that I didn't have to spend too much money on a new machine. I think that it doesn't actually come from HP's Renew Program and that it had only been previously opened which is why the price was so low.
If you're more into power saving laptops and value battery runtime, it may be better to get the Intel graphics card version coupled with an LED screen which should provide another 0,5 – 1h of battery runtime. And you may also think about getting a lighter power supply. HP really needs to continue working on the displays and on the power supplies. Improve contrast on the displays (a lot of customers will appreciate this), extend their vertical viewing angles and construct lighter and smaller power supplies. This is 2009 where notebook computers have to compete with netbooks, at least when it comes to portability issues.
Pls note that I am reviewing this machine from my German perspective where the market situation is slightly different from e.g. the US where DELL and Apple seem to dominate the market. Spare parts on Dells are still relatively expensive in Germany and not as available as in the US or even UK & Ireland.
For a sound reasoning on what to look for in a new notebook, pls check out this comment from 2006 by Steve , thx.