I recent­ly bought a new note­book (HP 6930p) and made sure it also comes with extra anten­nas (next to the WLAN anten­nas on top of the dis­play) so that I could install a Wire­less Wide Area Net­work (WWAN, pic­tu­red below) adap­ter which I had to buy separately.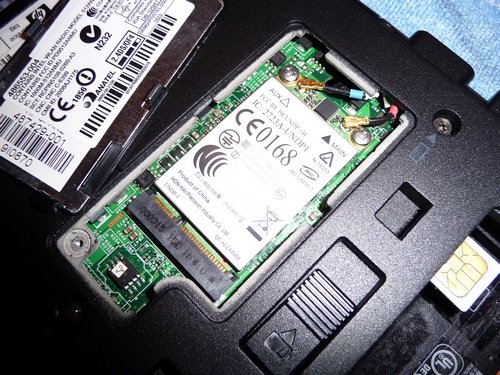 HP un2400 wwan adap­ter on the HP 6930p
The good part about this wwan adap­ter — an HP un2400, also known as Qual­comm Gobi 1000 — is that it sup­ports dif­fe­rent fre­quen­cy bands so it can work in many dif­fe­rent parts of the world. This, howe­ver, and may­be that it is hid­den under a cover insi­de this com­pu­ter so you don't have to car­ry extra gad­gets, is the only good part about this modem.
My other com­pu­ter is a net­book which also has a wwan modem — an Asus eeePC 1000HG. Just slip in your SIM card (under­ne­ath the bat­te­ry), boot into Win­dowsXP or Ubun­tu and you'­re rea­dy to go online, simp­le as that.

HUAWEI EM770 Mobi­le Broad­band modem on the eeePC 1000HG
The HP un2400 modem on my HP note­book, though, will ONLY work when the (main) bat­te­ry is inser­ted. HP names "car­ri­er cer­ti­fi­ca­ti­ons" as the rea­sons for this requi­re­ment as:
This pre­vents SIM fraud

This pre­vents any pos­si­ble cor­rup­ti­on if the SIM is remo­ved while the note­book PC powers on
Yeah…right.
Just to remind you: the 3g modem on my Asus eeePC will work eit­her way — whe­ther the bat­te­ry is inser­ted or not, it just works.
And then the­re's this thing cal­led "Firm­ware" — which also is a very pecu­li­ar pro­cess on the HP modem. Whe­re­as most gad­gets will nor­mal­ly come with their own (pre­l­oa­ded) Firm­ware (which may or may not be updated by end users), this Qual­comm Gobi modem requi­res an initi­al load of the firm­ware pri­or to its use (HP's Con­nec­tion Mana­ger will take care of this under Win­dows XP). Once you restart your com­pu­ter, you will have to rel­oad the firm­ware. The only pos­si­ble rea­son for this — to my under­stan­ding — is that it enab­les the modem to adjust to dif­fe­rent wwan envi­ron­ments. But tha­t's about it. Need­less to men­ti­on that you won't find any dri­vers for this device for Win7, and I've only come across a few users who mana­ged to get this device working under Ubun­tu after lots of fiddling.
And again, no pro­blems with my net­book & its Hua­wei EM770 3g modem. Real plug & play, regard­less of the ope­ra­ting system.
"So whe­re's the pro­blem?", you may ask, "aren't laptops/notebooks and net­books desi­gned to be run from bat­te­ry power any­ways?" — Well, yes, BUT! I always remo­ve the bat­te­ry on my note­book when I'm about to con­nect it to a sta­ble power sup­ply for a lon­ger peri­od. Like when I plug it into the docking sta­ti­on at home, I always remo­ve the bat­te­ry. I do this to save it from being con­stant­ly char­ged. It's a pre­cau­ti­on that hel­ps me kee­ping the bat­te­ry at ~90% initi­al char­ging capa­ci­ty after three years usa­ge (as seen on my old HP nx8220 note­book). It's a pro­ven method that worked for me and saved me from spen­ding ano­t­her EUR 80,- on a spa­re battery.
And the worst part about this wwan adap­ter is that HP locked the BIOS to _ONLY_ use the­se modems. It would­n't be pos­si­ble to use the 3G modem from the eeePC on the HP notebook.
Alter­na­ti­ves
Now, this is the part whe­re I actual­ly want to talk about alter­na­ti­ves to the­se inter­nal solu­ti­ons, which are often still con­si­de­red to be the opti­mal solu­ti­on. As descri­bed abo­ve, it's a not-so-per­fect solu­ti­on for tho­se who want to use other ope­ra­ting sys­tems then Win­dows XP and/or Vis­ta. It's an epic fail that HP still needs to rea­li­ze. An epic fail on all of their "Eli­te­Books" as HP calls this seri­es (HP 2530p, 6930p, 8530p).
The eeePC I have is also avail­ab­le without such a 3g modem — the pri­ce dif­fe­rence used to be EUR 100,- less. Peop­le (not me, I got it che­a­per :-) actual­ly paid this dif­fe­rence in order to get a net­book with an inter­nal 3g modem. As for the eeePC, the pri­ce dif­fe­rence is (was) jus­ti­fied as you had to cough up about the same amount for an exter­nal modem some time ago.
Howe­ver, now, in Sep­tem­ber 2009, things are a bit dif­fe­rent. Be it Ger­ma­ny or Kenya, you'­re actual­ly able to get an exter­nal USB-based 3g modem for some­thing like EUR 20,- to 30,- — which is a decent pri­ce, I'd say. Sure, you could even get it for less (in Ger­ma­ny) if you go for a 24month con­tract with a net­work pro­vi­der but I am only tal­king about pre­paid solu­ti­ons here.

the popu­lar Hua­wei E169
And the­se USB sticks are the very rea­son for blog­ging all this. I think that the­se exter­nal 3g modems are still the best solu­ti­on for the fol­lowing reasons:
they are sup­por­ted by dif­fe­rent ope­ra­ting sys­tems & often well docu­men­ted on the internet

they often come with their own soft­ware so you won't have to worry about that part

power con­sump­ti­on on the­se devices is mode­ra­te, also becau­se they are easier to remo­ve (and would­n't requi­re a soft­ware switch on the OS) — just unplug them

some of the­se sticks come with an extra socket for an exter­nal (UMTS) antenna

some of the­se sticks come with an extra flash memo­ry capacity

they are rela­tively cheap the­se days

they can be used on more than one com­pu­ter — just unplug them and hand them over to your friends (pro­vi­ded you have an unli­mi­ted data plan)
The dis­ad­van­ta­ge of cour­se is that you'd have an extra device at the side of your note­book which blocks one of the often limi­ted USB ports.
In the past I've also used the­the­ring my Nokia pho­ne to the com­pu­ter and using its 3G capa­bi­li­ties to surf the net; and on my old & beloved (and now sold) HP nx8220 note­book I had used a PCMCIA (PC-Card) ver­si­on of the­se 3G modems which I blog­ged about ear­lier. The PCMCIA ver­si­on worked fine, albeit the PCMCIA port being known for quick­ly drai­ning the bat­te­ry (which also beca­me obvious as it hea­ted up pret­ty quick­ly). My new HP note­book has an Expres­s­Card slot, so this could also be an alter­na­ti­ve if USB ports are real­ly limi­ted and alrea­dy used for other devices.
To be honest, with this limi­ta­ti­on of the inter­nal 3G modem on my HP 6930p to Win­dows XP & Vis­ta (and pro­bab­ly also Win7 one day), I'd pro­bab­ly go for ano­t­her machi­ne in future. I actual­ly don't know about the 3G modems on a Dell E6400 or Leno­vo T400(s) — all of them seem to come with a Gobi device the­se days -, but I hope they aren't as cripp­led as this Qual­comm Gobi? HP uses on their Eli­te­Books.? And signal strength (RX/TX ratio) actual­ly isn't so much bet­ter with the inter­nal anten­nas which have to com­pe­te with the WLAN anten­nas for the limi­ted space abo­ve the dis­play. Howe­ver, I under­stand that it isn't the modem which sucks (some web­sites claim it even comes with an inter­nal GPS chip?!) but rather HP's poli­cy which pre­vents us from using alter­na­ti­ve ope­ra­ting sys­tems and even locks the sys­tem down to this device only.
And with my poli­cy of drawing a clear line bet­ween user data and the ope­ra­ting sys­tem + hard­ware, the exter­nal USB modem is just so much more con­ve­ni­ent. It's a plug & play device that adds modu­la­ri­ty & fle­xi­bi­li­ty to the system.