Nach einer gefühlten und nicht übertriebenen Ewigkeit mal wieder auf Deutsch bloggen, weil es sich bei dem Thema gerade so anbietet und die Bilder eigentlich in jeder Sprache verstanden werden können. Yes, a blog post in German! Long time…
Ich war heute Abend beim Webmontag Frankfurt, der jetzt in 2013 endlich mit einer richtigen Website daherkommt und dieses Mal ca. 250 Besucher hatte. So voll war es beim Webmontag bisher noch nie (auch nicht bei den ebenfalls empfehlenswerten Ignite Abenden, die es in 2013 gleich zwei Mal geben wird)! Das Thema des Abends war "girl power", was so viel bedeutet wie: nur weibliche Vortragende und eine Frauenquote, deren Erwähnung bei der Piratenpartei wohl unter strafende Blicke gestellt werden würde. Die Mädels dürfen gerne öfter zum #wmfra kommen. Hach, ja.
Tschüss Webmontag! Ich bin froh dass du wieder da bist. Bis nächsten Monat! #rheinmainrocks #wmfra

— Anna Groos (@AnnaMelitta) Januar 14, 2013
Beim Webmontag unterhielt ich mich auch wieder mit meinen Bastlerkollegen vom Hackerspace Frankfurt. Der Karsten, ITler aus der Region, bastelt nämlich auch sehr gerne (und vielseitig) und gab mir einen sehr guten Tipp, den ich zu Hause sogleich umgesetzt habe und der dann auch der Auslöser für diesen Blogpost hier war. Aber der Reihe nach:
Schlüsselanhängertaugliche USB-Sticks
Wir haben das Jahr 2013, unsere Daten liegen in der Cloud, speicherintensive Medien werden eher gestreamt als lokal gebunkert und so eine richtige Verschlüsselungssoftware für USB-Datenspeicher ("USB Stick") – die auch ohne Adminstatus läuft – gibt es wohl noch immer nicht (SecurStick & TrueCrypt).
Kurz: den Zenit hat der USB Stick wohl schon überschritten, und so scheinen die meisten Sticks als Speicher für das Autoradio oder als Aufnahmemedium für PVR-taugliche Fernseher Verwendung zu finden. So klassisch am Schlüsselbund dagegen, den Datenstick immer dabei, als Sardu-Rettungsstick wie bei mir – dieses Szenario gibt es irgendwie gar nicht mehr so oft. Oder aber die Hersteller/Anbieter von USB Sticks produzieren seit einigen Jahren am Markt vorbei.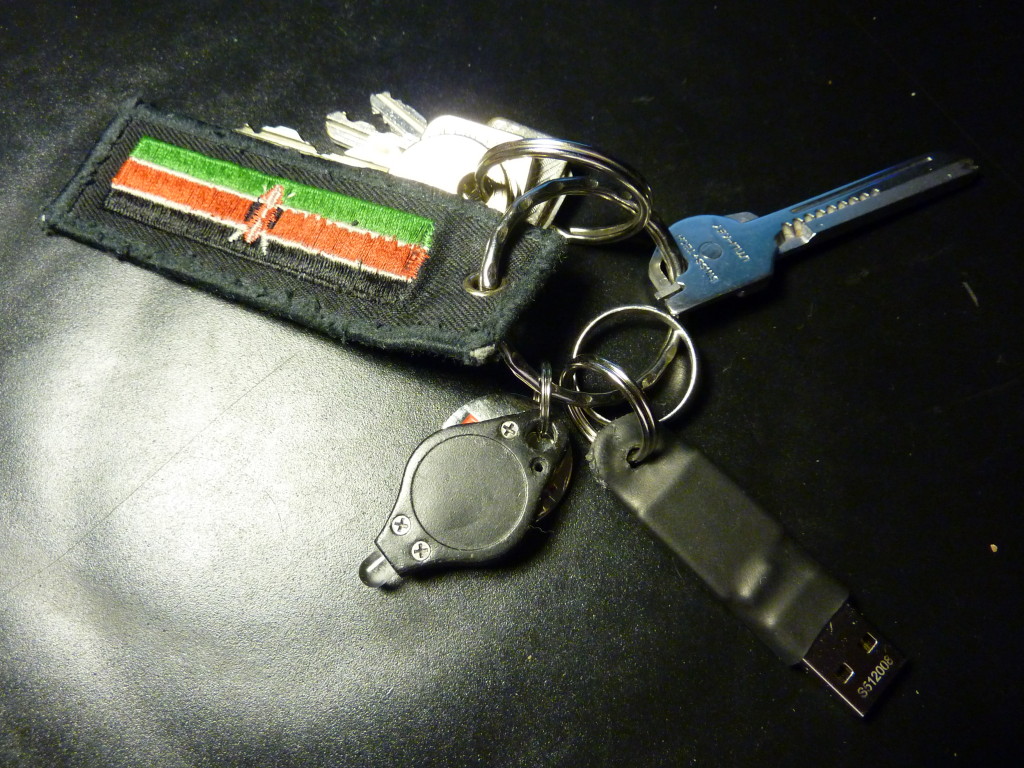 Mir fehlt nämlich die Schlüsselanhänger-Tauglichkeit moderner USB-Sticks. Mein Schlüsselbund steckt in der rechten Hosentasche, ist immer dabei und dementsprechend einer mechanischen Belastung ausgesetzt. Die meisten USB-Sticks am Markt haben oft nur eine kleine Öse aus Kunststoff, durch die man einen kleinen Faden ziehen kann, um dieses Gebamsel dann weiter zu befestigen. Der Faden besteht zwar erfahrungsgemäß aus einer Nylonseele, ist aber sonst auch eher von kurzer Lebensdauer. Und ich habe mittlerweile diverse Modelle getestet – vor allem diverse Kartenleser für das microSD Kartenformat, das mich anfangs noch sehr begeistert hatte: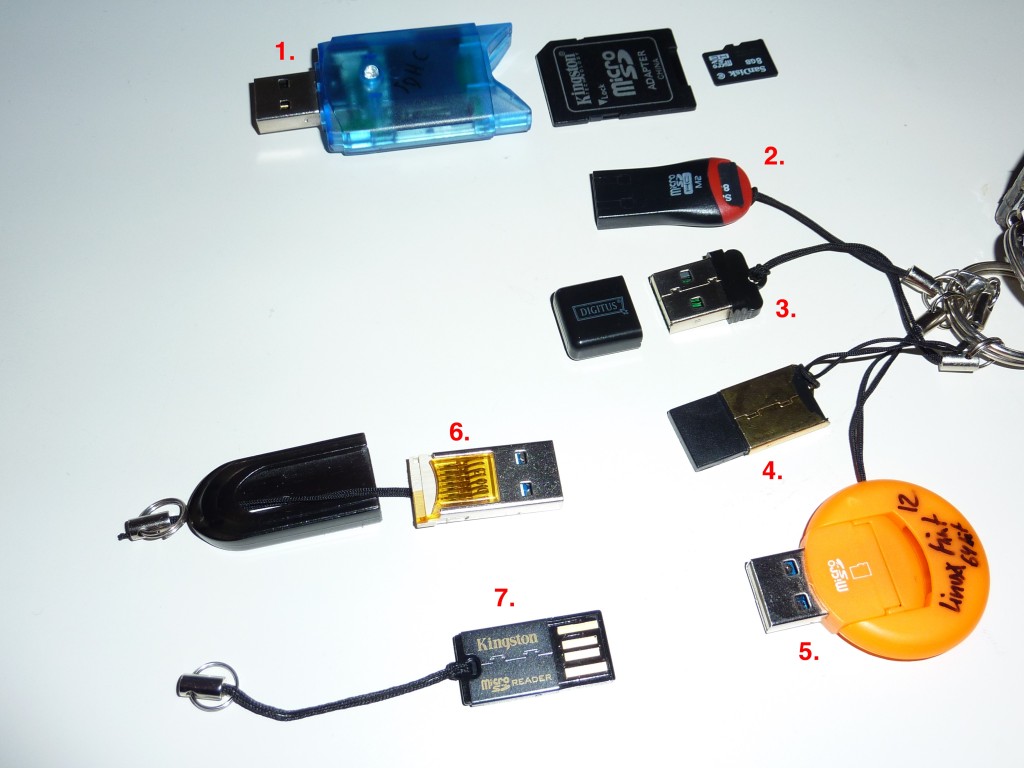 Das Problem: die meisten microSD-Karten sind anfällig oder relativ langsam. Und leider scheinen die microSD-Karten bei Smartphones und tablets wieder zu verschwinden. Letztens schrieb ich ja schon (auf Englisch) über microSD-Karten, und wieso sie aus meiner Sicht aufgewertet werden sollten. MicroSD-Karten müssten eigentlich eine goldene Zukunft haben, wurden aber wohl seinerzeit nur deswegen in den Telefonen angeboten, weil interner Flash-Speicher kostenintensiv war und das Problem der Speicherlösung daher an den Nutzer ausgelagert werden konnte. Von den oben verlinkten microSD-Kartenlesern aus China ist eigentlich nur der Kingston SD-Kartenleser gut (Nr. 7). Die Qualität bzw. Leistung der Karten steht und fällt wohl auch sehr mit den verbauten Controllerchips. In zwei Jahren habe ich zwei 16 GB microSD-Karten entsorgen müssen, die nach relativ kurzer Benutzung schon defekt waren. Von thermischen Problemen im Betrieb ganz zu schweigen.
Heißt: weg von den kleinen microSD-Karten und ihren Lesegeräten, hin zu normalen USB-Sticks in traditioneller Bauform. Aber mit guten Geschwindigkeiten und möglichst sinnvoller Bauweise (d.h. keine zu großen Gehäuse, die bei zu eng platzierten USB-Steckplätzen blockieren). Und eben mit einer stabilen Öse für den Schlüsselring. Die meisten der von mir getesteten Sticks haben leider genau dort ihren Schwachpunkt.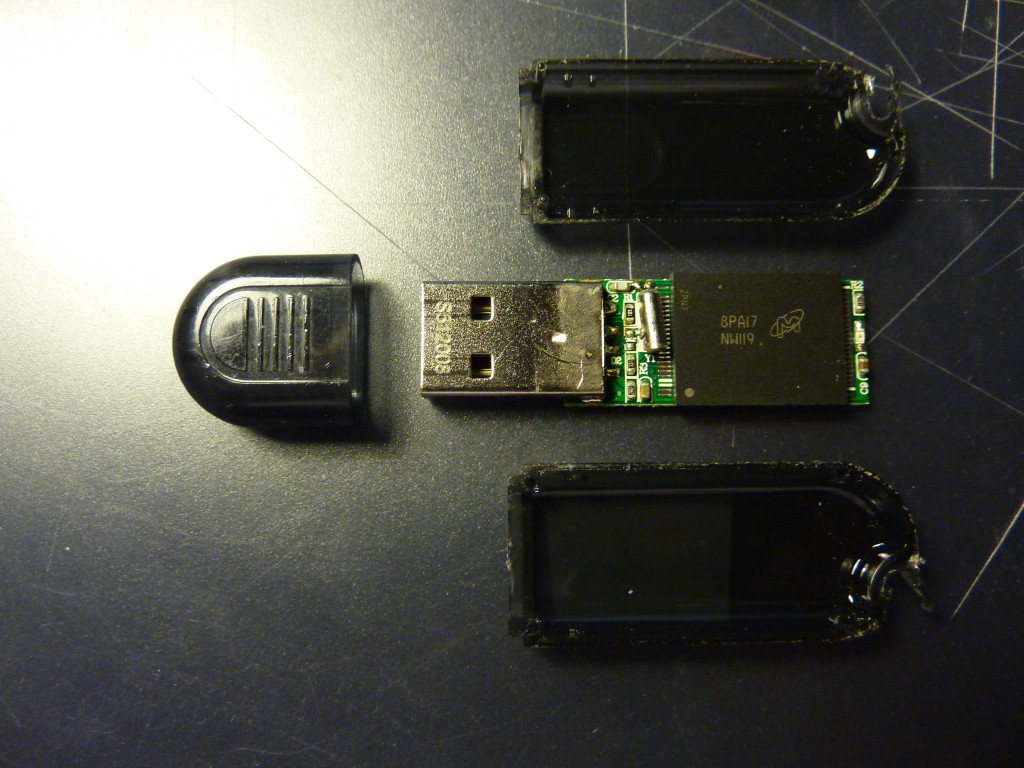 Bastlerkollege Jan hält seinen USB-Stick daher vom Schlüsselbund getrennt. Das wäre dann wohl Plan A. Aber was wäre das Leben ohne Bastelzwang?
Plan B: den vom Gehäuse befreiten, nackten Stick mit der wunderbaren Knetmasse Sugru verkneten. Am oberen Ende noch einen Schlüsselring einarbeiten und fertig ist der wohl stabilste USB-Stick seit der Vermarktung dieser gummierten Corsair Flash Voyager Sticks (zwei ganz wunderbare Seiten zu aktuellen USB-Sticks, inklusive real getesteter Geschwindigkeiten fand ich übrigens bei stick-test.de und usbstick-charts.de). Wenn man beim Formen des Sugrus aufpasst und Silikon-Handschuhe trägt, kann man das Ergebnis dann auch noch mit Seifenlauge abwischen, so dass keine Fingerabdrücke hinterlassen werden. Nächstes Mal, nich? 
Sugru ist diese Knetmasse, die Silikonartig abtrocknet und an feinen Salzteig oder Fimo erinnert. Sugru gibt es seit mittlerweile 2-3 Jahren, seit Dezember 2012 wohl auch offiziell in Deutschland zu kaufen (aber: teuer – 8 Beutelchen ca. 15 EUR, ohne Versandkosten). Ich beziehe meinen Vorrat derzeit noch via eBay aus den USA oder UK. Sugru ist einfach nur genial. Alleine schon aufgrund des Spaßfaktors lohnen sich Basteleien mit Sugru. Das Marketing für Sugru läuft auch primär über solche Communities, d.h., die Bastelideen können auf der Sugru Website mit anderen geteilt werden. Toll!
Plan C: der super Tipp vom @byteborg – einfach einen Schrumpfschlauch drüber ziehen, heiß machen, am oberen Ende etwas überstehen lassen und dann bei Bedarf noch eine Niete als Verstärkung für den Schlüsselring durchziehen. Kaum nach Hause gekommen, habe ich das natürlich umgehend an einem 8GB Stick getestet, und siehe da: funktioniert bestens! Sogar die Metallöse kann man sich sparen, so stabil ist das doppel-lagige, heiß-verklebte Gummi an der Stelle.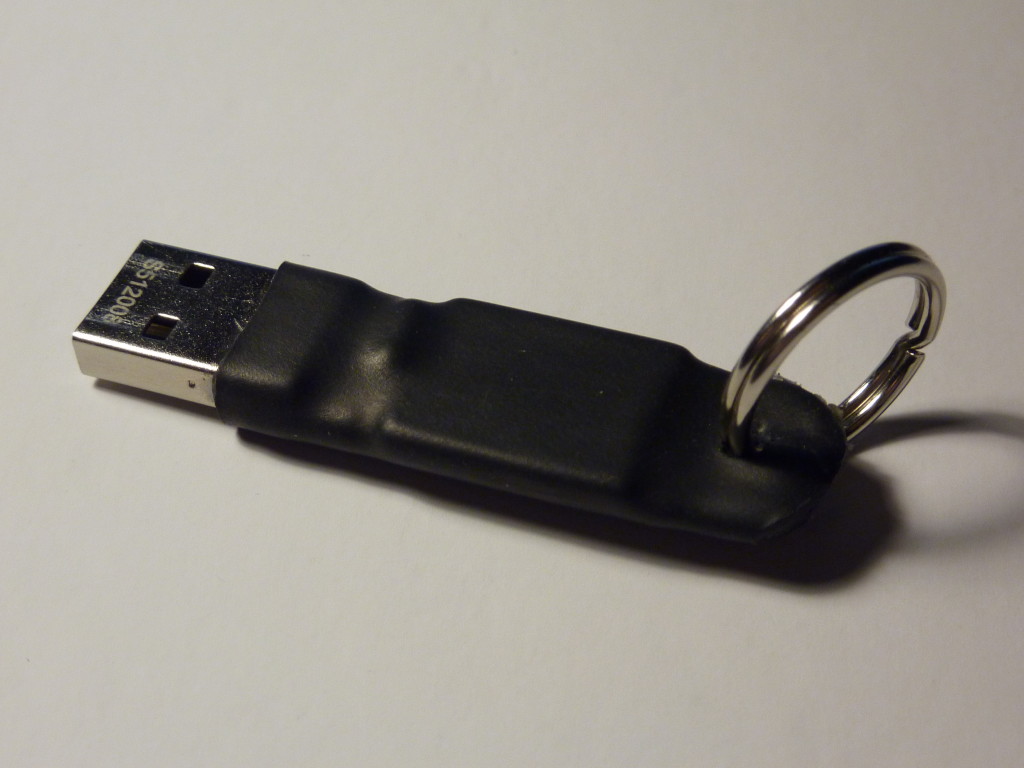 Natürlich sind beide Lösungen ohne Schutzkappe, aber irgendwo muss man wohl Abstriche machen. Und der einzige ernst zu nehmende Favorit beim Thema Schlüsseltauglichkeit – der Kingston DTSE9H – ist leider noch nicht in einer USB 3.0 Variante erhältlich und als USB 2.0 Version nicht der Schnellste. Meine Sticks schreiben aber alle nur mit ca. 4 MB/s, so dass jeder schnellere Stick ein Upgrade bedeuten würde. In Zeiten von erschwinglichen USB 3.0 Sticks (die auch schneller an USB 2.0 Ports arbeiten) muss man sich aber ernsthaft die Frage stellen, ob noch weiterhin in USB 2.0 Lösungen investiert werden sollte.
Der Nachteil: die praktischen Adressaufkleber halten nicht auf Gummi und Silikon. Außerdem sind die selbstgebastelten Speicherstickgehäuse eher häßlich. Aber es ging ja auch primär um die Machbarkeit.
Fazit: it works, it's cheap, it wins! Wenn es unbedingt ein Schlüsselbund-tauglicher USB 3.0 Stick sein muss, kann man also auch getrost die Bauformen vernachlässigen und sich bei entsprechendem Bedarf eigene Anhänger zurechtbasteln. Schöner wären natürlich noch mehr Speichersticks am Markt, die wie der Kingston DTSE9H eine große Ösen hätten, so dass sich diese ganze Herumbastelei erübrigen würde. Ein gedrucktes 3D-Gehäuse erscheint mir nicht so sinnvoll, müsste man aber auch mal ausprobieren (evtl. nicht elastisch genug?).
Die Speichersticks in Schlüsselform halte ich übrigens für eine nette Spielerei, da sie leistungstechnisch eher auf dem Niveau von microSD-Karten liegen und intern auch nicht anders aufgebaut sind. Die Kingston-Alternative von Extrememory – der USB Xtasy 32GB – ist mit 6 MB/s leider auch kein solcher Burner.
USB Sticks gibt es jetzt seit ca. 10 Jahren und auch wenn die Geschwindigkeit zugenommen hat, so hat sich doch außer den microSD-Karten und den damit verbundenen Möglichkeiten als Werbegeschenke nicht viel getan. Die meisten USB Sticks sehen in 2013 leider auch immer noch so aus, als wenn sie ohne Rücksicht auf den Benutzer hergestellt wurden. Selbst der aktuelle Testsieger Sandisk Cruzer Extreme mit seiner USB 3.0-bedingten Bauart ist eher ein häßlicher Bolzen als eine mobile Speicherhilfe, die man gerne herum trägt. Schade eigentlich – Design-technisch ist bei den meisten USB-Sticks noch sehr viel Luft nach oben. Bleibt also zu hoffen, dass die Hersteller diesen Bedarf irgendwann noch erkennen und – so wie beim Kingston DTSE9H – entsprechend fördern.
Wo wir gerade beim Thema sind: die Cloud wird leider nie solche Möglichkeiten zur Individualisierung anbieten, wie ich es dieser Tage bei einem älteren 2.5″ SATAII-USB-Gehäuse umgesetzt habe. Muss man jetzt nicht unbedingt mögen, ist aber super hilfreich, wenn die restlichen 2.5″ Backup HDDs alle gleich aussehen:

(der Brokat-Stoff ist von eBay und kommt aus Vietnam, ca. 7 EUR, 40+ Tage Lieferzeit)
Edit: mein Sugru Hack hat es jetzt sogar auf die Sugru Website geschafft, aber die ganze Konstruktion war mir noch zu wulstig und auch der Ring irgendwie zu instabil. Einmal den Ring um 45° gedreht und aus der Traum vom Sugru Stick. Aber Sugru ist trotzdem brauchbar, denn es ist ein ganz exzellentes Füllmaterial für die Lücken auf der Platine. Bündig mit nem Teppichmesser abgeschnitten und auch diesen Stick in einen Schrumpfschlauch gesteckt, sieht es schon viel brauchbarer aus. Als Kappe dient ein Stück vom Schrumpfschlauch, was leider gar nicht so einfach herzustellen ist (klebt wie bolle) und deswegen etwas verzogen ausschaut:
Yes – that's a heat shrink tube which covers my ex-sugrufied usb flash drive. Sugru is an excellent filler for the pcb, but it couldn't really hold the ring as tight as I wanted it to be. A piece of the tube is used as a cap. This way, the stick is almost waterproof and also much lighter in the pocket. But the most important part is that it comes with a durable keyring.