A flash-based web-solution to test your webcam.
Mutter: "Was heißt A-Deeh?"
Sohn: "Adeeh (ade) is Schwääbisch und heischt Uff Wiederseen"
Vater & Sohn lachen.
– Familie Heinz Becker
The Candidate
There are quite a few things I dislike about my laptop, but mainly financial reasons and the lack of a much better alternative (suggestions welcome!) make me being stuck with an HP Elitebook 6930p, a laptop that's most often operated at home on a docking station because of a) a heavy power cord (the cord, not the transformer), b) a CCFL screen (instead of an LED option which would add another 1h of battery runtime), c) an internal 2G/3G/EV-DO modem that will only work in a MS-Windows environment and d) lousy battery runtime of about 2-3h on 4cell battery (I have another travel battery that extends it for a few hours, but also adds weight).
This computer…. I don't know. Back in the days we used to say: HP = High Price, Huge Problems. The 6930p is quite durable and well built, but the CCFL screen is so 1990s. Brilliant colours vs. battery draining. Uargh…
The Webcam
The webcam on this said laptop has no cover – like many other modern laptops. If you feel being spied on via your webcam, mistrust the LED that's supposed to show activity on the cam or never pay attention to it anyways, there are simple and professional ways to cover your webcam. I've used a piece of a note-it post in the past, others use their beloved duct tape or whatever is around. And then there's the good solution that will cost you ~ US$ 12 or EUR 15 (even though it's a German company!). Good but also expensive for a little piece of plastic. For half the price, ok. But 15 EUR is a bit too much.
https://www.youtube.com/watch?v=7W6tygVIzSM
Time to build my own solution using black cardboad: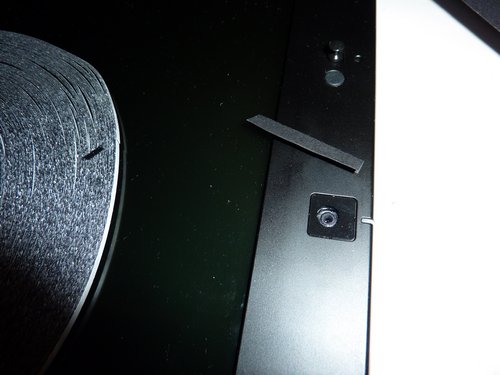 It's cheap, it wins, it works!
The laptop lid also closes without problems. Very nice!