I may be late to the par­ty, but I just could­n't resist and orde­red an iPad 2 (16GB, 3G).
It's a stran­ge situa­ti­on becau­se I am alrea­dy an Android user the­se days for the pho­ne side and real­ly appre­cia­te the free­dom (and cos­ts!) that come with it des­pi­te Andro­ids down­si­des (my main cri­ti­cism is that the­re are no vou­chers avail­ab­le for the Android app mar­ket as oppo­sed to the iTu­nes store => +1.85% on each app purcha­se while using my EU credit card).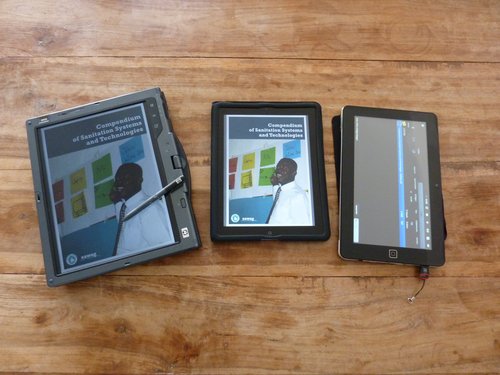 My beloved HP tc4400, the iPad2 on iOS5 and a Fly­Touch 3 Android 2.2 tablet that still lacks a PDF rea­der becau­se it's alrea­dy on auc­tion. The Fly­Touch btw also has a 1024x600 screen — as oppo­sed to the other two that offer a 1024x768 screen reso­lu­ti­on. Good for movies, bad for PDFs.
No, the­re's much more to an iPad, obvious­ly, and pro­bab­ly also more than enough rea­sons why over 29 mil­li­on (!) iPads have alrea­dy been sold till now. A "tablet revo­lu­ti­on"? No, but a tablet revo­lu­ti­on based on the iPad — tha­t's for sure.
I am used to buy­ing second hand hard­ware and this time I am glad I had found a way to finan­ce this purcha­se (via a mobi­le pho­ne con­tract = sub­si­di­zed hard­ware) and with the sud­den loss of a dear fami­ly mem­ber ear­lier this year, I also rea­li­zed that life is inde­ed too short for crap­py pro­ducts. Why should I was­te time with stu­pid hard­ware if ins­tead I can also go for the real thing?
This very emo­tio­nal rea­son pro­bab­ly is the most honest excu­se for this purcha­se, but you know what? Cli­cking that "buy" but­ton felt damn good. Wha­te­ver they say about Apple pro­ducts and their fan­boyz — it's true, it's a *feel-good-world*.
So why should I still blog about this purcha­se if 29 mil­li­on out the­re have alrea­dy made this buy­ing decisi­on? Becau­se I have a smart list that mat­ters to me. Here's my TOP5 rea­sons for the purchase:
Pas­si­on
After watching this docu­men­ta­ry ear­lier last mon­th about for­mer Micro­soft employees, it even­tual­ly occur­red to me that most MS pro­ducts just lack pas­si­on .
This is exact­ly what I like the most about the­se por­ta­ble Apple pro­ducts: a meti­cu­lous CEO that demo­ed his pro­ducts and also loo­ked at the smal­lest details.
Or Linux deve­lo­pers who crea­te stuff out of pas­si­on. Not becau­se they have to, but becau­se they want to. That alo­ne is a total­ly dif­fe­rent approach and a sign of qua­li­ty to me.
I am yet to see that on MS pro­ducts. And I am a Win7 user most of the time, along with this crap cal­led Out­look 2007 (HTML ren­de­ring, bollocks!).
And it's not just the soft­ware you can buy. Just yes­ter­day I read through this publi­ca­ti­on from Micro­soft Rese­arch on the need for meta data to be imple­men­ted in future genera­ti­ons of file­sys­tems. Very valid points and I under­stand that MS Res­arch are doing good work, BUT! — again — the paper was much lon­ger than necessa­ry. So much bla­bla­bla and yet the important stuff could have been said on one sin­gle page. This out-of-focus-approach is so typi­cal of MS, I think. As a cus­to­mer and user of MS pro­ducts, I don't feel any pas­si­on in their pro­ducts and mean­while also belie­ve that many lines of code on their OS & apps are just ran­dom data.
Hence: any com­pa­ny that shows a pas­si­on with their pro­ducts is high­ly appre­cia­ted. A pas­si­on to deli­ver good quality.
Rea­der
I think the iPad is the best rea­ding device. Why? Becau­se I can not dis­play most of my PDFs on a 7″ eInk dis­play without con­stant­ly zoo­m­ing in and out. So as long as eInk rea­ders aren't run­ning a bit fas­ter for this pur­po­se, the iPad is the bet­ter alter­na­ti­ve to me at the moment alt­hough I am sure we'll soon see more 7″ devices.
The Ama­zon tablet(s) would have been an inte­res­ting alter­na­ti­ve to me, but their 7″ Fire tablet isn't even avail­ab­le here! In my opi­ni­on as a cus­to­mer, if you can't launch/ship glo­bal, then don't even launch it for a sin­gle coun­try. You can do that for Japan, may­be, but not for the US that are so con­nec­ted with the rest of the world.
Apps
The­re are SO MANY apps avail­ab­le for the iPad. In fact, most publi­shing houses in Euro­pe ONLY offer iPad apps for their print pro­ducts. No Android app, only iOS. Sad, but still the bit­ter rea­li­ty. Becau­se I'd also be hap­py with a com­pe­tit­ve (and avail­ab­le) Android tablet.
Tal­king of Android tablets, my friend Dave recent­ly got an Asus eee­Pad Trans­for­mer TF101 and — as a pilot for an inter­na­tio­nal air­line — tried to pick the bet­ter alter­na­ti­ve. Unfor­tu­n­a­te­ly, his tablet alrea­dy bro­ke after only two mon­th and his big­gest com­p­lain was the lou­sy App situa­ti­on for Android Honey­comb (as com­pa­red to the iPad, of cour­se, which is hard to beat). Dave — go and get your iPad. Now!
Adri­an — I mis­sed my chan­ce to get an HP Touch­Pad for 99 EUR. I reck­on that it would have been an inte­res­ting PDF rea­der and sur­fing device for me.
Run­ti­me
Bat­te­ry run­ti­me on the iPad is just total­ly cra­zy. It's long enough to get me through a day at a Bar­Camp and tha­t's all that mat­ters to me.
Also, 29 mil­li­on cus­to­mers enab­le a fabu­lous after­mar­ket. You'll find ple­nty and cheap char­gers as well as other acces­sor­ries on eBay, on Focal­Pri­ce and so on.
Por­ta­bi­li­ty
I remem­ber when Eric told me about his dai­ly trips to the office through Nai­ro­bi traf­fic and men­tio­ned how the iPad actual­ly is the solu­ti­on to his mobi­le office.
Just look at how many of us laug­hed about the iPad and its limi­ted capa­bi­li­tes back when the iPad1 was laun­ched. And now we are even using it to have a mobi­le office and a quick device for that dai­ly "lem­me goog­le that"-moment.
Sure, the iPad2 is hea­vy and we'll pro­bab­ly all com­p­lain about the size once the­re are more 7″ readers/tablets, but after my pre­vious expe­ri­ence with a 8.9″ and a 10.1″ net­book, I know for sure that 12″-14″ is the best lap­top size for me and that this 10″ tablet does it for me atm.

HP tc4400 vs. Apple iPad 2
(the HP tc4400 tablet pc also ser­ves as my back­up machine)
———————————-
I am not yet rea­dy to ful­ly con­vert to the Apple world (+ Ubun­tu is che­a­per any­ways :-), but this lack of pas­si­on on MS pro­ducts cer­tain­ly is a very valid rea­son for me. It's also kind of iro­nic that Bill Gates hims­elf is very pas­sio­na­te about his phil­an­thro­pic foun­da­ti­on for this pas­si­on has alrea­dy enab­led so much good work (the BMGF are imo doing a very good job by finan­cing smal­ler pro­jects). I wish some of this pas­si­on could also reflect back on Micro­soft and that their future tablets with Win­dows 8+ will pro­vi­de a sui­ta­ble alter­na­ti­ve. But atm, I high­ly doubt that.