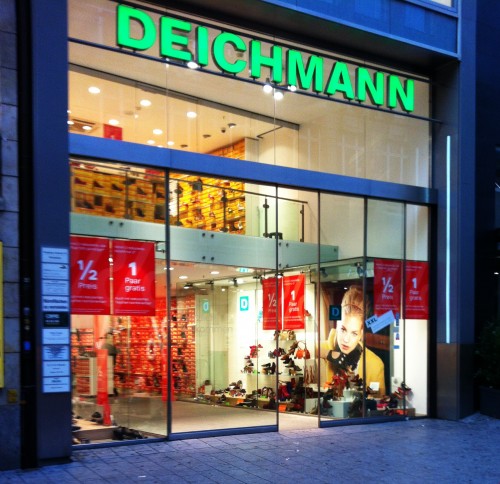 There's certainly much more to a society than one picture could ever express, but this one here – a snapshop of a shoe shop in Hamburg – already says a lot to me and it is also somehow typical of the business-to-customers relationship in Germany.
Most shops close at 8pm, and this snapshot was taken a few minutes before 8pm. Sales people are tired, they want to go home – there a lot of valid reasons for closing in time. Others, however, do not really understand this business attitude. "Why do your shops close at 8pm?", the Chinese Taiwanese intern asked me the other day. "Because of a strong labour union", I replied. – "You know, shops in Taiwan are open for 24h".
Now, the interesting part is that they indicate their punctual closure by narrowing the entrance to a tight channel where customers can get out, but won't get in that easily. It's a typical sign of non-verbal communication.
And that, ladies and gentleman, is what Germany is all about: living in a society which is based on perfectionism and abstract levels of communication where such non-verbal procedures are accepted as the norm – instead of e.g. giving in and closing the shop only when the last customer has left the building.
It's their sign of saying "Dear customers, please get out. Now!". It's a closed door that tells me how people apparently prefer to communicate – with rules and guidelines that every observant visitor will need to notice. It's a non-verbal sign instead of a rude sales person who will ask you in a non-friendly tone to leave the shop asap. Which leaves me with the question: is this – the half-closed door – an improvement to the unfriendly sales staff we were used to?
(there are so many examples for non-verbal communication in Germany where I often think: "Ha! I understand this, but what about everyone else? And are these non-verbal methods really reliable enough in getting the point across, especially when you are dealing with foreigners who are used to verbal communication? Or who don't know what you and the rest of society expect from an unknowing individual, who doesn't notice these signals?")