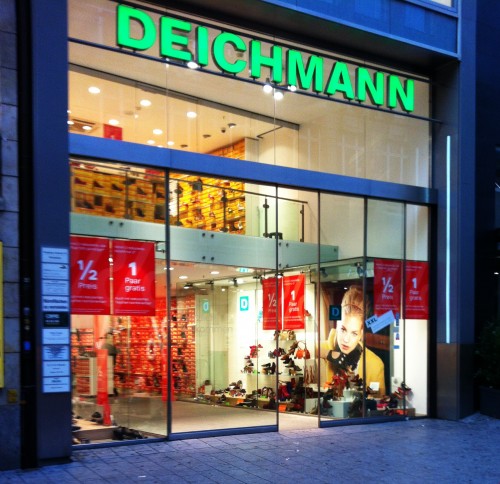 The­re's cer­tain­ly much more to a socie­ty than one pic­tu­re could ever express, but this one here — a snap­shop of a shoe shop in Ham­burg — alrea­dy says a lot to me and it is also somehow typi­cal of the busi­ness-to-cus­to­mers rela­ti­ons­hip in Germany.
Most shops clo­se at 8pm, and this snapshot was taken a few minu­tes befo­re 8pm. Sales peop­le are tired, they want to go home — the­re a lot of valid rea­sons for clo­sing in time. Others, howe­ver, do not real­ly under­stand this busi­ness atti­tu­de. "Why do your shops clo­se at 8pm?", the Chi­ne­se Tai­wa­ne­se intern asked me the other day. "Becau­se of a strong labour uni­on", I replied. — "You know, shops in Tai­wan are open for 24h".
Now, the inte­res­ting part is that they indi­ca­te their punc­tu­al clo­sure by nar­ro­wing the ent­ran­ce to a tight chan­nel whe­re cus­to­mers can get out, but won't get in that easi­ly. It's a typi­cal sign of non-ver­bal communication.
And that, ladies and gen­tle­man, is what Ger­ma­ny is all about: living in a socie­ty which is based on per­fec­tio­n­ism and abs­tract levels of com­mu­ni­ca­ti­on whe­re such non-ver­bal pro­ce­du­res are accep­ted as the norm — ins­tead of e.g. giving in and clo­sing the shop only when the last cus­to­mer has left the building.
It's their sign of say­ing "Dear cus­to­mers, plea­se get out. Now!". It's a clo­sed door that tells me how peop­le appar­ent­ly pre­fer to com­mu­ni­ca­te — with rules and gui­de­li­nes that every obser­vant visi­tor will need to noti­ce. It's a non-ver­bal sign ins­tead of a rude sales per­son who will ask you in a non-friend­ly tone to lea­ve the shop asap. Which lea­ves me with the ques­ti­on: is this — the half-clo­sed door — an impro­ve­ment to the unfriend­ly sales staff we were used to?
(the­re are so many examp­les for non-ver­bal com­mu­ni­ca­ti­on in Ger­ma­ny whe­re I often think: "Ha! I under­stand this, but what about ever­yo­ne else? And are the­se non-ver­bal methods real­ly reli­able enough in get­ting the point across, espe­cial­ly when you are dealing with for­eig­ners who are used to ver­bal com­mu­ni­ca­ti­on? Or who don't know what you and the rest of socie­ty expect from an unknowing indi­vi­du­al, who does­n't noti­ce the­se signals?")