Here's an idea that has been haun­ting me for years now, and I am most cer­tain­ly not the only per­son who has the fol­lowing con­cept in mind: using microSD cards in mobi­le pho­nes for ALL user data.
ALL user data = ever­ything I enter into the pho­ne. The address book, mul­ti­me­dia files, user defi­ned settings.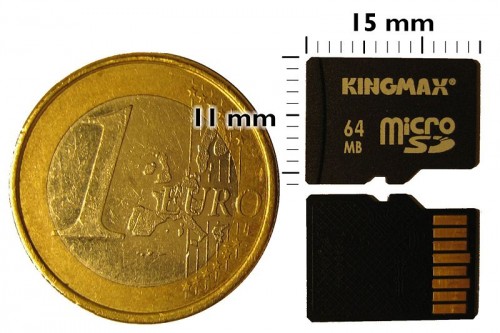 microSD-card next to 1€ coin
Buy an iPho­ne, install ever­ything, have it drop to the floor or into the toi­let, resul­ting in a water dama­ge and the pho­ne won't be reco­gni­zed by iTu­nes — well, even your most recent back­up on the cloud will only be as good as when you last made a back­up. No microSD cards on iPhones.
Many Android pho­nes alrea­dy come with slots for microSD cards. Plug it in, roll out your back­up via the inter­nal back­up rou­ti­ne, via Tita­ni­um or Goog­le, and you'­re done. It's not 100% the way I want it, but it's get­ting much clo­ser than what you have on an iPhone.
Sure, the­re's the cloud, some will argue. But a lot of users out the­re still are on a slow inter­net con­nec­tion (if any) and many also don't want to have their data saved in the cloud.
"Without a microSD card", I was once told, "the­re's less to worry about. And from a busi­ness per­spec­ti­ve, it's also more secu­re". Well, is this a valid argument?
The­re's an older essay on microSD cards in pho­nes by (mobi­le pho­ne expert and ana­lyst) Eldar Mur­ta­zin, whe­re he argues that microSD cards aren't the bet­ter opti­on — but I could­n't dis­agree more. Of cour­se, as an ana­lyst he also loo­ks at why pho­ne manu­fac­tu­rers have used memo­ry cards on pho­nes ins­tead of inter­nal memo­ry and the che­a­per pri­ce may be a rea­son for their intro­duc­tion on pho­nes some years ago. He also loo­ks at figu­res from the actu­al use and says that many don't actual­ly use the microSD card or what it is capa­ble of.
Well, for a rea­son, I'd say. It's becau­se the cur­rent set­up whe­re I can only use it for sto­ring mul­ti­me­dia files and apps is real­ly insuf­fi­ci­ent. My ide­al pho­ne is a dumb pho­ne with strong CPU power, some con­nec­ti­vi­ty extras and a smart OS — and whe­re ALL user data is stored on a microSD card on dif­fe­rent levels (i.e.):
Level 1: apps
Level 2: app set­tings, address book, desk­top set­tings, bookmarks
Level 3: sta­tic mul­ti­me­dia files (e.g. pho­tos, vide­os, audio files, docu­ments, etc.)
Level 4: swap / cache memory
The pho­ne is dead? Just pull out the microSD card, plug it into a new pho­ne and you are rea­dy to go. So, obvious­ly, the­re would need to be a stan­dard on this to pro­vi­de an inter­ac­tion bet­ween dif­fe­rent pho­nes that come with the same OS (the requi­re­ments alrea­dy sound a lot like the Tita­ni­um back­up suite on Android). And the beau­ti­ful part about this set­up would be that all stored user data is up to date — and not as of three days ago when the pho­ne did a back­up of some sta­tic data to the cloud.
How many of you have actual­ly lost some important num­bers with bro­ken pho­nes? How many have only recent­ly rea­li­zed that the num­bers stored on a mobi­le device are also backed up online? How many are using Syn­cML ser­vices like Ever­droid?
Pho­nes die or "walk away". Hard­ware can be repla­ced, soft­ware in terms of your own user data can't and is the most pre­cious asset of the 21st cen­tu­ry in IT. So how come the­re are microSD cards on pho­nes that are only used in a very restric­ted way?
(I also love my iPho­ne, but the cur­rent ver­si­on of iCloud is some cripp­led pie­ce of shit, just like iTunes).