Here's an idea that has been haunting me for years now, and I am most certainly not the only person who has the following concept in mind: using microSD cards in mobile phones for ALL user data.
ALL user data = everything I enter into the phone. The address book, multimedia files, user defined settings.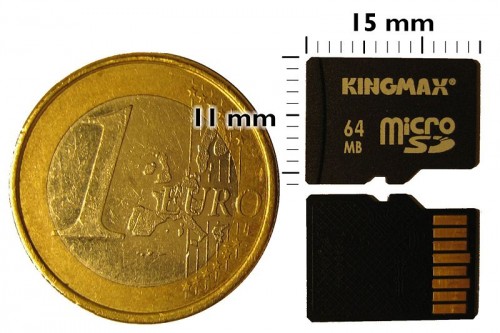 microSD-card next to 1€ coin
Buy an iPhone, install everything, have it drop to the floor or into the toilet, resulting in a water damage and the phone won't be recognized by iTunes – well, even your most recent backup on the cloud will only be as good as when you last made a backup. No microSD cards on iPhones.
Many Android phones already come with slots for microSD cards. Plug it in, roll out your backup via the internal backup routine, via Titanium or Google, and you're done. It's not 100% the way I want it, but it's getting much closer than what you have on an iPhone.
Sure, there's the cloud, some will argue. But a lot of users out there still are on a slow internet connection (if any) and many also don't want to have their data saved in the cloud.
"Without a microSD card", I was once told, "there's less to worry about. And from a business perspective, it's also more secure". Well, is this a valid argument?
There's an older essay on microSD cards in phones by (mobile phone expert and analyst) Eldar Murtazin, where he argues that microSD cards aren't the better option – but I couldn't disagree more. Of course, as an analyst he also looks at why phone manufacturers have used memory cards on phones instead of internal memory and the cheaper price may be a reason for their introduction on phones some years ago. He also looks at figures from the actual use and says that many don't actually use the microSD card or what it is capable of.
Well, for a reason, I'd say. It's because the current setup where I can only use it for storing multimedia files and apps is really insufficient. My ideal phone is a dumb phone with strong CPU power, some connectivity extras and a smart OS – and where ALL user data is stored on a microSD card on different levels (i.e.):
Level 1: apps
Level 2: app settings, address book, desktop settings, bookmarks
Level 3: static multimedia files (e.g. photos, videos, audio files, documents, etc.)
Level 4: swap / cache memory
The phone is dead? Just pull out the microSD card, plug it into a new phone and you are ready to go. So, obviously, there would need to be a standard on this to provide an interaction between different phones that come with the same OS (the requirements already sound a lot like the Titanium backup suite on Android). And the beautiful part about this setup would be that all stored user data is up to date – and not as of three days ago when the phone did a backup of some static data to the cloud.
How many of you have actually lost some important numbers with broken phones? How many have only recently realized that the numbers stored on a mobile device are also backed up online? How many are using SyncML services like Everdroid?
Phones die or "walk away". Hardware can be replaced, software in terms of your own user data can't and is the most precious asset of the 21st century in IT. So how come there are microSD cards on phones that are only used in a very restricted way?
(I also love my iPhone, but the current version of iCloud is some crippled piece of shit, just like iTunes).