The fol­lowing may be old news to some of you, but I found it inte­res­ting enough to share it via this blog. Also, becau­se the­re may be others out the­re who have a faul­ty TFT screen. Apo­lo­gies also for the poor pic­tu­re qua­li­ty — taken while in action, with litt­le regard for poten­ti­al blog content.
"You can have my old 22" TFT Sam­sung dis­play", a friend of mine recent­ly told me. "It's somehow bro­ken as it often does­n't show a pic­tu­re, some­ti­mes only after a while, but in most cases it's just dead", he wro­te. "I will throw it away or you come and pick it up." So we picked it up.
It was the first time I ope­ned such a huge TFT and also the first time I immedia­te­ly found the cau­se of this fail­u­re: worn out elec­tro­ly­tic capa­ci­tors. A quick Goog­le search then reve­a­led that the­se capa­ci­tors are inde­ed the cul­prits, and that I am not the first one who has a pro­blem with such a Sam­sung dis­play. In fact, the­re's a com­ple­te shop online (in Ger­man) that only sells elec­tro­ly­tic capa­ci­tors for each Sam­sung dis­play and other devices. Tha­t's pret­ty ama­zing con­si­de­ring that Sam­sung pro­bab­ly lost a gre­at share of their repu­ta­ti­on due to saving on the­se rela­tively cheap com­pon­ents. Alas, this unfor­tu­n­a­te­ly also hap­pens with a lot of their com­pe­ti­tors and I think it's all part of the plan­ned obscolescence.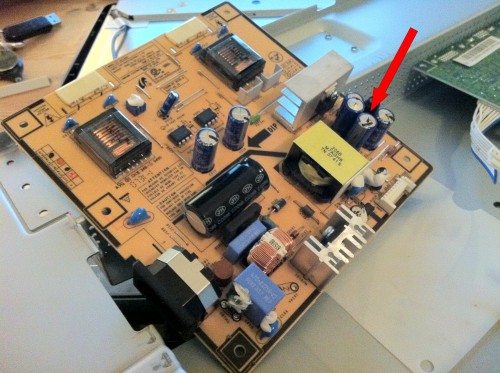 So the good news is: you can fix it.
If you own a sol­de­ring iron, you can just buy a set of elec­tro­ly­tic capa­ci­tors and replace them yourself, or get a new/refurbished AC power sup­ply unit board from a dea­ler in Chi­na via eBay and just swap the­se boards. The­re are just six screws and a lot of peop­le have this done befo­re and suc­cess­ful­ly repai­red their TFTs.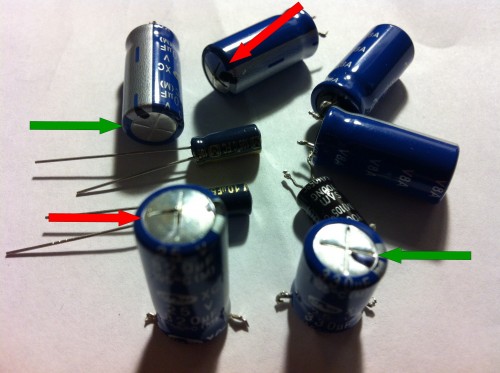 On the pic abo­ve you'll see the old (blue) capa­ci­tors of which some are obvious­ly bro­ken — some­thing known as "capa­ci­tor pla­gue" — with open vents in the top of the can. You some­ti­mes also don't see the dama­ge, so if you'­re repla­cing some, it may also be smart to just replace all of them with a brand of hig­her qua­li­ty. Such hig­her qua­li­ty capa­ci­tors are visi­ble in the pic­tu­re — two small black ones (in the midd­le) which I did­n't replace for tech­ni­cal reasons.
All in all, just a repair of 20 minu­tes. Or if you have a repla­ce­ment for the power sup­ply unit board, it's even quicker.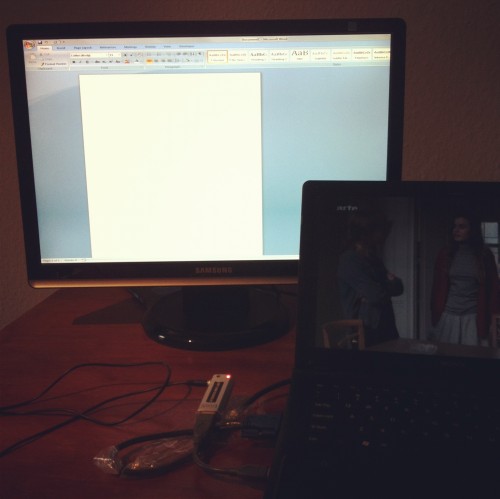 Et voi­là, the fixed dis­play, just moments after the repair was done. Again, anyo­ne can do this and if it can be fixed, then plea­se fix it. Some things are just very strai­ght­for­ward and simple.
I also never knew that the Capa­ci­tor Pla­gue did have SUCH an impact, that the­re are sites dedi­ca­ted to capa­ci­tors and that the cau­se for all of this (which is said to be indus­tri­al espio­na­ge) is in fact very far-fetched.