Tha­t's it. I am going to sell my 6 mon­th old Nokia E72 QWERTZ phone.
Yes, it's just a pho­ne and "why should I read the fol­lowing rant on Nokia", you may be won­de­ring. Here is why:
1. Fle­xi­bi­li­ty
I men­tio­ned it ear­lier that I had bought a 2G iPho­ne some mon­th ago, with a bro­ken screen and drai­ned bat­te­ry from eBay for 65,- EUR, which I mana­ged to repair and have sin­ce been using. The iPho­ne may be a cripp­led pie­ce of hard­ware and Nokia may have the best hard­ware on their pho­nes (also in terms of dura­bi­li­ty), but the­re is just so much more I can do with this old iPho­ne from 2007 that I can't do with any of my four Noki­as (6230, 6230i, N95 & E72).
The iPho­ne (or an HTC Desi­re with Android OS) is my logi­cal exten­si­on to the com­pu­ter. Ever­no­te, to name just one app­li­ca­ti­on, runs on the iPho­ne but does­n't (natively) run on the E72. I am using Ever­no­te to keep track of my notes, so I'll need to have this run on a phone.
Fle­xi­bi­li­ty is a mat­ter of soft­ware sup­port, not only hardware.
Con­se­quent­ly, the iPho­ne won. I am using it on a dai­ly basis while the E72 slept in my dra­wers sin­ce Febru­a­ry 2010. Time to sell it and sum up ever­ything with this blog post.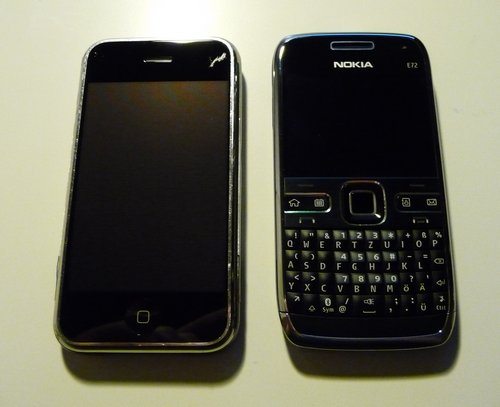 iPho­ne 2G vs. Nokia E72
2. Good at basic stuff
If you'­re just loo­king for a simp­le mobi­le pho­ne with sms, Nokia pho­nes are good. The­re's a rea­son why the 1xxx ran­ge of Noki­as has been so popu­lar around the world — not only in emer­ging mar­kets. It is also why Nokia keeps on reinven­ting this seri­es with the recent announ­ce­ment of their C1 & C2 (dual sim, even­tual­ly!) pho­nes. Even the simp­le QWERTY pho­ne with Blue­tooth we'­ve been asking for via Eriks post — Noki­a's C3 — is a good phone.
For simp­le stuff like voice calls or sms, Nokia pho­nes are good. Even as a mobi­le Twit­ter device (Gra­vi­ty) it rocks! …but for anything else than that, you'­re pro­bab­ly bet­ter off buy­ing a pho­ne from one of their competitors.
3. SOFTWARE!
This is 2010 and thanks to the iPho­ne and the unde­nia­ble revo­lu­ti­on it brought to the mar­ket, any smart­pho­ne without "cool" soft­ware and a usable app store just sucks.
It's not just the mis­sing Ever­no­te on the E72, or other mis­sing app­li­ca­ti­ons. You know many ppl have been asking Nokia and their devs to port suc­cess­ful app­li­ca­ti­ons from com­pe­ti­tors to the dif­fe­rent ope­ra­ting sys­tems in use on Nokia pho­nes. No, with soft­ware I mean ever­ything:
con­fu­sing, often chan­ging user inter­faces & menu structures
dif­fe­rent ope­ra­ting sys­tems (plus too many dif­fe­rent pho­nes at the same time, but tha­t's ano­t­her — hard­ware — issue)
sup­port of their deve­lo­pers (slow­ly evol­ving though)
unsta­ble firm­wares on their pho­nes, always takes at least 12 mon­th on a new pho­ne to beco­me stable
Nokia web­site — not opti­mi­sed for use with mobi­le phones
Ovi.com (see 5.)
essen­ti­al stuff like Sports Tra­cker. It took a spin-off from Nokia to get this cool soft­ware a bit clo­ser to whe­re it should be.
Ovi Maps — not yet avail­ab­le for all pho­nes (who are capa­ble of dis­play­ing the­se maps)
the suc­cess­ful Twit­ter cli­ent Gra­vi­ty being one of the very few REALLY GOOD apps on a Nokia smartphone
Glo­bal log­in on all Nokia sites and pro­ducts. It still does­n't work the way it should be (one ID & pwd).
Ovi app wizard. Over at Apple, "apps" that pro­vi­de not­hing else but an RSS feed are mean­while clas­si­fied as "spam apps" — and remo­ved from their app store. Are the "apps" built using this app wizard a way for Nokia to bloat their Ovi store stats?
Plea­se, Nokia, soft­ware is SUCH an important issue. You'­re so good at hard­ware — why can't you app­ly the same dili­gence to your soft­ware pro­ducts and all rela­ted processes?
Also, I've rea­li­zed that I've spent con­si­der­ab­ly more time try­ing to fix various soft­ware issu­es on my Nokia pho­nes than on the iPho­ne. I actual­ly do not have the time for such things, and also don't want to fix my pho­ne all the time and pull infor­ma­ti­on from all over the inter­net on why app­li­ca­ti­on x does not work with firm­ware y or mobi­le z. This is real­ly annoying.
The­re may of cour­se be his­to­ri­cal and poli­ti­cal rea­sons for all of this (I know Sym­bi­an from when it was still EPOC16 on a Palm Seri­es 3), but then: does this real­ly mat­ter today? Make it work! And don't make we was­te time on it.
4. The mobi­le office.
Any smart­pho­ne that serious­ly tri­es to be good at pro­vi­ding some form of mobi­le office should have
a kick-ass e‑mail client
a superb browser
Office suite and/or view­er for various attachments
My E72 came with such an office suite which did the job for me, but the e‑mail cli­ent and — the E72 is a busi­ness pho­ne — the brow­ser just suck.
Nokia, see­ing your cus­to­mers and loy­al fans com­p­lai­ning on Nokia Forums and on blogs about the per­for­mance of the e‑mail cli­ent and brow­ser is a NO NO. EI EI!
Coope­ra­te with Yahoo!, install Gmail as default e‑mail cli­ents, ship your pho­nes with the Ope­ra Mini brow­ser — do wha­te­ver it takes to fix this becau­se a busi­ness pho­ne with such an average e‑mail cli­ent and brow­ser just won't be enough for us — your customers.
Or else team up with Android.
The e‑mail cli­ent on my 1G iPod Touch (30,-€ @ eBay) actual­ly made me buy the 2G iPho­ne in Febru­a­ry this year. And this alt­hough I had just inves­ted ~270,- € on the Nokia E72 in decem­ber 2009.
5. Ovi.com
Ovi — Fin­nish for "the door" — should be a door to com­bi­ned Nokia ser­vices. But — yes, you gues­sed it right — it still isn't.
The Ovi cli­ent on pho­nes sucks, some­ti­mes can't be deinstal­led and has a very par­ti­cu­lar­ly BAD user inter­face. It may work with Noki­a's touch­screen pho­nes, but for all other pho­nes it just sucks.
I can't exp­lain all faults on Ovi, the­re is just so much wrong with it. I also can't see what chan­ged from MOSH (which by its­elf alrea­dy was a bad joke). This pie­ce of soft­ware — as an app on the pho­ne — just makes me want to hit someo­ne with a Nokia 2110. It's very frus­tra­ting. Very.
The most annoy­ing Ovi bug, imo: You'­re on Ovi.com on your com­pu­ter. Ok, found a nice app, have a link to it sent to you via sms. Check your mobi­le, the link on that sms opens the web brow­ser — so far, so good. But THEN the Ovi cli­ent deci­des to chip in and re-open it insi­de the cli­ent. This is very annoy­ing, espe­cial­ly for tho­se who are paying a lot of money for data traf­fic. Can't this hook be imple­me­ned in the OS? => "All http://store.ovi.mobi links to open in Ovi cli­ent by default". (my N95 runs on FW v35.x which was only recent­ly released).
See the App Store on the iPho­ne? It may not be per­fect, but hey — I'VE SPENT MONEY ON THE APPLE APP STORE. Some­thing I would pro­bab­ly never be doing on Ovi App Store. And I guess I am not the only one.
On the other hand, it has to be men­tio­ned that I somehow like the web ver­si­on of Ovi.com. The­re may still be a lot of details that do not make sen­se to me on their web­site, but truth be told that their app store may be ope­ned by anyo­ne AND that it does­n't open any cli­ent soft­ware like iTu­nes or only shows a cripp­led ver­si­on of the mar­ket like Android.
Also, the Nokia Ovi Suite has great­ly impro­ved sin­ce it was laun­ched, suc­cee­ding their PC Suite. Nokia is slow­ly get­ting the­re + iTu­nes is worse, I think.
This who­le expe­ri­ence around buy­ing soft­ware and inter­ac­ting with Nokia via Ovi.com and its offe­red ser­vices — tha­t's the FIRST thing I would try to impro­ve on as Nokia.
6. Stra­te­gy
As a serious cus­to­mer, I am not loo­king for a fun pho­ne with lots of games, but ins­tead a dura­ble work­hor­se that will gua­ran­tee persistence.
Nokia is in a pro­cess of chan­ge, they'­ve rea­li­zed that reve­nue is made on emer­ging mar­kets and that most of their top-level pho­nes actual­ly can't real­ly com­pe­te with com­pe­ti­tors on all levels. A gre­at came­ra, long bat­te­ry stand­by time and smart design ("use with one thumb") are very good — buy they won't dri­ve the mas­ses to Nokia stores. The E72 was sup­po­sed to be a good suc­ces­sor to the very suc­cess­ful E71. Well, is it really?
Heck, they don't even seem to have a stra­te­gy for emer­ging mar­kets and still con­si­der Afri­ca and the Midd­le East as one mar­ket! Crazy.
Or their Bicy­cle Char­ger Kit which will be released to the mar­ket later on this year. You can read my thoughts on this in the comments at Julia­nas Afri­Gad­get post.
On the iPho­ne, I can port my apps from the 2G to the 3G, 3GS and pro­bab­ly also to the iPho­ne 4 (even though some apps, like the new iMo­vie seem to be limi­ted to the iPho­ne 4 for hard­ware rea­sons). Will this also be pos­si­ble with apps I've bought for the Sym­bi­an 9.3 S60 FP2 plat­form (e.g. the E72)? Will I also be able to use them on future Nokia phones?
The Nokia E72 may be gre­at pho­ne with good hard­ware, but it cur­r­ent­ly comes with only average soft­ware (except for Gra­vi­ty) and loo­ks like a dead end street to me. It also does­n't help that Nokia is very inno­va­ti­ve in their Beta Labs, ships new pho­nes with free navi­ga­ti­on (thx, Nokia) and a full ran­ge of access­ories you'll have to pay extra on competitors.
Nokia has mis­sed to com­mu­ni­ca­te a clear stra­te­gy to its cus­to­mers. May­be they should pitch us, tell us why their pho­nes are bet­ter than the rest. And pro­ve it with cool soft­ware that teams up with the alrea­dy awe­so­me hard­ware. Right now, I can't see a rea­son for the purcha­se of their pho­nes. The­re is no per­sis­tence in the soft­ware side of their pro­ducts, and my pati­ence with and pas­si­on for Nokia pro­ducts is gone.
What will you do about it, Nokia?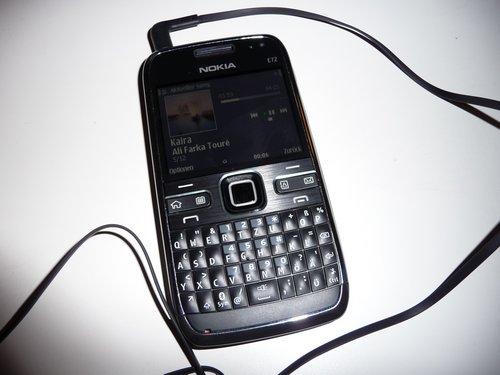 The Nokia E72, QWERTZ key­board (DE), 6 mon­th old, mint con­di­ti­on, ful­ly equip­ped, with Gra­vi­ty licence, Otter­Box Com­mu­ter Case. 250,- EUR and it's yours.
UPDATE: SOLD!