If you own a recent Nokia pho­ne with the Sym­bi­an S60 ope­ra­ting sys­tem (S60v3, S60v5) and are using the micro­blog­ging ser­vices Twit­ter or Laco­nia, you may be inte­res­ted in using a new Twit­ter cli­ent for the phone:
Gra­vi­ty v1.00 is the first ful­ly-fea­tured and nati­ve Twit­ter cli­ent for the S60 plat­form. It sup­ports mul­ti­ple accounts, Twit­ter Search, Laco­ni­ca, Twit­Pic and wraps ever­ything into a gor­ge­ous loo­king interface.

Com­pa­ti­ble with Twit­ter and Laconica

All func­tions avail­ab­le on your S60 pho­ne: tweet, reply, DM, fol­low & unfol­low, crea­te favou­rites, search, auto-update and many more …

Tab­bed view of your Time­li­ne, Replies, Messages, Friends, …

Set­up and use as many accounts as you want at the same time

Twit­ter-Search sec­tion with mul­ti­ple search tabs and Twit­ter Trends

Post pic­tures via TwitPic

Open URLs from any Tweet

Kine­tic scrol­ling on S60v5 ( Nokia 5800 and Nokia N97 )

The­me sup­port on S60v3 ( fixed dark and bright theme )
(source)
The only down­si­de to this soft­ware is that it may crea­te too much traf­fic whe­re­as the alter­na­ti­ve — Twib­b­le (which I'd also used sin­ce its first day as a public release) — seems to gene­ra­te less traffic.
I'm on a 1GB flat for my pho­ne, which means I can gene­ra­te 1GB in traf­fic via the pho­ne and only pay 9,90 EUR / mon­th. I actual­ly don't need 1GB at the moment becau­se we also have DSL here, but it makes sen­se if you hap­pen to down­load more than 41 MB / mon­th (9,90€ / 0,24€/MB = 41,25 MB) + it isn't limi­ted to a pro­xy ser­ver, spe­cial online pages or other cra­zy limi­ta­ti­ons. And DSL some­ti­mes fails, so it's a good fall back option.
Crea­ting a sceen­shot of Gra­vi­ty is a bit com­pli­ca­ted as the Shift (Pen­cil) key on the pho­ne (which is used in com­bi­na­ti­on with the midd­le joy­stick but­ton) also trig­gers the input form for new tweets on Gravity:
The beau­ti­ful part is that you can real­ly SCROLL bet­ween tweets like you would do on an iPho­ne — bila the touch­screen on my N95 though..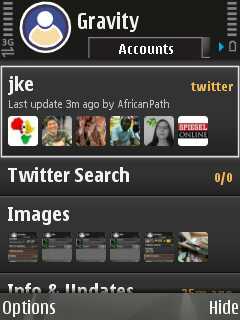 And ano­t­her good part is that it's now much easier to insert images on your tweets (Twib­b­le also has this but isn't as comfy to use).
Gra­vi­ty comes with a 10day demo ver­si­on and I instant­ly (!) regis­tered it after using it for only 2 minu­tes. Now, you'd have to know for yourself if you'­re wil­ling to cough up ~ 10,- € (in Ger­ma­ny — sijui why they are adding VAT on shareit.com for other coun­tries) for an other­wi­se free and time con­suming ser­vice such as Twit­ter, but then, again, the­re are other — much more useless — app­li­ca­ti­ons for the iPho­ne ppl are wil­ling to spend money on and also: the­re are only a few real­ly good app­li­ca­ti­ons for Sym­bi­an devices. Gra­vi­ty is one of them.
You'll also need to access the down­load page for the regis­tered ver­si­on via a nor­mal com­pu­ter as the pho­ne's inter­nal S60 brow­ser is having pro­blems iden­ti­fy­ing the .sisx for­mat. Jan, the deve­lo­per behind Gra­vi­ty, also men­tio­ned that he'll be working on some bug­fi­xes now, so may­be the­re's a way to inclu­de this as well (refers to the purcha­se of the soft­ware direct­ly from a pho­ne. Update rou­ti­nes are just flawless!).
Ver­dict: If you'­ve been on Twib­b­le befo­re, you'll LOVE Gra­vi­ty. High­ly recom­men­ded application.
—–
UPDATE: After some recent updates (cur­r­ent­ly 1.1x), Gra­vi­ty also has the fol­lowing addi­tio­nal features:
Con­fi­gura­ble Audio Alerts for Timeline/Replies/DM's
Group sup­port for crea­ting cus­tom tabs with user-defi­ned fil­ters (S60v3)
Post pic­tures to Moby­Pic­tu­re and TwitPic
Pre­view pic­tures from Moby­Pic­tu­re or TwitPic
Full-Screen mode on S60v3
Built-in auto-update func­tion and beta access for tes­ting the latest features
And while I think that Gra­vi­ty is the best app­li­ca­ti­on I've ever bought for a pho­ne, I'd like to add two remarks:
The­re should be a che­a­per ver­si­on of Gra­vi­ty as not ever­yo­ne out the­re is able to cough up 9,95 € on a mobi­le app — and some­ti­mes it's tech­ni­cal rea­sons as to why a prog like Gra­vi­ty is only suc­cess­ful in deve­lo­ped coun­tries: how would you pay for this app from e.g. Kenya (whe­re the­re is money but no pay­ment sys­tem such as Paypal?). And how about a spon­so­red (& loca­li­zed) ver­si­on with fixed ban­ners? Would it make sen­se? And what would ppl be wil­ling to spend on an app (in other coun­tries than Germany)?
The­re should be a mobi­le Wor­d­Press edi­tor tha­t's just as easy to use as Gra­vi­ty. After all the­se years of using Wor­d­Press for blogs and mobi­le pho­nes, I've often cal­led for bet­ter mobi­le blog edi­tors and tes­ted qui­te a few on this blog. Twit­ter inde­ed alrea­dy is some sort of micro­blog­ging, BUT! it would be gre­at if the­re also was an easy-to-use edi­tor tool on the pho­ne which could pro­vi­de true mobi­le blogging.