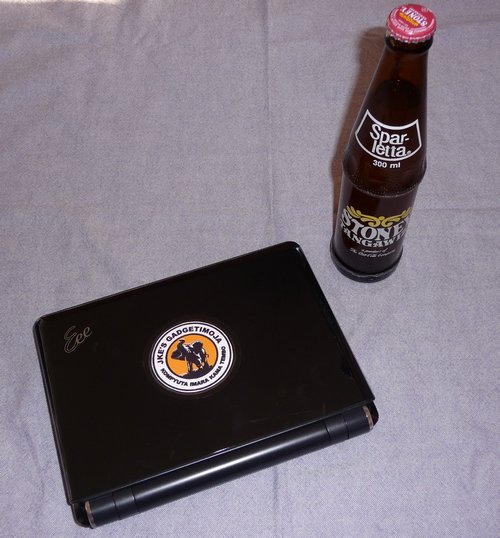 Wha­t's bet­ter than a Net­book and a bot­t­le of Stoney Tangawizi?
2 Net­books and a bot­t­le of Tangawizi.
Life is good to me the­se days as I not only mana­ged to buy the­se two net­books 2nd hand for a very good pri­ce, but also becau­se the­re are peop­le like my good friend Har­ry who sent me this bot­t­le of Stoney Tan­ga­wi­zi and a bag full of Bil­tong (which isn't pic­tu­red here as I'd finis­hed it wit­hin 24h…ahem… :-). Asan­te sana, Harry!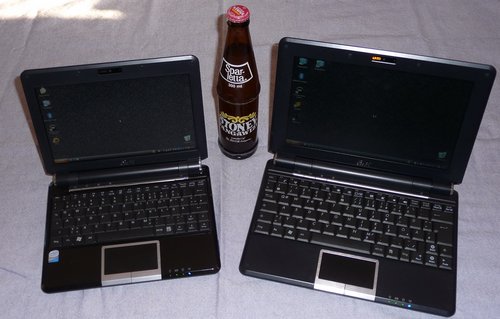 The Asus eee PC 1000HGo pic­tu­red on the right is an upgrade to the eee PC 901 on the left which comes with:
a 10″ dis­play ins­tead of 8,9″
the same (!) bat­te­ry rated at 7.3V (some 1000H have a 7.4V battery)
WLAN b/g ins­tead of b/g/n
UMTS 3G modem (hence the mis­sing n‑draft on the WLAN)
a bet­ter key­board (I've used alu­mi­ni­um foil under­ne­ath both key­boards to cushion the pres­su­re point). key­board is n#1 rea­son for this change.
1,45kg ins­tead of 1,1kg (same 200gr power sup­ply though)
160GB Sea­gate SATA HDD ins­tead of the com­bi­ned 4+8 = 12GB rela­tively slow (MLC) SSD on the 901
The rest is pret­ty much the same, even the pcb lay­out is qui­te simi­lar. Only thing that bugs me about the 1000HGO is that it has a blue-ish screen. The set­tings for the WinXP Intel gfx dri­ver do not pro­vi­de too much fle­xi­bi­li­ty and I guess it's just a bad dis­play. Other 1000H owner also repor­ted this issue. The screen on the 901 ain't blue and far from per­fect, but it's much bet­ter and cris­pier. The­re also IS a dif­fe­rence bet­ween the 8,9″ and 10″ screen size — the 10″ being easier to the eyes. That weight dif­fe­rence isn't much of a pro­blem to me becau­se I car­ry it in my mes­sen­ger bag any­ways but it would be if you are a woman and need a small net­book to car­ry in your handbag.
So…in spi­te of the dis­play issue, the 1000HGO is just so much bet­ter to hand­le. And with the inter­nal 3G modem (SIM card hol­der is under­ne­ath the bat­te­ry) it's real­ly just plug & play — eit­her on WinXP or Linux. Now tha­t's real­ly great!
I am cur­r­ent­ly using a dedi­ca­ted 02/Fonic SIM card (which is 2,50€ for unli­mi­ted traf­fic /d) for when I am on the road and net­work coverage could be a bit bet­ter on that one. I am in direct opti­cal line of sight to our local base sta­ti­on and have sin­ce been won­de­ring why recep­ti­on is only around 40%. So I ope­ned it up and rea­li­zed that it only has one anten­na con­nec­ted to it (which is in fact loca­ted abo­ve the dis­play, next to the WLAN antenna).
I alrea­dy orde­red a cheap inter­nal WLAN anten­na which I am pla­ning to con­nect to the AUX ULF con­nec­tor next to the alrea­dy exis­ting MAIN con­nec­tor (as pic­tu­red, unplug­ged). Am qui­te curious if this impro­ves recep­ti­on on 3G.
Being able to surf from just about any­whe­re (whe­re the­re is no WIFI/WLAN but only 3G — like @ GTZ eco­san office in Esch­born) is just AWWWW.…..very very conn­ve­ni­ent. Sure, you could use the 3G modem on your pho­ne but this way it's much easier. Only advan­ta­ge of the pho­ne is that you can place a pho­ne next to a win­dow and hook it up via Blue­tooth. So if you are in are­as with poor 3G / UMTS coverage and have a 3G-capa­ble pho­ne, just try it this way. The inter­nal 3G modem is gre­at but it isn't rea­son enough to spend 100,- EUR (!) extra on a 1000HGO if ins­tead you could also go for a 1000H. I got mine for the same pri­ce though, so I hap­pi­ly agreed on giving up sup­port for the n‑draft WLAN and get a 3G modem instead.
Oh, look — it's a fin­ger­print insi­de the casing! :-)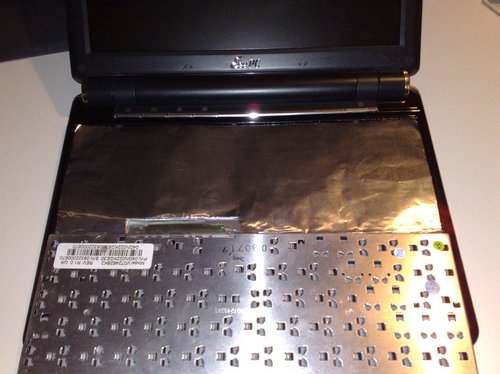 The alu­mi­ni­um foil mod under­ne­ath the key­board (here on the 901). High­ly recom­men­ded, also becau­se the CPU doesnt "tran­spi­re" through the key­board but only dis­si­pa­tes the heat. I'd even recom­mend this mod to Toshi­ba owners.
The 901 btw "wal­ked away" to ano­t­her mem­ber of the exten­ded fami­ly — a deve­lo­p­ment that beau­ti­ful­ly jus­ti­fies the purcha­se of the 1000HGO. :-)