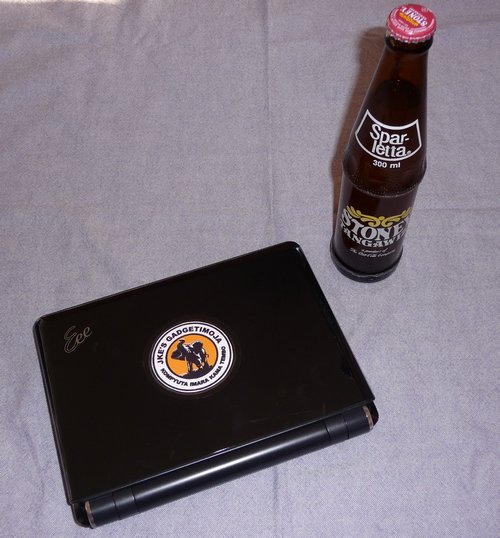 What's better than a Netbook and a bottle of Stoney Tangawizi?
2 Netbooks and a bottle of Tangawizi.
Life is good to me these days as I not only managed to buy these two netbooks 2nd hand for a very good price, but also because there are people like my good friend Harry who sent me this bottle of Stoney Tangawizi and a bag full of Biltong (which isn't pictured here as I'd finished it within 24h…ahem… :-). Asante sana, Harry!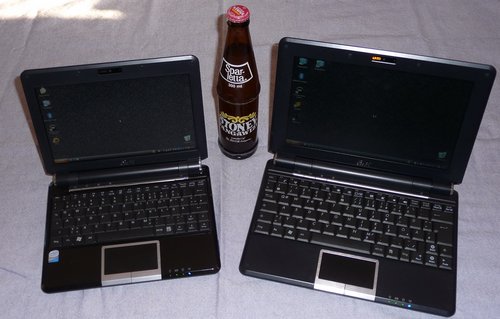 The Asus eee PC 1000HGo pictured on the right is an upgrade to the eee PC 901 on the left which comes with:
a 10″ display instead of 8,9″
the same (!) battery rated at 7.3V (some 1000H have a 7.4V battery)
WLAN b/g instead of b/g/n
UMTS 3G modem (hence the missing n-draft on the WLAN)
a better keyboard (I've used aluminium foil underneath both keyboards to cushion the pressure point). keyboard is n#1 reason for this change.
1,45kg instead of 1,1kg (same 200gr power supply though)
160GB Seagate SATA HDD instead of the combined 4+8 = 12GB relatively slow (MLC) SSD on the 901
The rest is pretty much the same, even the pcb layout is quite similar. Only thing that bugs me about the 1000HGO is that it has a blue-ish screen. The settings for the WinXP Intel gfx driver do not provide too much flexibility and I guess it's just a bad display. Other 1000H owner also reported this issue. The screen on the 901 ain't blue and far from perfect, but it's much better and crispier. There also IS a difference between the 8,9″ and 10″ screen size – the 10″ being easier to the eyes. That weight difference isn't much of a problem to me because I carry it in my messenger bag anyways but it would be if you are a woman and need a small netbook to carry in your handbag.
So…in spite of the display issue, the 1000HGO is just so much better to handle. And with the internal 3G modem (SIM card holder is underneath the battery) it's really just plug & play – either on WinXP or Linux. Now that's really great!
I am currently using a dedicated 02/Fonic SIM card (which is 2,50€ for unlimited traffic /d) for when I am on the road and network coverage could be a bit better on that one. I am in direct optical line of sight to our local base station and have since been wondering why reception is only around 40%. So I opened it up and realized that it only has one antenna connected to it (which is in fact located above the display, next to the WLAN antenna).
I already ordered a cheap internal WLAN antenna which I am planing to connect to the AUX ULF connector next to the already existing MAIN connector (as pictured, unplugged). Am quite curious if this improves reception on 3G.
Being able to surf from just about anywhere (where there is no WIFI/WLAN but only 3G – like @ GTZ ecosan office in Eschborn) is just AWWWW……very very connvenient. Sure, you could use the 3G modem on your phone but this way it's much easier. Only advantage of the phone is that you can place a phone next to a window and hook it up via Bluetooth. So if you are in areas with poor 3G / UMTS coverage and have a 3G-capable phone, just try it this way. The internal 3G modem is great but it isn't reason enough to spend 100,- EUR (!) extra on a 1000HGO if instead you could also go for a 1000H. I got mine for the same price though, so I happily agreed on giving up support for the n-draft WLAN and get a 3G modem instead.
Oh, look – it's a fingerprint inside the casing! :-)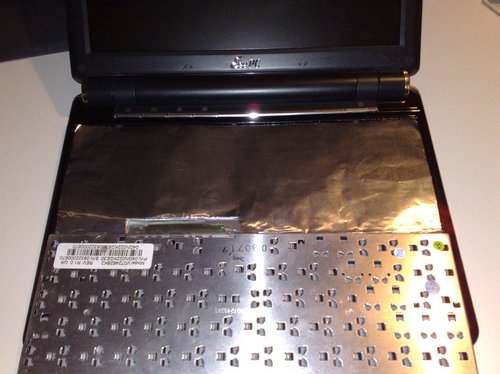 The aluminium foil mod underneath the keyboard (here on the 901). Highly recommended, also because the CPU doesnt "transpire" through the keyboard but only dissipates the heat. I'd even recommend this mod to Toshiba owners.
The 901 btw "walked away" to another member of the extended family – a development that beautifully justifies the purchase of the 1000HGO. :-)