I never thought this would actual­ly work. But it does.
We cur­r­ent­ly share a room in this row/town house, right under the roof. The DSL modem that con­nects this house to the inter­net is in the base­ment, and I have in the past used this Edi­max rou­ter as a repea­ter for the wire­less signal (not WDS-mode!) so that we could also enjoy the con­nec­ti­vi­ty to the inter­net with our com­pu­ters ups­tairs (see fig.01):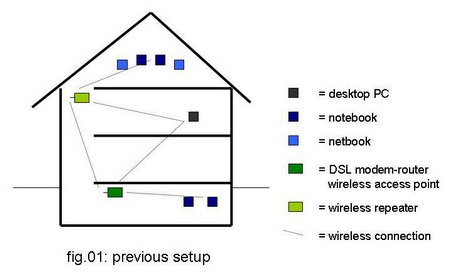 The­re are two floo­rs in bet­ween the base­ment and our "pent­house" flat and the wire­less signal would often fail to work, even though the data rate was qui­te good on the repea­ter. I think the­re is a micro­wa­ve some­whe­re near our repea­ter and the base sta­ti­on in the neigh­bou­ring house which just jams the signal qua­li­ty. Both the DSL modem-rou­ter-wlan-ap and the repea­ter ups­tairs had been tun­ed with 4dB antennas.
Wire­less net­works unfor­tu­n­a­te­ly tend to have the nas­ty hab­bit of inter­fe­ring each other, espe­cial­ly if the­re isn't enough "space" on the fre­quen­cy ran­ge. And then, also, most of the­se con­ven­tio­nal (= IEEE 802.11) wire­less net­works are still to fra­gi­le to deli­ver con­sis­tent data rates. By the time I set this net­work up in late 2007, most of our neigh­bours still did­n't have their own WLA­Net­work, but today most of them have do so it was about time for a change.

I had read about the­se "HomePlugs" — the "indus­try tra­de group for power line com­mu­ni­ca­ti­on" which is a tech­no­lo­gy that con­nects LAN devices to each other through the power lines in a home. The manu­fac­tu­rers of the­se devices claim that it will only work on the same (electri­cal) pha­se, and sin­ce this house also has an electri­cal hea­ting sys­tem and a second fuse box under the roof (next to the one in the base­ment), I initi­al­ly thought it would­n't work. But it does!
Fig.02 shows the cur­rent set­up using two HomePlugs I've bought ear­lier this week. The­re are dif­fe­rent manu­fac­tu­rers sel­ling kits with two such plugs — mine was rela­tively cheap — an "MSI ePower 85 Kit Ver­si­on II". MSI claims this device to deli­ver up to 85 Mbps in opti­mal con­di­ti­ons but the actu­al rate is around 30 Mbps which is per­fect­ly fine with me as our DSLi­ne cur­r­ent­ly is around 8Mbps only. It's also said to have 56bit DES encryp­ti­on and you can also give it its own net­work name. The best part is the instal­la­ti­on: Just open the box, take a plug and con­nect a LAN cable to it and the other end of the cable into your LAN device (here: the DSL modem rou­ter) and plug it into the next socket (I've even used an exten­si­on cable which should­n't be done but it still works). I then plug­ged in the other plug to a wall socket ups­tairs and con­nec­ted it to an 8‑port 10/100 switch which dis­tri­bu­tes the signal to all four com­pu­ters as well as a VoIP pho­ne and an HP Office­Jet 7210 net­work prin­ter. This MSI ePower Kit comes with uti­li­ty soft­ware to set extra para­me­ters such as a net­work name or the pass­word (which unfor­tu­n­a­te­ly only runs on Win­dows sys­tems), but you won't have to adjust anything. Just plug it in and you'­re done!
I was a bit scep­ti­cal if this would work out due to the addi­tio­nal power net­work in this house + pos­si­ble inte­re­fe­ren­ces that would spoil the recep­ti­on of short­wa­re radio (many radio hams actual­ly hate this tech­no­lo­gy), but it just works like a charm and even my radios­can­ner has­n't com­p­lai­ned yet.
For anyo­ne who's been having pro­blems with a wire­less net­work — if the vol­ta­ge is more or less sta­ble (= pro­bab­ly not in Kenya?), I'd recom­mend the­se HomePlug/powerline devices as the per­fect alter­na­ti­ve to having (lon­ger) LAN cables from one room to the other or even an unsta­ble wire­less connection.

AOB: I've once again chan­ged the Feedbur­ner link to my RSS-feed which should now be: http://feeds2.feedburner.com/kikuyumoja . To sub­scri­be to my feed, pls use this new link by eit­her saving it on your RSS rea­der, or alter­na­tively click on the "subscri­be me, baby!" on the top row of this page. Thank you. (thx, @Czed !)