"Have you blog­ged about it?", he asked. — "Yes, I micro­blog­ged it."
Fel­low blog­ger CG just remin­ded me to men­ti­on the upco­m­ing Afri­ca Gathe­ring on Satur­day, 25th April 2009 (@ Clo­re Manage­ment Cent­re, Birk­beck Col­le­ge, Tor­ring­ton Squa­re, Lon­don, WC1 7HX, United King­dom) which I had only brief­ly men­tio­ned on the Afrit­wit Twit­ter account the other day.
"…a day for thin­kers, sup­por­ters, spon­sors, doers, geeks, drea­mers — and ever­y­bo­dy else to come and share, pro­mo­te, high­light, pro­gress and evol­ve issu­es rela­ted to ICT, social net­wor­king and tech­no­lo­gy in Afri­ca." (src)
I btw con­si­der this gathe­ring a fol­low-up to the other two Afri­ca­Camps which took place in Vien­na, Aus­tria and Moun­tain­View, Gool­ge HQ, USA some time ago.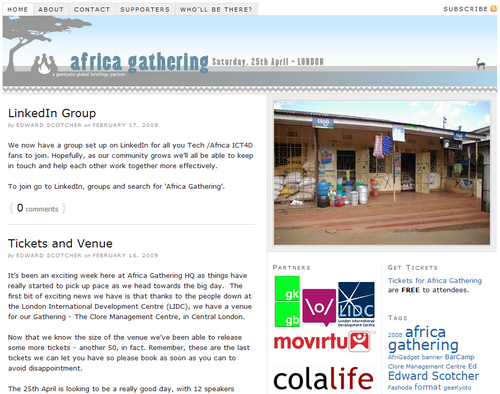 I secu­red my ticket for this fine event three weeks ago, but am yet to orga­ni­ze trans­port to & acco­mo­da­ti­on in Lon­don for the wee­kend 24–26th April. Flights from Frank­furt-Hahn via Ryan­air seem to be qui­te afford­a­ble, but the rest is still open end — also becau­se the­re are like a hund­red other urgent tasks for me right now so that I am just doing it the haku­na shi­da / mun­gu aki­pen­da way which means less plan­ning (the Ger­man in me) and more belie­ving in that ever­ything will just work out fine.
The list of pro­po­sed talks is alrea­dy qui­te impres­si­ve, so it will be par­ti­cu­lar­ly inte­res­ting to con­nect with other like­min­ded Afriactivists.
On a per­so­nal agen­da, I am also still loo­king for a way to com­bi­ne my three topics — sani­ta­ti­on, Afri­ca and ICT — into a worthwi­le busi­ness becau­se I am sure the­re's a way to con­nect all of the­se three.
Oh, and if I get an oppor­tu­ni­ty to pre­sent some sli­des on Afri­Gad­get, I will try to speak slow­ly, loud and clear :-)