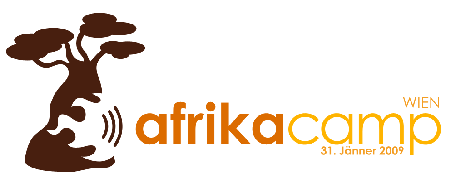 Fel­low blog­ger Mzeeced­ric and I are today atten­ding Afri­ka­Camp which just star­ted a few minu­tes ago.
Plea­se stay tun­ed for more as I will try to update this post throughout the day (see updates below). Oh and btw, the­re's no ustream from the event (no vide­os). Sorry!
First of all: Afri­ca = con­ti­nent = many dif­fe­rent coun­tries, cul­tures, etc. (just to be clear on that).
Afri­ka­Camp is some sort of fol­low-up to the Bar­Cam­pA­f­ri­ca , which recent­ly took place @ Moun­tain View/Google HQ in the US.
It's my first ever vísit to Vien­na btw and I am alrea­dy qui­te sur­pri­sed how gre­at this city is!
10:00 am:
We arri­ved at W@lz, the loca­ti­on for the Afri­ka­Camp.

The who­le of Aus­tria is cove­r­ed in snow.
11:00 am:
Ses­si­ons plan­ning star­ted, Ced­ric and I will be tal­king about AfriGadget.com and some blogs we'­ve crea­ted for dev aid sec­tor / Ger­man NGOs.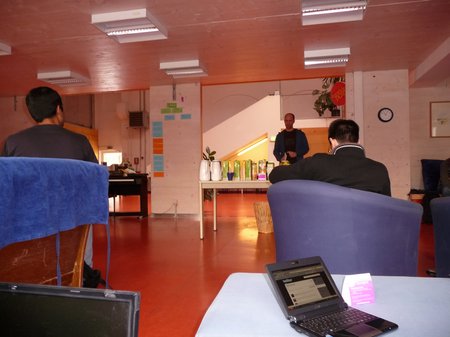 The­re's free WiFi. Yaay!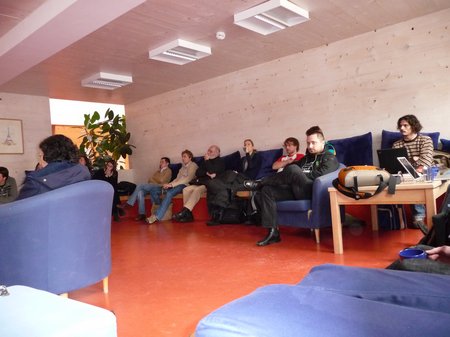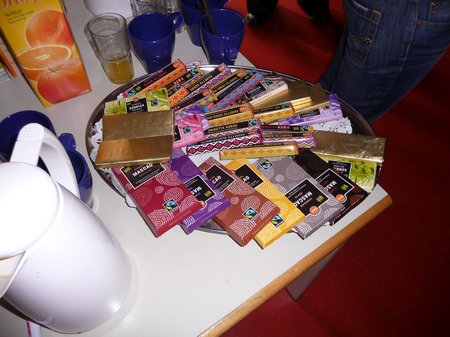 Free cho­co­la­te pro­vi­ded by FairTra­de. Nice!

Chris­toph Chor­herr giving an intro­duc­tion to the dif­fe­rent ses­si­on to some of the ~ 40–50 attendants.

Bar­Camp-sty­led sessions.
11:30 am:
Atten­ding the first ses­si­on by Hel­ge Fahrn­ber­ger of helge.at about laafi.at and Open­Street­Map pro­ject they are doing on Ouaggadougou.
Hel­ge is one of the orga­nisers of the AfrikaCamp.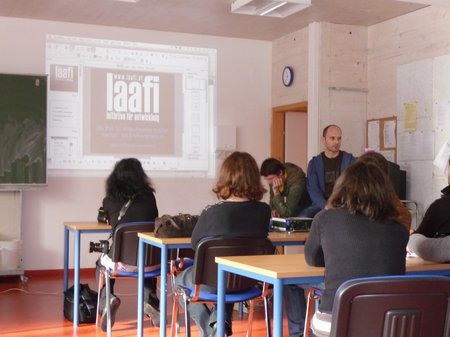 Hel­ge Fahrn­ber­ger tal­king about laafi.at and OpenSourceMap.
12:00 am
Chris­toph Chor­herr tal­king about two schoo­ling pro­jects in Sout­hAf­ri­ca: "social sus­tainab­le archi­tec­tu­re" and "Ithu­ba Skills Col­le­ge". Inte­res­ting quo­te from a school head­mas­ter in SA: "We pro­vi­de schoo­ling but no education".
[pic to fol­low asap]
They are also using dry toi­lets as the sani­ta­ti­on sys­tem. GREAT!
12:47 am
Yours tru­ly pre­sen­ting Eri­k's sli­des on Afriagadget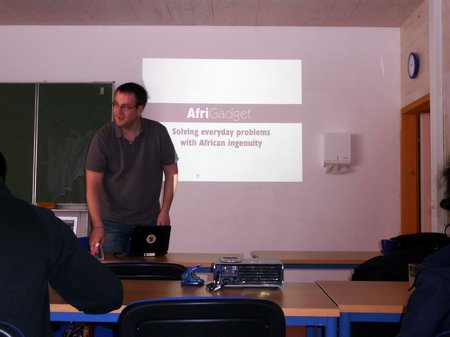 Mwa­li­mu JKE :-)
Had to rech­ar­ge my net­book after 6hrs in use. Lovely litt­le live-blog­ging device (des­pi­te of its tiny keyboard).
01:20 pm
Having lunch with a guy cal­led Kavin­dra who works in Vien­na as a con­sul­tant at a Indo-Euro­pean Deve­lo­pemnt Agen­cy. Nice vege­ta­ri­an stew fol­lo­wed by free drinks — thanks to the orga­nisers of this fine event!
02:00 pm
Atten­ding a ses­si­on on ICT4D.at by Mar­tin Kon­zett, Karo­la Rieg­ler, Flo­ri­an Sturm and Anders Bolin

Audi­ence clear­ly domi­na­ted by Mac­Books. Hmm… ;-)
Mar­tin and Anders showing a pre­view of their upco­m­ing docu­men­ta­ry on mobi­le pho­ne uses in East Afri­ca. Mar­tin says the­re's a 90% pene­tra­ti­on of Nokia pho­nes in Afri­ca. Very pro­mi­sing docu­men­ta­ry btw which will be released soon. Mar­tin and Flo­ri­an shot it with a Nikon D90 with dif­fe­rent lenses

Says this guy is a famous ath­le­te who's con­stant­ly on the phone.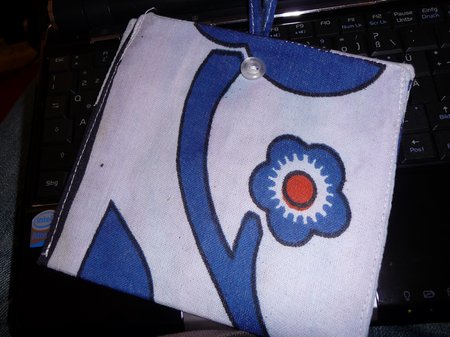 A pouch / CD slee­ve made of a Kan­ga as alter­na­ti­ve cover for the upco­m­ing DVD.
Mar­tin also talks about empowere­ment and mobi­le finan­cing. Someo­ne from Togo in the audi­ence men­ti­ons that we need to have a bet­ter infra­st­ruc­tu­re in many Afri­can coun­tries. Debat­te star­ted about tech­no­lo­gy and how it is used in many places.
03:00 pm
Atten­ding a ses­si­on by Andrea Zef­fe­rer & Andrea Ben Las­soued who are pre­sen­ting their pro­jects @ http://www.clean-it.at and http://www.kinderpate.at
Clean-IT is a pro­ject that focus­ses on an impro­ve­ment of working con­di­ti­ons among IT-manu­fac­tu­rers (in Chi­na) by set­ting some social stan­dards on the demand side…
Kinderpate.at focus­ses on fin­ding spon­sors who are wil­ling to sup­port dis­ab­led kids.
03:30 pm
cof­fee break
04:00 pm
Giving a short video inter­view to Mar­tin Kon­zett and Anders Bolin, both of ICT4D. Tal­ked about Afri­Gad­get and that we'­re are cur­r­ent­ly loo­king for a French spea­king edi­tor who could cover parts of the fran­co­pho­ne Afri­ca on AG. I hate being in front of a came­ra, my first ever interview/pitch. Came­ra goes on (fishe­ye lens) and you'll have to talk about your agen­da for 4 minutes.
But I was­n't the only one — seen here: Flo­ri­an Sturm, Anders Bolin and Mar­tin Kon­zett play­ing the same game with Andrea Zefferer.
04:30 pm
Afri­ka­Camp con­ti­nues, two or three more ses­si­ons — but without us. We had to lea­ve a bit ear­lier for down­town Vien­na. Met an old friend of mine with whom I'd been schoo­ling back in the days in Nbo and whom I had­n't seen in ages.
Soo.…AfrikaCamp imho was a gre­at suc­cess, met many inte­res­ting peop­le who are doing inte­res­ting pro­jects, having the right visi­ons on what works in the Afri­can con­text and what doesnt (NGOs tend to be more rea­listic then the big­ger donor orgs). ICT4D.at guys are qui­te ambi­tio­ned, doing a good job on a tight bud­get. Make sure to check out their awe­so­me docu­men­ta­ry once it's released on DVD (see com­ment below)
Else: Vien­na is a GREAT city, will def. be back for more. Even my new net­book pro­ved to be por­ta­ble enough and was a gre­at live-blog­ging device.
Kudos to Hel­ge, Chris­toph and Karo­la who orga­nis­ed this Bar­Camp + Afri­ca event!
Cheers from Vienna :-)
[UPDATE]
Flo­ri­an of ICT4D also com­pi­led a very inte­res­ting sum­ma­ry of the ses­si­ons I could­n't attend. It's a pit­ty that you can't fol­low all ses­si­ons at once as ever­yo­ne has inte­res­ting ide­as to present.
A list of all ses­si­ons + list of ICT4D.at inter­views are also available.