Bought a Nokia 1208 mobile phone for someone else today because a local dealer had a 25% discount on EVERYTHING.
25% are quite a lot, so you can imagine that by the time I had arrived, almost everything was already sold out. Damn. 25% on an Asus eeePC 1000HE or 1000HA? Me likes! Well, maybe next time.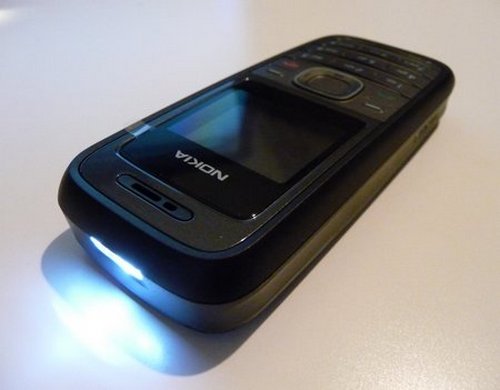 Back to the phone. As recently mentioned, the 1208 comes with an internal flashlight and is one of the cheapest – new – phones you can get for as "little" as 30,- EUR. How much would you pay for such a phone in Kenya? 1800/= Kshs? Sijui, but its obviously much cheaper than in Germany.

LED on the 1208 pcb
What I like about this no-thrills phone is that it just works. It isn't the flashlight, it isn't the enhanced battery life due to the small screen and relatively huge battery, it isn't it's compact size – no, it's the dead simple Series30 operating system that never stalls and just delivers.

Nokia 1208, 6230, 6230i (with 6230 keypad), N95
It took Nokia two years to deliver stable firmware for the 6230, 6230i and the N95. The more features a phone has, the worse it is.
I am actually longing to go back to a monoblock phone once the N95 retires (no slider phone, hence no E75 or N97) and thought about going for the upcoming Nokia 6700. It only needs to have WLAN connectivity but it doesn't seem to have that feature…or does it?
The 1208 is one sweet phone and I would love to keep it as a backup – but then, there's the 25% discount I still need to cash in :-)