"I just hope it does­n't arri­ve when I'm around", she said. "…coz you'd spend more time with it than with me".
Well…
Don­na of WomWorld/Nokia con­ta­c­ted me the other day, asking if I'd be inte­res­ted in tes­ting the Nokia E71 busi­ness pho­ne as a blog­ger. What a rhe­to­ri­cal question…
[dis­c­lai­mer: this post is REALLY long! You'­ve been warned! :-)]
From a Nokia N95 to an E71?
What she pro­bab­ly did­n't know is that I'd been play­ing with the idea of chan­ging my Nokia N95 for an E71, main­ly becau­se I'd been lon­ging for a pho­ne with a true QWERTY/Z keyboard.
My N95 isn't that bad, espe­cial­ly sin­ce I've chan­ged the sil­ver cover into a black & cheap one ear­lier this year, but I real­ly miss a decent key­board for lon­ger text input and if the­re's one thing I still can't stand about my N95 , then it's the sli­der mecha­nism. While the first row of N95s still had some issu­es with the sli­der mecha­nism its­elf (which I'd fixed mys­elf alrea­dy by adjus­ting the tiny sli­der rails), the real­ly bad pro­duct design on the N95 is that it also opens to both sides. Nice for mar­ke­ting pur­po­ses and for crea­ting the "WOW!" effect way back in ear­ly 2007, but when it comes to put­ting the pho­ne into the pockets of your trou­sers, your only thought is: "Oh..maaaan". Put the N95 into a mono­block cover, add a decent key­board and I'm your next cus­to­mer (the Nokia 6220 clas­sic actual­ly comes clo­se to this, but lacks WLAN …and the N82 isn't much bet­ter even though it basi­cal­ly is a N95 in mono­block for­mat — N79 maybe?).
The E71 pro­mi­sed to be a wel­co­me chan­ge on the hori­zon, kee­ping in mind that the Nokia E seri­es stands for the businEss line, while the N seri­es stands for eNter­tain­ment. Con­fu­sing? Indeed!
As a con­se­quence of that, com­pa­ring the E71 with an N95 is almost as wrong as com­pa­ring the N95 with an iPho­ne. And due to the lack of the (pre­ces­sor model) E61 and E61i (E62 in the US), I can only judge the E71 through the lens of someo­ne who a) has been using Nokia pho­nes sin­ce 1998, b) has some expe­ri­ence with the down­si­des of the S60 ope­ra­ting sys­tem and c) is still try­ing to see it as a pho­ne. After all, it's just a mobi­le phone!
Tal­king about the down­si­des to the E71 — the­re are of cour­se qui­te a few issu­es I'd like to men­ti­on here. After all, a review is imho meant to also focus on the stuff cus­to­mers can only tell you about once they'­ve used the pho­ne for some time. On the other hand, most cus­to­mers of a busi­ness pho­ne are tho­se that just want to have a working pho­ne which enab­les them to check their mail without hass­le and surf the net. The main rea­son for get­ting an E71 — as oppo­sed to an N95 or even a much simp­ler pho­ne — is that you want to have a QWERTY key­board with some tac­ti­le feed­back. If you don't need a QWERTY key­board on your pho­ne, the­re are hund­reds of other pho­nes that pro­bab­ly suite your needs. But still, the E71 is gre­at pho­ne with an extre­me­ly gre­at bat­te­ry run­ti­me for such a pho­ne and pro­bab­ly also one of the best QWERTY pho­nes out the­re that covers so many dif­fe­rent aspects.
Sin­ce the E71 has alrea­dy been on the mar­ket for at least 2 mon­ths, others alrea­dy did a gre­at job of com­pi­ling gre­at reviews on the E71 that just have to be men­tio­ned here, here, here, here, here, here and here. The­se reviews will also be able to give you some feed­back on whe­ther you should upgrade from an exis­ting QWERTY pho­ne and whe­ther it can com­pe­te with Black­ber­ries and other busi­ness phones.
With all the­se gre­at reviews out the­re on the inter­net, I thought about focu­sing on my favou­rite sub­ject: mobi­le blog­ging. I'll also have a clo­ser look at the extra app­li­ca­ti­ons the E71 came ship­ped with, so this will not remain my only E71 review*.

As men­tio­ned ear­lier in my pre­vious seri­es on mobi­le blog­ging, I had come to the assump­ti­on that mobi­le blog­ging a) depends on a well-inte­gra­ted soft­ware packa­ge and b) requi­res a decent QWERTY key­board for text input. Ent­e­ring text via the (T9) key­pad or even via an exter­nal Blue­tooth key­board isn't that sexy. And while the best solu­ti­on for true mobi­le blog­ging cur­r­ent­ly seems to be the com­bi­na­ti­on of a (low cost) Net­book with a (simp­ler) 3G-capa­ble pho­ne , blog­ging direct­ly from the pho­ne is what needs to be explo­red here.
How well does the Nokia E71 per­fom in mobi­le blogging?
Take a snapshot with the built-in came­ra or even shoot a simp­le video (at redu­ced frame rate due to the lack of a dedi­ca­ted gra­phics cpu in the pho­ne), add some text and upload it onto your website.
Obvious­ly, mobi­le blog­ging is much more than the tumb­lr-stly­ed Twit­ter ser­vice and it's clo­nes. While Twit­ter pro­vi­des the same expe­ri­ence eit­her from the web, from a dedi­ca­ted app and the pho­ne (via Twib­b­le or SMS) — true mobi­le blog­ging would inclu­de the crea­ti­on of con­tent on a restric­ted device on one hand, and on the other hand the cor­rect ren­de­ring of mul­ti­me­dia con­tent wit­hin a given lay­out on a much more fle­xi­ble and big­ger web­site space.
So, let's use the E71 tog­e­ther with the Wor­d­Press instal­la­ti­on on my blog. Is it com­pa­ti­ble? Am I able to feed my blog with con­tent direct­ly from the pho­ne? And why Wor­d­Press and not any other blog­ging platform?
Yes, why Wor­d­Press and not a dedi­ca­ted mobi­le blog­ging site?
Well…because I see mobi­le blog­ging as an addi­ti­on to the blog­ging I nor­mal­ly do from a brow­ser run­ning on a PC-based ope­ra­ting sys­tem (Win, OSX, GNU/Linux distro, etc.). If I wan­ted to only do mobi­le blog­ging, the­re'd sure be other sys­tems avail­ab­le that do a much bet­ter job on a dif­fe­rent sca­le. And Wor­d­Press, becau­se it's my choice. :-)
A) WP WPho­ne mobi­le plugin
Any­ways, if you hap­pen to run a self­hos­ted Wor­d­Press blog, try to get your hands on the WP mobi­le plugin which pro­vi­des a much simp­ler WP backend inter­face. Acti­va­te it and access your backend from the phone.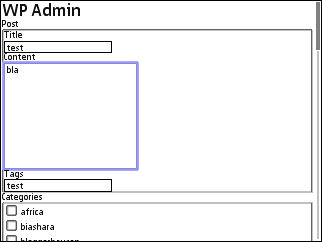 [screen­shots: using the WP dash­board via WP mobi­le plugin]
What you'll see here is the basic S60 brow­ser that comes ship­ped with the pho­ne's (inter­nal) firm­ware and which just pro­vi­des a rather simp­le access to the backend of our Wor­d­Press instal­la­ti­on. Using this method to edit your posts, mobi­le blog­ging is redu­ced to a rather pri­mi­ti­ve (but pure) method of ent­e­ring text. For­mat­ting is done via HTML-tags and pro­vi­des basic lay­out opti­ons, com­ple­te­ly depen­ding on your HTML-skills.
And obvious­ly, it's much smar­ter to pre­for­mat your text off­line and then copy&paste it (ha! try that with an iPhone…muahahaha :-) into your blog edi­tor while you'­re online. Users with an unsta­ble or expen­si­ve Inter­net con­nec­tion will defi­ni­te­ly appre­cia­te this method.
The WPho­ne Admin Plugin has been around for qui­te some time now, the latest ver­si­on was released in Nov. 2007 and tho­se who crea­ted it drop­ped its fur­ther deve­lo­p­ment due to the offi­cial Wor­d­Press-iPho­ne app . Sad.
You know what? The WPho­ne Plugin + Ope­ra Mini brow­ser is my #1 choice when it comes to mobi­le blog­ging. Why? Becau­se it just works. Which goes to show that the pho­ne's inter­nal S60 brow­ser still isn't that gre­at (even though it's based on Web­Kit which also pro­vi­des the basis to Goog­le's Chro­me, Safa­ri or the won­der­ful Mido­ri brow­ser on my Ubun­tu platform).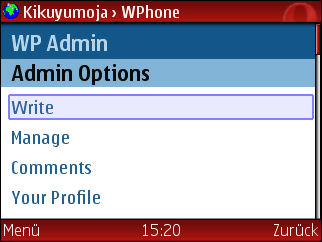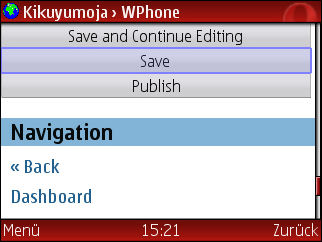 [screen­shots: WPho­ne Plugin in use with the Ope­ra­Mi­ni browser]
What I par­ti­cu­lar­ly don't like about the S60 brow­ser is the [back]-navigation — which is so much bet­ter on the Ope­ra­Mi­ni. Both brow­sers though still dis­play the web as it's also seen on a full-scree­n­ed PC-based ope­ra­ting sys­tem (using dif­fe­rent tech­no­lo­gies of cour­se). The suc­cess of the Sym­bi­an OS imho also great­ly depends on a good brow­ser. Or else ppl will jump on the Goog­le Android + mobi­le Chro­me brow­ser wag­gon asap it beco­mes avail­ab­le. After all, the brow­ser expe­ri­ence is wha­t's good on the iPhone…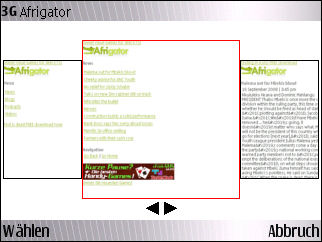 [screen­shot: navi­ga­ting on the S60 browser]
B) Wor­d­Press Mobi­le Plugin
The WP Mobi­le Plugin actual­ly isn't used for mobi­le blog­ging, but ins­tead brid­ges the gap bet­ween crea­ting and con­suming blog con­tent. Once instal­led and acti­va­ted, it will "detect mobi­le pho­nes and show them a ver­si­on bet­ter sui­ted to a small screen". While I haven't tes­ted the latest ver­si­on, I've tes­ted the pre­vious one for qui­te some time on this blog and did not like it that much back then. I am men­tio­ning here becau­se it still has gre­at poten­ti­al, inclu­des mobi­le ads (!!) and was crea­ted by Andy Moo­re who's a cer­ti­fied mobi­le web deve­lo­per and sure knows how to bene­fit from all of this (~ adsen­se revenue..).
Both plugins are inte­res­ting and should also crea­te an awa­reness for the many inter­net sur­fers out the­re who are fixed to a mobi­le pho­ne due to the lack of a con­nec­ted computer.
Our next opti­on is to use a dedi­ca­ted pho­ne app­li­ca­ti­on that pro­vi­des a dedi­ca­ted user inter­face for off­line edi­t­ing of blog con­tent. I cur­r­ent­ly know of two app­li­ca­ti­ons that I've tes­ted with both the E71 and my N95 and which I'd like to intro­du­ce here:
C) Wave­log 1.0
Here's what the deve­lo­pers wro­te on their web­site: "Wave­log is a blog­ging cli­ent app­li­ca­ti­on deve­lo­ped for S60 pho­nes. It allows pos­ting of the con­tent as text, image, audio or video, to a Web log (blog) direct­ly from the mobi­le pho­ne using any type of avail­ab­le net­work (mobi­le pho­ne or Wi-Fi net­work). (.…) Wave­log has been deve­lo­ped and tes­ted on Nokia N95 mobi­le pho­nes. Wave­log uses XML-RPC pro­to­col for pos­ting to blog publi­shing sys­tems that sup­port Meta­Web­log API" (WP, Dru­pal, Joom­la, Mova­ble­Ty­pe). A tri­al ver­si­on is avail­ab­le from their web­site, for a purcha­se of the soft­ware you'll have to cough up USD 10.00…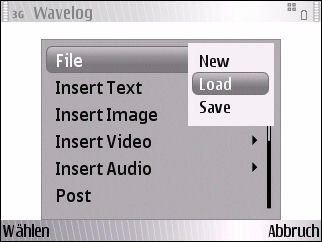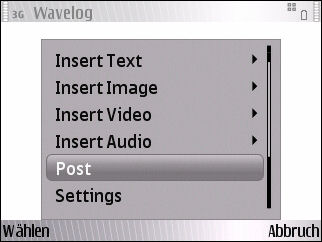 [screen­shots: using Wave­log on the E71]
Con­fi­gu­ring Wave­log:
I've tes­ted Wave­log 1.0 with a test account on my blog with both the N95 and the E71 and — while the demo ver­si­on does­n't sup­port the uploading of media files (audio, video). Wave­log 1.0 did­n't real­ly con­vin­ce me on the E71. On the N95 it's a bit bet­ter (should be the same, actually!).
Wave­log also runs a public (test?) blog to show­cast the capa­bi­li­ties of the tool and for­wards its users to a blog that is said to be ent­i­re­ly fed through the use of Wave­log 1.0. Well…
…which gets us to option:
D) SCRIBE (+ Mobi­le Python For S60) [h/t via]
Aaahhh, Python. Thin­king about the (mobi­le) pro­gramming lan­guage Python, I instant­ly have to think of Nathan Eagle and his stu­dents at Uni­ver­si­ty of Nai­ro­bi. For some rea­sons, it always comes back to folks who at one point in their life spent some time in good old Nai­ro­bi. Home, sweet home!
Bes­i­des of that, Python is beau­ti­ful way of *pim­ping* your S60 pho­ne. Just think of adding ano­t­her lay­er of mul­ti­ple opti­ons that will turn your pho­ne into a litt­le com­pu­ter (what it basi­cal­ly alrea­dy is) that can run much more than what it had initi­al­ly been desi­gned for.
Scri­be is one of tho­se app­li­ca­ti­ons direct­ly run­ning on top of (Mobile)Python For S60 — and while tho­se coders among my rea­ders here cer­tain­ly have a much bet­ter and more accu­ra­te explana­ti­on of what PyS60 actual­ly is and isn't — all we need to know at this point is that in order to use SCRIBE, you'll also need to install the free PyS60 package
Here's the manu­al from the Scri­be web­site:
Visit this site from your mobi­le brow­ser (Optio­nal)
Install Python for S60 using: PythonForS60_1_4_2_3rdEd.SIS
Install Scri­be™ for S60 using: scribe_S60_3_0_v0_9_3.sis
You'll then find Scri­be™ in your App­li­ca­ti­ons folder!
, the deve­lo­per of Scri­be, recent­ly com­men­ted on symbian-gure.com that a new ver­si­on of Scri­be is in the pipe­line which will also be much easier to install and come with an image uploading feature.
[screen­shots: Scri­be on the N95]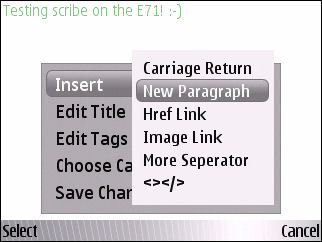 [screen­shots: Scri­be on the E71]
E) Kab­log
Tes­ted it on the E71, works. Hasnt been updated sin­ce Sept 2006 though, so I left it out.
—
Well, whe­ther you'­re using the WPho­ne mobi­le plugin, Wave­log, Scri­be or any other sys­tem I for­got to men­ti­on here, this list will may­be also exp­lain why a blog sys­tem like Wor­d­Press and most modern mobi­le pho­nes still need to come much clo­ser. Who knows, may­be in upco­m­ing Wor­d­Press relea­ses we'll also find an inte­gra­ted mobi­le blog­ging backend?
Me thinks that mobi­le blog­ging has to be review­ed asap tho­se HTC pho­nes run­ning Goog­le's Android OS will come out by the end of this year. Until then, the E71 is my choice when it comes to QWERTY pho­nes, and I'll also tell you why in my next post on this pho­ne (as part of JKE's E71 review).
Stay tun­ed! :-)
* part 2 & 3 will deal with some extra app­li­ca­ti­ons as well as with the alrea­dy awe­so­me BH-903 Blue­tooth head­set that came with the E71.