…a.k.a. "things you do when you are sup­po­sed to other things":
Here: chan­ging the (bro­ken) ori­gi­nal silver/"plum" cover on your Nokia N95 into a Mad­eIn­Chi­na-plastic cover in black.
befo­re: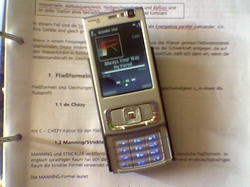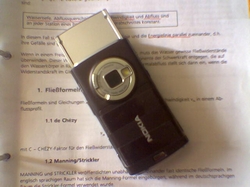 after: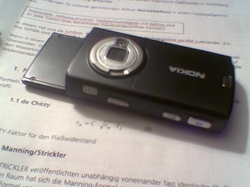 (Pics taken with a Nokia 6230, hence the lou­sy image qua­li­ty. Pole.)
Took me one hour. Pro­blem is that you have to remo­ve some parts like the loud­spea­ker or the fle­xi­ble pcb under­ne­ath the dis­play from the ori­gi­nal cover and have to stick it (it's glued!) to the new cover. Dito bot­tom: had to remo­ve the GPS anten­na and glue it to the new cover. You have to be a bit care­ful while reas­semb­ling it — espe­cial­ly the sli­der (hin­ge) requi­res some attention.
It feels a bit cheap with the new cover, sort of plastic touch to it as only the front pla­te is made out of alu­mi­ni­um, but it fits, loo­ks bet­ter (imho) and works. I am not a big fan of the over­all N95 design (i thinks it's hor­ri­ble and loo­ks like a pro­to­ty­pe — e.g. no seam­less inte­gra­ti­on of the dis­play) and with this new cover I think it loo­ks a bit less chaotic.
Can you see the clear adhe­si­ve tape on the old bat­te­ry cover? Well, a new bat­te­ry cover (alo­ne!) sells for the 1/3 of the pri­ce for a new com­ple­te black cover, so I was temp­ted to go for this com­ple­te mod. Con­si­de­ring that you have to remo­ve some glued com­pon­ents from the ori­gi­nal cover and make sure that you don't des­troy any gas­kets, I think it may even be easier to just paint it black next time.