Having followed the first-ever presidential debate on Kenyan tv online like almost every other Kenyan out there, I have to admit that I am still surprised at how well this was organized. I couldn't follow the live stream up to the end as I had to attend the local web monday event here in Frankfurt (irritating my Twitter followers with the #wmfra hashtag like every other 2nd first monday in a month – pole sana!), but I would still like to point out two technical details that I like:
1.  the use of sign language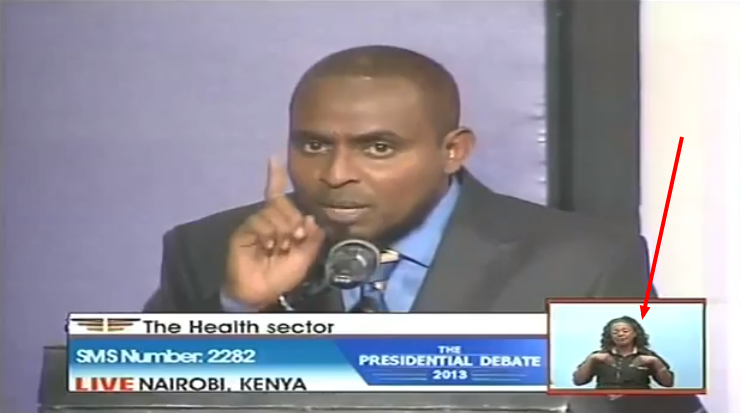 The simultaneous translation into sign language is a really great step forward. Many mentioned on Twitter how much they appreciate this special service. In Germany, we are not that advanced yet. Only some selected news are being translated this way. In fact, it should be included on every important tv programme, all over the world. Sub titles are also ok.
I have indicated the translater window with an arrow – because some of you may mistake Mohammed Abduba "Mwalimu" Diba Dida's preaching teaching style for – what? – yes, for the mentioned sign language.
Btw, I am sure there is a whole book to be written on rhetorics by African preachers, headmasters and politicians. Especially this "what?" (e.g. "..and we need this…the what? yessss, the thermometer to measure temperature.") requires special mention in the literature universe. What's the name of this style?
Dida, my man. Srsly. Even though Peter Kenneth mentioned water and sanitation in his introductory speech which is a big plus in my books.
2. social media sentiment tracker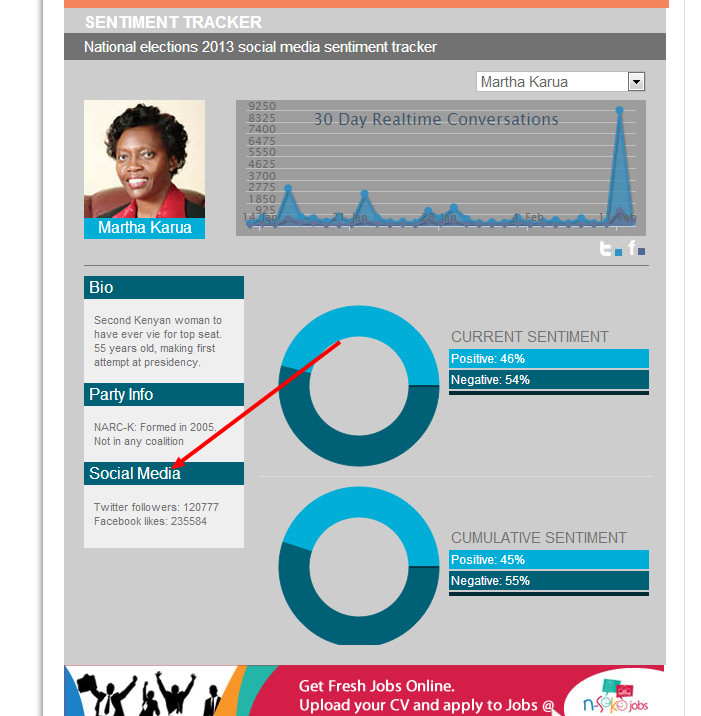 The social media sentiment tracker on the website of The Daily Nation. A friend at Webmontag Frankfurt approached me while I was checking my timeline for #KEdebate13 and #debate254 hashtags and asked about the news from Kenya. Told him that there are more tweeps in Kenya than in Germany. Many people in Germany don't know that Twitter has a totally different value in other societies around the world. Ah well, the ignorants.
As a result of that and obviously under the influence of the US media, it still (!) surprises me how much social media feedback is used as an indicator for the performance of the candidates. To my mind, this is just another development where old Europe has to take a closer look at Kenya.
Kahenya, we seriously need to rethink this Pirate Party Kenya idea. Kenyans love to be entertained!