I recent­ly got into refur­bis­hing die-cast toy cars, just for the fun of it and becau­se I have a pas­si­on for the­se older toys.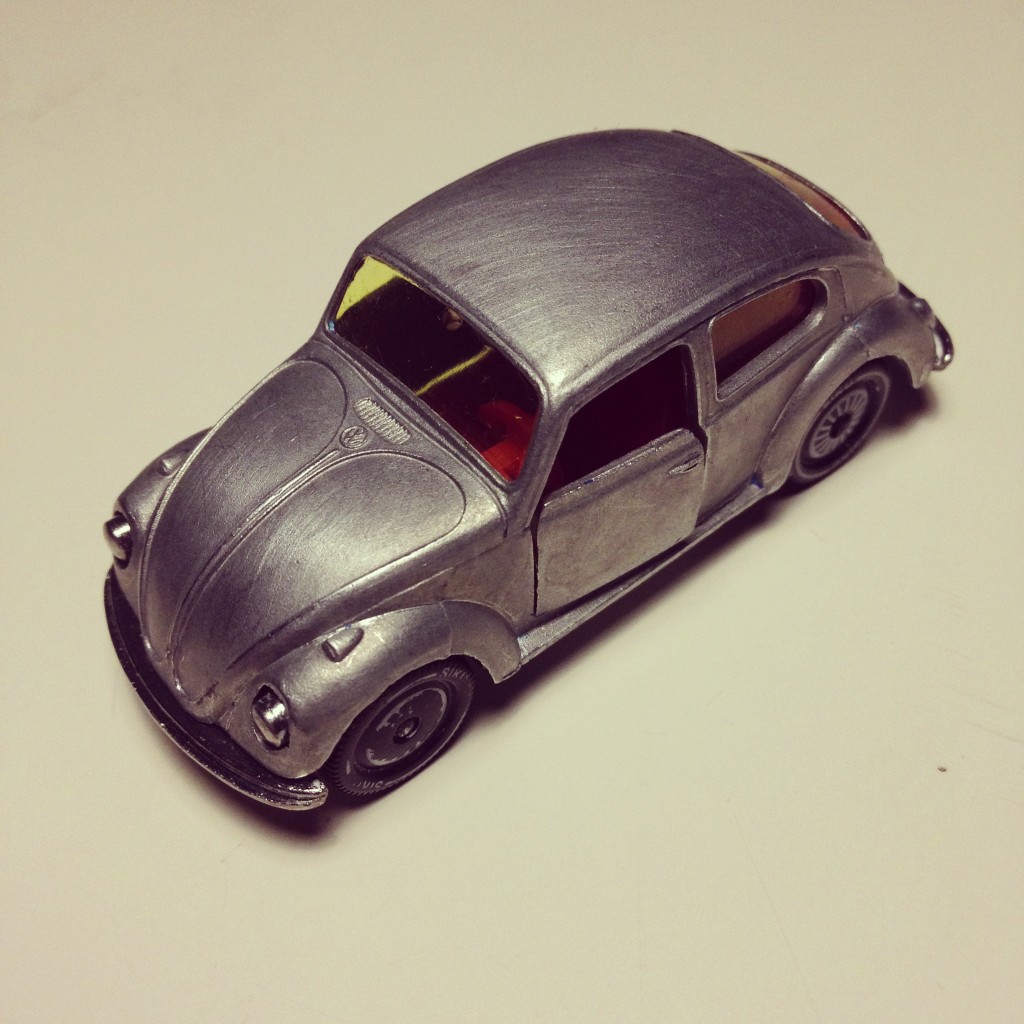 VW Beet­le 1300, Siku 1022 (strip­ped colour)
The­re's a Ger­man manu­fac­tu­rer of the­se toys by the name of SIKU who used to make bril­li­ant toy cars in the 1960s and 1970s at the 1:50 to 1:55 sca­le (among others). I guess that almost every kid in Ger­ma­ny used to play with the­se cars during this peri­od. What makes the­se Siku cars dif­fe­rent from the com­pe­ti­ti­on is that they come with richer details and also doors that would open — some­thing you would also find with Match­box (UK), Majo­ret­te (FR) or Cor­gi (UK) toy cars, but not to that extent. Other rea­sons for the suc­cess of Siku cars may be that they were the pre­do­mi­nant manu­fac­tu­rer on the Ger­man mar­ket back then, or that Siku cars were often given to child­ren on lon­ger Luft­han­sa flights. Ah well, the good old times when luxu­ry was still an act of generosity.
Siku cars have mean­while beco­me collec­tor items. The­re's a publi­ca­ti­on — a thick book — that lists every sin­gle car (ever pro­du­ced, until 2006) and pro­vi­des an esti­ma­te on the collec­tor's value of the­se cars. The good part is that I stop­ped collec­ting stuff some years ago and as such I am glad not to spend more money or other resour­ces on such a hob­by. If the­re is anything I would collect, though, it would pro­bab­ly be the­se cars. And going by my smal­ler collec­tion alo­ne, I think I alrea­dy am some sort of collec­tor albeit the deni­al (I still have a box full of Siku cars at my mum's place and used to be much more into this 10 years ago). So owning vs. using some­thing — even music: I don't want to phy­si­cal­ly own it on CD, but ins­tead just want to lis­ten to it. Owning stuff is a respon­si­bi­li­ty, so the pro­cess of collec­ting things as a hob­by should not be exa­g­ge­ra­ted or limi­ted to books only (which are hard to sell anyways).
Tool time!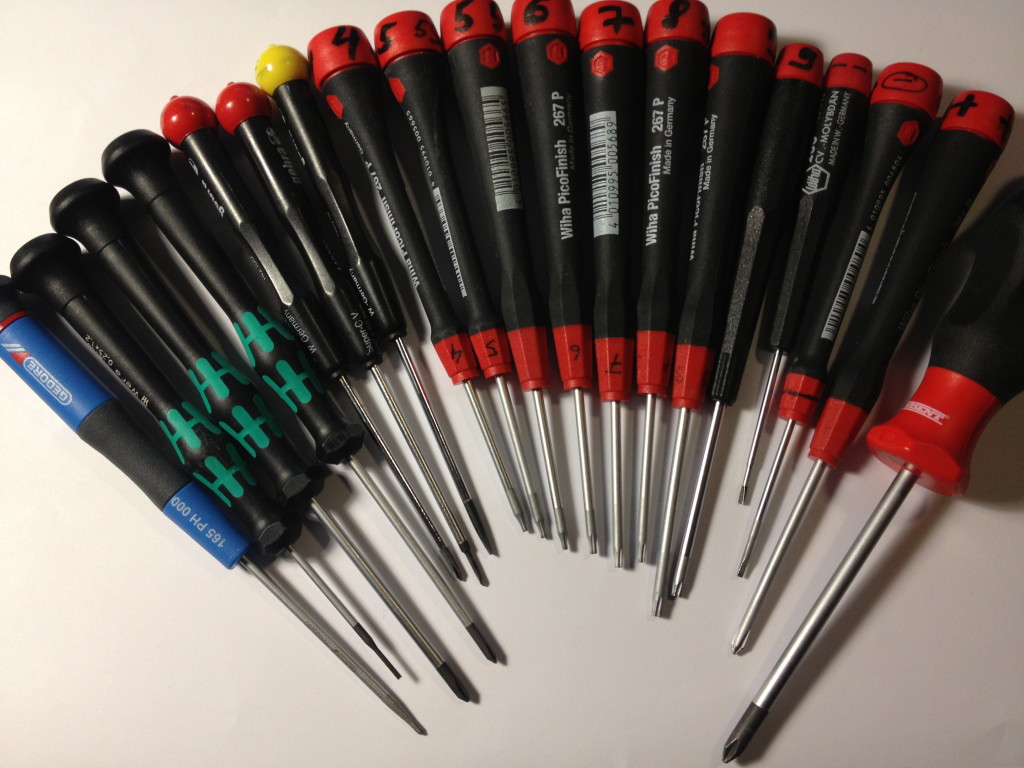 Qua­li­ty screw­dri­vers ‑the black ones with the green grip (by Wera) are the best, imo.
I've only recent­ly come to appre­cia­te buy­ing bet­ter tools. Enough of all tho­se cheap Chi­ne­se tools — main­ly screw­dri­vers — back to qua­li­ty pro­ducts that are also made out of bet­ter mate­ri­als (I used to work for a French oil com­pa­ny some years ago and I know how we used to sell them lower qua­li­ty gra­des of Poly­ethy­le­ne & Poly­pro­py­le­ne). The­re IS a dif­fe­rence bet­ween pro­ducts that were made for pro­fit only, and tho­se that would be made to last a few years. And yes, qua­li­ty has its pri­ce, but it takes a few fai­led pro­jects or torn screws to rea­li­ze that life is too short for bad tools. Tool time, b*tch!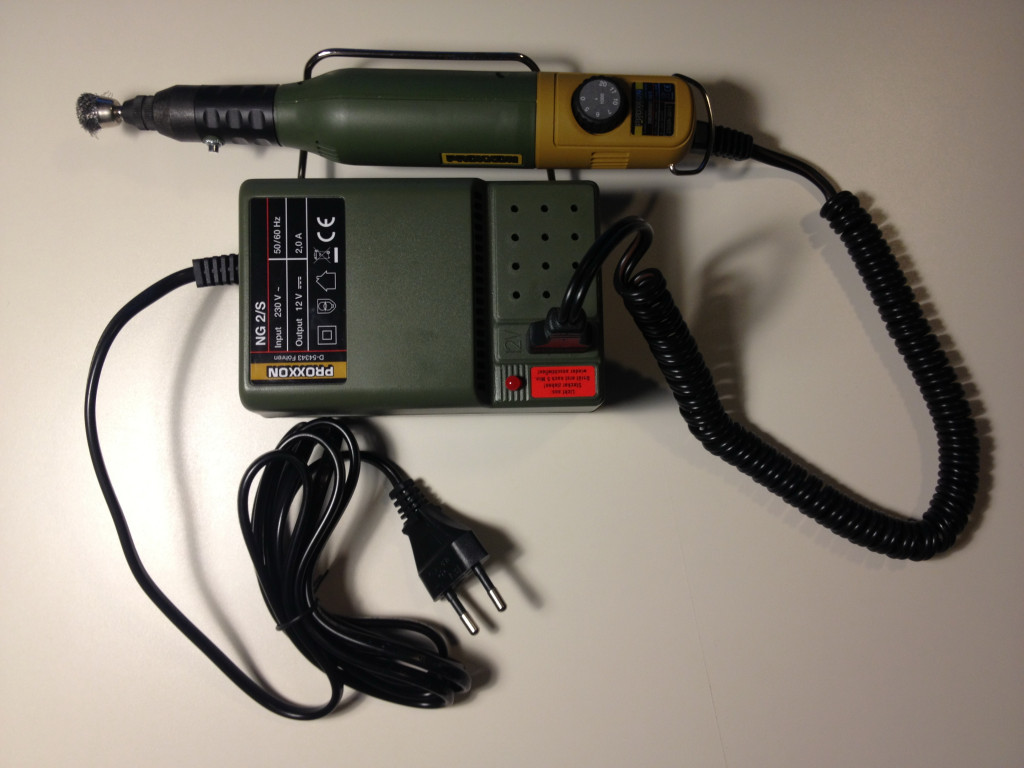 Pro­xxon Micro­mot 50/E — a true gadgetimoja
This Pro­xxon Micro­mot 50/E, for instance. I used to have a cheap, real­ly cheap mini drill that would only rota­te at maxi­mum speed and was of such a low qua­li­ty that it would a) be very loud and b) unba­lan­ced that you could also only hold it tight in your hands for a few seconds only. So I inves­ted some money into this Pro­xxon gad­get and boy, the moment I tur­ned the Pro­xxon one, my life chan­ged. Serious­ly. This mini drill is just pure gold. I ran it for three hours strai­ght, working on this and that, just becau­se it works so well. If you are still unde­ci­ded on what to get for Xmas, this is it. Also, I pre­fer it to Dre­mel drills. Good tools are a very sexy luxu­ry that I real­ly appreciate.
Com­ing back to Siku cars, the­re's this one ran­ge of cars pro­du­ced during 1963 and 1974, the V‑Series. It inclu­des 146 dif­fe­rent cars and trucks — check out this won­der­ful site on all cars from the V‑series. The V‑series is what I like, they are the older cars when the world was still very Mad-Men-esque. It also was the time when Siku pro­du­ced the Siku V253 — a Mer­ce­des-Benz 600 Pull­mann: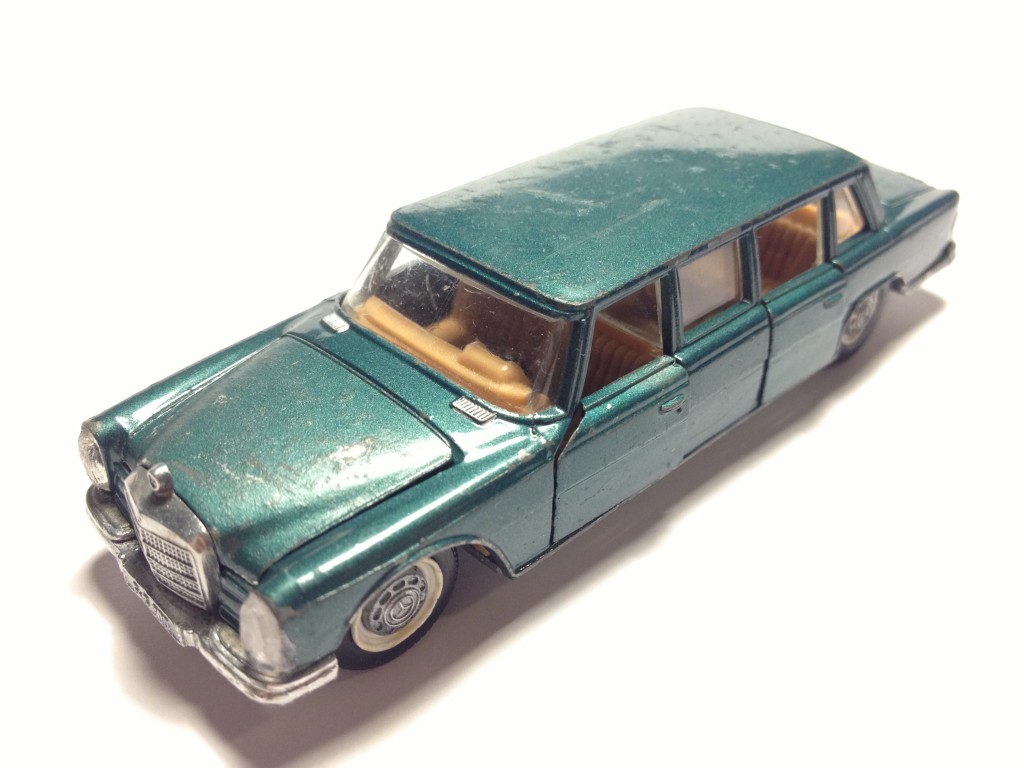 Siku V253 Mer­ce­des-Benz 600 Pull­mann (the rim covers are remova­ble — how sweet is that?!)
It's not my first limou­si­ne — long time rea­ders may remem­ber this blog post ex April 2006, whe­re I tal­ked about a Match­box limo that I took to Rocky dri­ving school. Cra­zy stuff. And very imp­rac­ti­cal for kids. But gre­at as a collec­tor's item (the­re are pho­tos of this on a clo­sed forum whe­re someo­ne collec­ted the­se Siku V253 ONLY and had about 100 pie­ces of them — all sold for 550 EUR in one go to ano­t­her collector).
Now, collec­tors pro­bab­ly don't alter anything and would also only sell it once they have a bet­ter ver­si­on of a model. Pre­fer­a­b­ly also with the ori­gi­nal pack­a­ging. The other day on eBay — just a week ago — I saw such a paper box (empty paper­box con­tai­ner!) for sale at abo­ve 70 EUR. With 20+ bids on it. So if you still own the ori­gi­nal boxes, bet­ter keep them. What a cra­zy world. This is also why I stop­ped collec­ting stuff. But collec­tors are a cra­zy bunch any­ways, whe­re the light at the end of the tun­nel pro­bab­ly just repres­ents ano­t­her flea mar­ket or cheap offer some­whe­re online. Yes, I keep on bit­chin' on collec­tors becau­se I should pro­bab­ly spend my free time lear­ning Python or Ruby or some­thing. And would I still be able to do such things with kids around (Dave? Steve?)?
But I dig­ress. The initi­al moti­va­ti­on for this blog post was a hack I came up with today after rea­li­zing a need for a turn­ta­ble-ali­ke plat­form. Some­thing that would enab­le me to paint my toy cars without tou­ch­ing them. So I quick­ly remem­be­red the HDD step motors that have been idling here sin­ce some time ago. Add a stu­pid CD and you are rea­dy to rock 'n' roll:
A Siku V267 Olds­mo­bi­le Toro­na­do that is wai­t­ing for its final colour and just moments befo­re I also spray pain­ted the other side.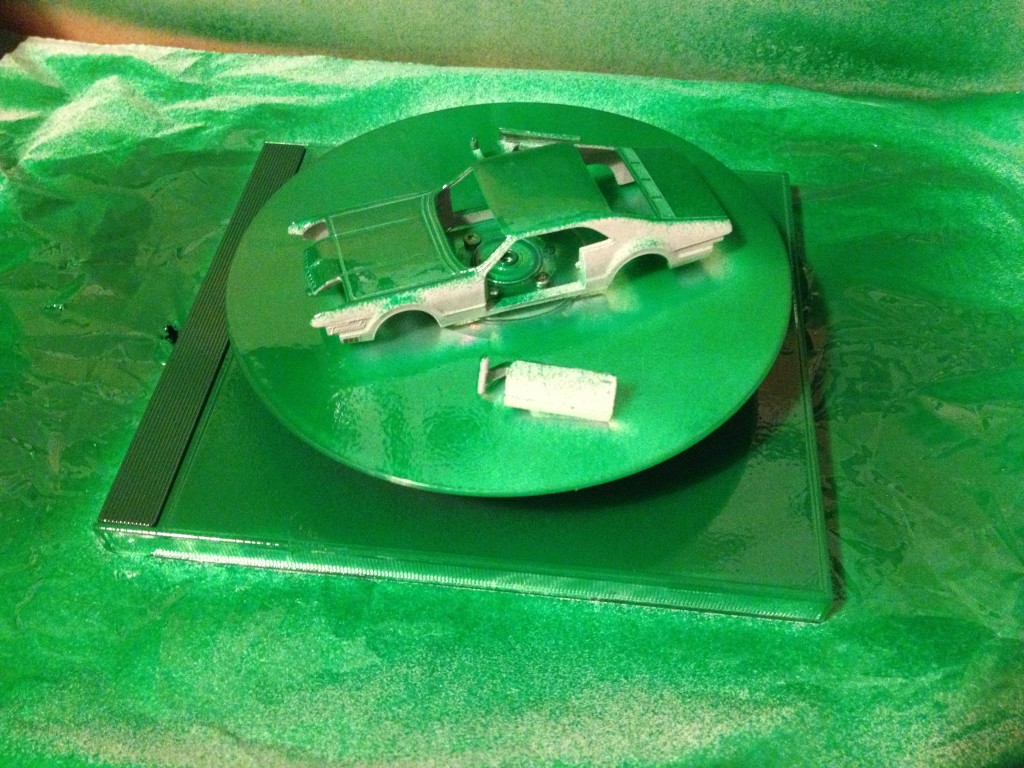 The CD-plat­form — it's cheap, it works, it wins!
As a final note, and I may have men­tio­ned it befo­re: the­se tweezers are the best tools I've ever bought. They are cheap (from Chi­na, btw!) and just do the job. Whe­ther I am fixing parts on a smart­pho­ne, scratching paint from a toy car or glu­eing some­thing back in place — the tweezers just work extre­me­ly well.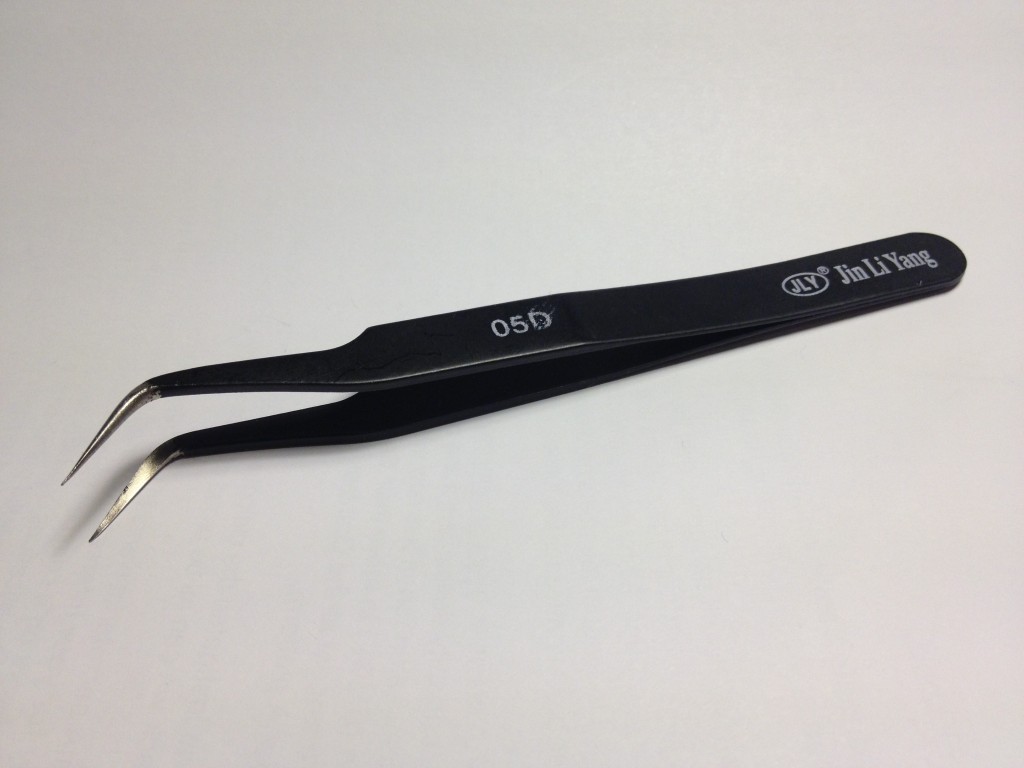 And that, ladies and gen­tle­men, is what I do when I am not try­ing to save the world.
Have a bles­sed fes­ti­ve season!
Update — the finis­hed result: