What's the rule of the road?
==> KEEP LEFT!
Or: there's no better sound than the irregular rattling of the valve lifters in my VW's 1600cc motor.
Talking of cars, Ntwiga's comment reminded me of blogging this story on how I obtained my driving licence back in those days with Rocky Driving School in Moi Avenue, Nairobi, Kenya, while pointing to this interesting BBC article.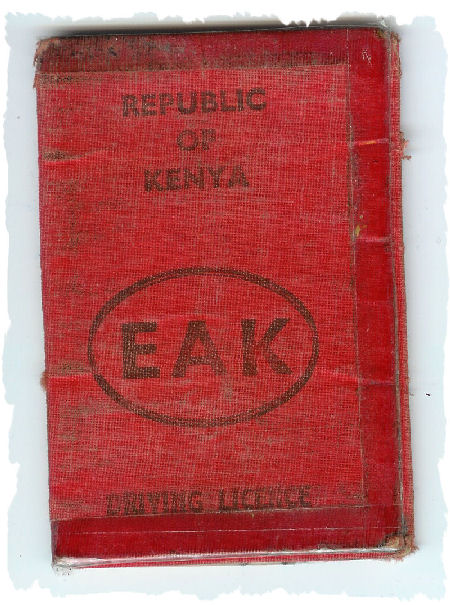 my kenyan driving licence
Just a few days after turning 18, I figured I'd eventually need my own driving licence – a piece of paper that every young teenager with driving ambitions wants to have. For those who could afford the procedure, Nairobi offered a few driving schools, such as Rockys on Moi Avenue. Whereas some ppl prefered Glory Driving School due to their well known connections to Nyayo House (read: you pay extra and get the paper without going for the test), I prefered Rockys. Geeeh, I was so serious about this and of course: no kitu kidogo or whatsoever. Also, my friends in Germany paid something like 1000,- EUR each for the whole course – so I knew about the advantages of doing this in Kenya. But beware, you MAY think that you can drive because someone has allowed you to drive the car before (~ Learners Licence) – but that doesn't also mean that you know how to drive the instructor's way.

The instructor for the practical part came in form of a very very very short guy, who had problems looking like an adult in the seat of this Datsun 1200cc pick-up. That is, most of the time he would lean his left arm out of the window and take a regular spit on the streets. Hhrrrrrrrrr…..schhhh…tzz….ppfff….., every junction needed to be marked with his spittle.
Then, one day while driving through Eastleigh, I was supposed to stop at a junction. Why?, I said, why do I need to stop here? – Ati, there's a stop sign. – Where? – Well, it is SUPPOSED to be there. It was stolen by someone some time ago.

Living la vida loca, the Nairobi way. Me I LOve NAIrobi, REgardless.

On another occasion, this driving instructor taught me how to start the car on a steep hill and thus ruining the clutch and handbrake. The Homo Faber part in me suggests that such starts are killing any car in the long run, but hey, we're talking about Rocky's 1200cc pick-up here. So why worry? I did worry, though. I showed him my method of doing this and while we both agreed that his is the better way of starting a car from the spot on a hill, he insisted on telling me his official method, because: "we are trained to do it this way". (which reminds me of this older woman while doing my apprenticeship who told me "We learnt to press the "OK" button whenever the computer system asks for it"….=> format c:\? OK? YES! – go figure).
Sadly, I sometimes hear stories of ppl being confronted by nasty driving instructors. That's so obnoxious. Ntwiga, I don't know if this was the very same instructor, but I believe he was one of "that kind" (my driving instructor in Germany was even worse – he confronted me with racist "jokes"…).

The practical part being somewhat amusing, the theoretical part started to become the biggest comedy I'd ever come across. For those who don't know the system: in Germany you have these multiple choice tests which are somehow hard to pass and you have to pay a lot of money for getting your own copies that will prepare you for the test. At Rockys, they have some ply wood with a roundabout scenery painted on it and you are given a toy car which you need to *drive" through that scenery while changing lanes and entering the roundabout. While there are stories that some cars are equipped with three wheeles only to fool people ("How can you drive a car with three wheels only?"), there is this particulaaaaaaarrrrr procedure of succesfully completing that test which starts with the 1st rule that you can't enter the roundabout from any direction but only from one! Now YOU go and try to imagine what some ppl do when they are told for 20 minutes that one can ONLY enter the roundabout from one direction and are then given a toy car to show what they've just been told. Yup, you're guesssing is correct. (…)
Sooo… being the court jester, I couldn't resist from adding further funstuff and brought this matchbox toy car with me:
a Majorette toy car limo
Who has the right of way? The Presidential Escort, of course!

Hehe…Now you guys show me how the PE goes round the roundabout. Everyone laughs. Haiiiaaaa….you know this typical behaviour when they start laughing once they don't know the answer. But true, taking the Limo for a ride on this toy scenery just added the extra spice to this comedy. Btw, I left it with them.

The actual test at the HQ of Traffic Police was awesome. While sitting in the waiting room, a traffic police officer entered the room and announced the details of the prociiidjah (procedure). After mentioning all those important details like "you'll need this, you'll need that", he closed his speech with an army styled "DID I MAKE MYSELF CLEAAAARRR?!". – Yessaaa.
Who knows what kind of customers he normally deals with.
Once they pulled me in for the test, they asked me the usual questions like "take the car and move it from here to there". Here's what you're supposed to do:
"model town"
Oh, I was so nervous, but I passed. Fortunately. Next thing – of course: "Wewe, you wait until we call you". – Yessaaa!
After about an hour of waiting, they asked me to take the drivers seat in another Datsun 1200cc. I was SO nervous and confused that I'd forgotten about adjusting the rear view mirror. The lady who had been driving before was about half of my size and so while looking in the mirror, I saw nothing but the loading area of the pickup. Haiiiaaa. Well, I realized that AFTER starting the car but tried to hide this from the traffic police officer. That guy in fact was very nice and cool. I asked him about putting on seat belts and he told me straight away: forget about the belts.
Later on I read in my "motor driving book" that it is considered an official procedure to "forget about the mirrors". Whatever.
The man ordered me to drive from roundabout A to roundabout B on Thika Road and after returning home, he just said: okay.
Ati, ok? Hey, listen, I don't want to sound like one of those impatient gals, but this is my driving test, dude. How about: congratulations, you've passed!… Nooo. He just mumbled: ok.
A few weeks later on I managed to exchange the interim certificate into this red booklet and once I arrived in Germany, I had to pay an extra amount of ~ 100,- EUR to get this thing transcribed into a german version. Mind you, I had to re-do the test, but imagine this: I drove to the test in my car using my kenyan driving licence, took the test, passed it, and drove away with my german licence.
The bottom line to all this? Well, I might be driving like my grandma these days, you know – slow and always using the indicator – but deep inside my drivers heart, I still share this I-will-survive-the-roads-of-Nairobi-spirit. And the advantage: I know where to get my spare part deals ;-)