"Hal­lo ihr Lie­ben" (hel­lo my dear) is the gree­ting form used on most Ger­man haul vide­os — this pecu­li­ar inter­net meme whe­re young girls pre­sent their latest hauls (~ purcha­ses from recent shop­ping sprees). The con­tent of the­se vide­os pro­bab­ly says a lot about the (un)importance in today­'s world, but it should also be men­tio­ned that my fian­cée likes them, at least for the make-up tips. She's a tea­cher and needs the­se vide­os with no actu­al con­tent to calm down after a long day of work. Yes, I love her nevertheless. And becau­se I am such a geek who equal­ly likes to show off his latest deals, here's my attempt at doing so:
Lea­ther­man sheaths (yes, again…)
After my recent trou­ble with Lea­ther­man Ger­ma­ny which resul­ted in paying EUR 36 for a new Lea­ther­man Char­ge TTi, I thought about the need for ano­t­her mul­ti­tool sheath. Now, the sheath issue isn't new to me as I've often tal­ked about it here and even on inst­ruc­ta­bles. Lea­ther­man deli­vers their mul­ti­tools with dif­fe­rent sheath, but they are all not that per­fect, espe­cial­ly sin­ce some tools also come with a bit set which often does­n't fit in a sheath along with the tool itself.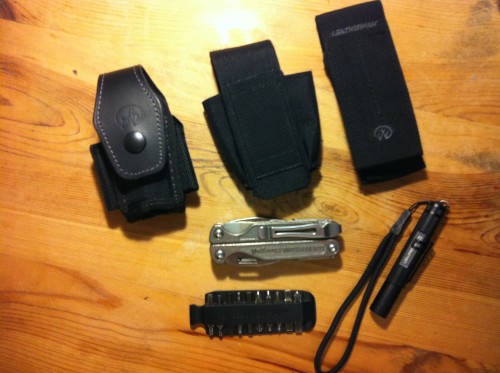 So after recei­ving the Char­ge TTi with a revi­sed sheath, I deci­ded to buy a Lea­ther­man Mol­le sheath. MOLLE stands for MOdular Light­weight Load-car­ry­ing Equip­ment and is the "de fac­to stan­dard for modu­lar tac­ti­cal gear". It's a gre­at sys­tem, but sin­ce I usual­ly don't wear any mili­ta­ry clothes (nor have a need for that), I was rather inte­res­ted in the sheath its­elf and how well it would accom­mo­da­te the mul­ti­tool, not real­ly worry­ing about the MOLLE sys­tem that would have to work out on my belt.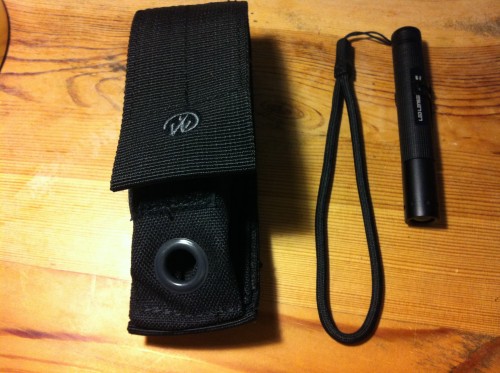 The Leath­man MOLLE sheath with a Lea­ther­man Char­ge TTi and the bit kit. And an LED LENSER P2 led torch that won't fit in the­re. Bad :-(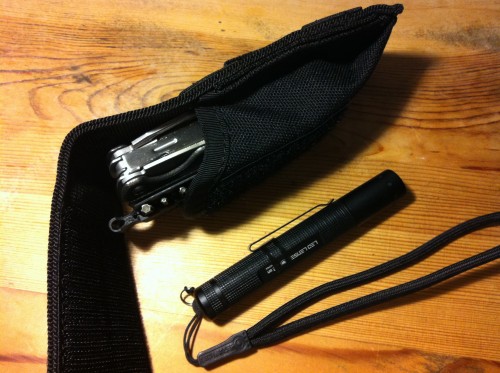 Well, it just does­n't work for me. It has some nice details, but sin­ce it's too small and also does­n't even fit the tool nor the extra LED torch, it will have to go back on sale via eBay. Ah, it could be worse.
Next up was an adver­ti­se­ment I'd seen via multitool.org — a gre­at forum on mul­ti­tools and other EDC stuff. It's ama­zing to see how much and how often peop­le can talk about the­se tools, but then — I've recent­ly lear­ned that the­se brands we'­re pas­sio­na­te about are cal­led "love brands". If you like Arse­nal or Fer­ra­ri F1, then tho­se are your love brands. Mine is Lea­ther­man. Obviously :-)
The Skinth OG
So this ad I'd seen was for a new kind of sheath cal­led "Skinth Solu­ti­ons", made by a Cana­di­an designer/photographer who's also into mul­ti­tools. I saw it and instant­ly fell in love with it. Given that I had alrea­dy inves­ted so much time and money into this hob­by of mine (~ crea­ting sheaths for tools), I knew I had to order mine from Cana­da — and just did that. It's expen­si­ve (for me in .DE), it's simp­le, it just works, it wins.
I later on rea­li­zed that the Skinth had also been deve­lo­ped in clo­se col­la­bo­ra­ti­on with other multitool.org users. It's a crowd­sour­ced pro­duct, somehow. Made by someo­ne who cares and had MY tool in mind when he crea­ted the product.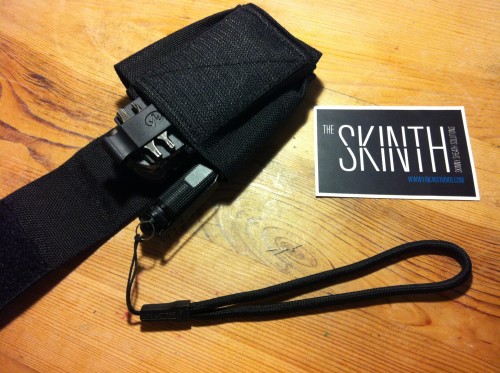 The Skinth OG isn't per­fect, it still has some issu­es, but it's what Lea­ther­man should have come up with in the first place.
The issue I am cur­r­ent­ly expe­ri­en­cing is that the torch does­n't fit — and a few days after orde­ring mine, the Skinth Spar­ton OG came out which loo­ks like the ulti­ma­te sheath Skinth to me. Hmmm.….
In terms of over­all height — which is the most important cri­ter­ion I have as most Lea­ther­man sheaths are just too bul­ky when ful­ly loa­ded — the Skinth beats all others. It's even slim­mer than my DIY lea­ther sheaths (which aren't pictured).
Going by the torch issue, I may swap the Skinth OG for a Skinth Spar­tan OG. The torch just can't be ful­ly inser­ted on the Skinth OG and tha­t's just bad for my needs. It's too long for the side pockets.
Nevertheless of this issue, the Skinth sheaths (check out their Face­book page!) are still cool. Juli, the social media mana­ger at Lea­ther­man, told me that "sheath are a very per­so­nal issue", which is why they'­re having pro­blems crea­ting good sheaths that will plea­se ever­yo­ne equal­ly. The Skinth collec­tion, howe­ver, instant­ly con­vin­ced me. If you'­re still sear­ching for a nice sheath for your mul­ti­tool, then plea­se try them!
Eric, the maker behind the Skinth collec­tion, also just drop­ped me an e‑mail, tel­ling me that the­re's a chan­ce to "undo the stit­ches that pin the pockets down" which will sort-of sol­ve my issue with the cur­rent ver­si­on. I will try that as it seems to be the best solu­ti­on atm. Thx, Eric!
Edit: this just worked out fine! W000t! :-)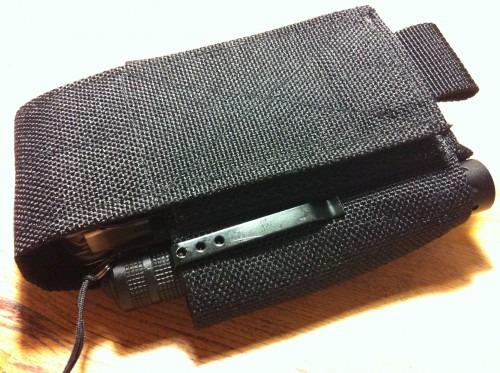 Palm­Mi­cro
My recent move to the (Free and Han­sea­tic City of) Ham­burg made me pick up a brand new VoIP tele­pho­ne via eBay Ger­ma­ny. Just EUR 9 for a fac­to­ry sea­led pho­ne ex 2005 from a clearan­ce sale (Tel­Da­Fax!) that only works via LAN and requi­res a VoIP account — I am using Sip­ga­te which are very reli­able in Ger­ma­ny. It also is my office num­ber in Frank­furt, so I like to have this with me and not on a Nokia or Apple device in form of an app as this would only drain the bat­te­ry. Sip­ga­te is cool, this phone…well, it was cheap.
My pre­vious expe­ri­ence with che­a­per VoIP pho­nes is rather bad. I am not tal­king about USB pho­nes (which would requi­re a com­pu­ter to be online), btw. If I was in need of a pro­fes­sio­nal ver­si­on with more than one account, I would pro­bab­ly go for a Grand­stream pho­ne (whe­re the che­a­pest will cost about EUR 50 in Ger­ma­ny). On the other hand — the­re would be no hacking challenge :-)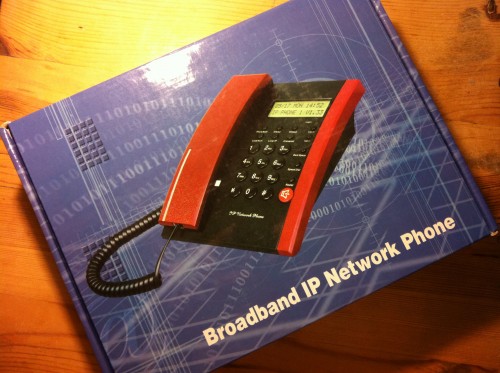 A quick search via Goog­le reve­a­led that most of the pho­nes weren't deli­ve­r­ed with this ugly red frame — and I was lucky to recei­ve it in black colour:
The boo­ting telephone…
The pic­tu­red Prime­worx P100 is the same as the Glo­bal IPtel G100, Cis­trix CT-100, Sip­t­ro­nic ST-102 and pro­bab­ly some other brands and is based on the PA1688 chip, a low-cost VoIP chip.
It took me several hours / three evenings to even­tual­ly debrand the inter­nal firm­ware and swap it for one of tho­se avail­ab­le online. And sin­ce my pho­ne was made in 2005, the web­site of the dis­tri­bu­tor is alrea­dy off­line. After some cross-rea­ding here and the­re, I found this won­der­ful resour­ce online: Palm­Mi­cro — a pri­va­te site/blog run by a Chi­ne­se in the USA who worked in the dev team at PalmMicro/Centrality whe­re they desi­gned the chip, crea­ted refe­rence boards and also com­pi­led the firm­ware. It's pro­bab­ly as clo­se as you can get to a sys­tem — direct­ly tal­king to for­mer deve­lo­pers who will respond in time — and his blog is also recom­mend­a­ble for the views on hard­ware deve­lo­p­ment in Chi­na and restric­tions set by the Gre­at Fire­wall in Chi­na. Rea­ding bet­ween the lines, you quick­ly rea­li­ze that it's often just a few smal­ler com­pa­nies who crea­te chips and refe­rence boards which are then copied by the indus­try and sold for a peri­od of a few years. It very much reminds me of the Qual­comm 3G modems we all have in our busi­ness lap­tops with their often undo­cu­men­ted GPS func­tio­n­a­li­ty (ask Leno­vo, HP, etc.). Any­ways. Palm­Mi­cro rocks and if you are still in need of recent firm­ware (as recent as Janu­a­ry 2012!) for your cheap VoIP pho­ne, Palm­Mi­cro is the place to visit for your Glo­bal IPtel G100, Cis­trix CT-100, Sip­t­ro­nic ST-102 or Prime­worx P100.
AOB: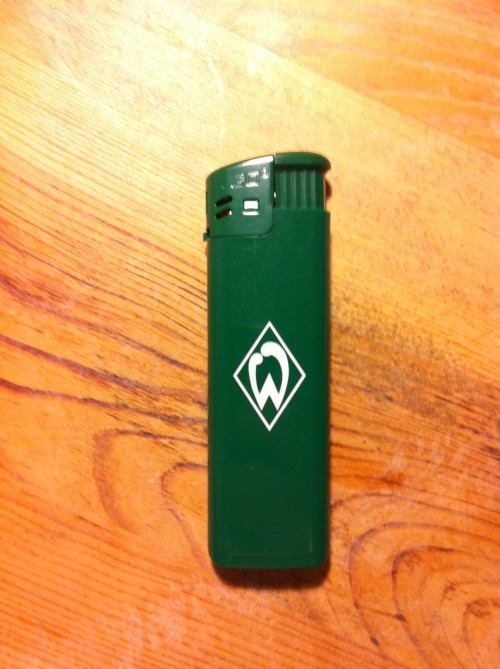 Many peop­le often ask me, which foot­ball team I sup­port. I actual­ly don't care about football/soccer and am often sca­red by their aggres­si­ve hoo­li­gans fans, so this pic­tu­re of a ligh­ter I bought today should ans­wer all open questions. :-)
Have a nice week!