Good news and bad news. Twice.
The good news is that I have a new job in a new town city, the bad news is that the place is so damn expensive that everything I earn will be wasted on a place to sleep as well as on food. The bad news also includes a very low payment. But I chose this path because it helps me shaping my professional profile and interests (which are various).
The other bad-news-good-news-story is a bit more complicated. The recent move to the new place made me pick up my broken Leatherman Charge TTi multitool (yeah, another gadget post – sry, gals :-) and have it sent to Leatherman Germany for a service repair under warranty.
You'll need to know that Leatherman multitools come with a 25year warranty. Most broken tools will either be repaired or replaced. It's a great and decent service by a serious company. I love most of their products and am part of the "Leatherheads Anonymous" addicts group on Facebook. These tools turn me on. Geek pr0n, you name it. Needless to say that I do not only have one, but five such multitools. I actually only need one, a working one in good condition, and my Charge TTi urgently needed some professional help.
Some history
Leatherman Inc. recently acquired a majority interest in Zweibrüder Optoelectronics in Solingen/Germany, who are known for their quality LED Lenser flashlights. This obviously happened because consumers who are willing to invest EUR 30 and more on a decent flashlight will probably also go and buy a EUR 100+ multitool. It's the sales channels they are interesting in, and it's a smart move.
This development, however, also meant that Leatherman Germany had to pick up the corporate design and philosophy of their US mother – and if you have ever dealt with a German sales person in service, you'll quickly understand that "good service" in Germany and the USA are two completely different concepts. German "service quality" is about the engineering of the product (and only the product), US "service quality" is more about emotions. You can read up more on this in Clotaire Rapaille's book on Culture Codes.
Service Quality?
I have no idea when the concept of German accuracy got lost, but what I received in return from Leatherman Germany was just below ANYTHING, below any quality standard ever I've come across so far. And what I had to complain about wasn't some kinky German non-issue (like a scratch or so), but that they had only made the tool worse. Much worse.
There are these security Torx screws on Leatherman multitools, so you just can not mess with it (and it would also void the warranty). What they had done was to unfasten one of the screws which resulted in a wobbly saw blade – and on the other side of the tool the screws were too tight that I couldn't open all the tools inside the (miss aligned) handles. The multitool was rendered useless – and returned to me in such a state.
This really pissed me off.
I had read so many positive reviews about the Leatherman customer service which made me send in my fifth tool in the first place. After all these years without any troubles, I eventually needed to make use of the warranty service – and then they mess it up.
Markets are conversations.
( – The Cluetrain Manifest, # 1 / 95)
As a result of the failed repair, but more importantly that they had the guts to return the tool in such a state, my trust in the German branch was lost and I decided to report my negative experience on the Facebook wall of Leatherman USA.
I received an instant reply (within five minutes!) from a very kind person at Leatherman USA who a) really took this issue serious, b) apologized on behalf of Leatherman Inc. and c) made sure I receive a brand new tool directly from the factory line.
The story could end here and all would be well, but it unfortunately continues – with some more WTH?!-moments:
The day after that e-mail & Facebook conversation with Leatherman USA, I received a phone call by Leatherman Germany. The guy on the other end of the line – well…. if this was my company, I would send him on a customer training. First of all, he wouldn't let me explain the situation, then he replied in a snobbish manner and then he tried to bribe me with some "extras".
Dear Leatherman Germany, please stop the crap next time and just make us have a positive experience when we are in contact with you. And with "we" I am talking about all German customers. The attitude shown during the phone call corresponded well with the delivered repair, to say the least.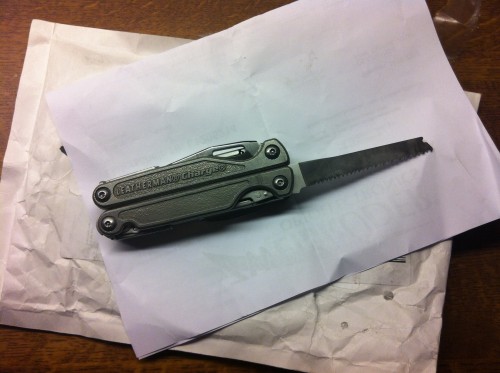 He went on explaining that they only recently took over the repair service on behalf of Leatherman ("you were customer number 20…") and that they still need to learn on how to handle such situations. That's ok to me, but to be honest: you can not tell your client (who still has a problem which needs to be solved asap!) something like "uhhm, u know we messed up because we're still not experienced enough…", even if it's the truth. "Yes, we have never repaired Ferraris before, but uhm, let us try, it can not to be that hard…" – see? And then of course if you are still inexperienced and I am client number 20, then it MAY be smarter not to repair the knife, but instead give me another one (wouldn't need to be a new one) or send it to someone who knows what he's supposed to do.
So after a hefty dispute on the phone (I normally don't do that, but the guy on the phone was such an arrogant person which prompted me to reply), we settled on him sending me "something small" in return for the expenses I had with Leatherman so far and that I would return my broken Charge TTi a second time for them to see what was wrong.
A few days later on I received a parcel with a) an LED LENSER T7 flashlight (which has a market value of about EUR 30 on eBay) and b) a Leatherman leather sheath for a range of tools I do not own (= useless). Free of charge, a gift from Leatherman Germany for the troubles I had with them. That's very nice!
The flashlight is nice – a bit too big for me, but the free and unexpected gift is still appreciated. The sheath – well…. it's useless to me. I've put both items on sale at eBay because they are brand new and because I need to cover my expenses.
Expenses? Yes, Leatherman USA, or rather an uncapable UPS courier service, messed it up a second time which resulted in me having to pay another EUR 36 on import taxes for the brand new Charge TTi which came as a replacement. So both sales of the above mentioned "free gifts" will have to cover my costs. Which is ok. It's extra work, it's partly my mistake because I accepted the US parcel instead of asking for a duty-free version (and waiting for another week), but in the end I managed to have my Charge TTi exchanged for a working version (my old Charge TTi wasn't only broken, it also had quality issues ex factory) and paid only a few extra Euros. The money, uh well. Forget about it.
The replacement tool is so much better. I should have requested a replacement for my Charge TTi right from the very start. The Charge TTi line is known for having quality issues, and mine was part of those faulty multitools.
And Leatherman Germany? No response from them whatsoever since receiving the "free gifts". Not so Leatherman USA who really impressed me with their understanding of quality service and human communication. I hope they will train their German colleagues accordingly.
If there is anything like a silver lining to all of this then it's probably the insight that good customer service does not depend on a trained concept, but more importantly that it depends on passion.
Passion is the driving force behind a lot of things – and if there's anything I appreciate in others then it's their passion for a good cause or good products. It's so important and clearly shows when it's absent.
P.S.-1: I take it that the folks of Letherman Germany are passionate about their LED flashlights, because if they act the same way on their flashlights as they did with my Leatherman then we may have a problem…
P.S.-2: Facebook may not be used by everyone, but it's an interesting marketing instrument and channel for direct interactions with your customers. On the US (=international) Facebook channel of Leatherman they do not only respond in time and very fast, but also deliver follow-ups to problems. They really care. From my .DE point of view, this certainly is a very new experience and highly appreciated.
To all German Leatherman owners who need to make use of the warranty service: viel Erfolg!