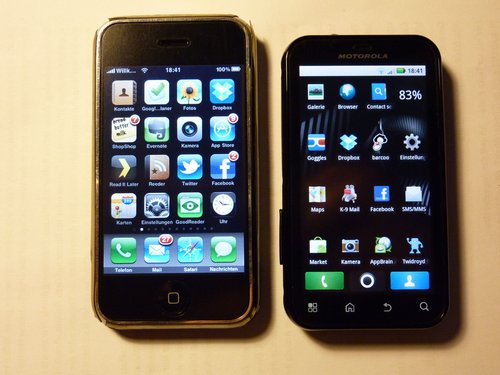 The­re's some­thing about App­le's iPho­ne that just won't go away. I think it's this "one but­ton to rule them all" phi­lo­so­phy — the home but­ton — that will make things a bit easier for the user.
When you'­re alrea­dy used to an iPho­ne, it's hard to switch to any other mobi­le OS, espe­cial­ly if this inclu­des let­ting go of a beloved app and a ser­vice that made things a bit easier for me:
the app to con­trol my bank account (cur­r­ent­ly no Android app available)
no push noti­fi­ca­ti­ons for Android 2.1 & Twit­ter app
I may be repea­ting mys­elf here, but such a basic and important ser­vice like Twit­ter push noti­fi­ca­ti­ons (for­get about Face­book) not being avail­ab­le on my Android device is real­ly sad. The only alter­na­ti­ve to this is the use of an auto­ma­tic sync (~ every 15 min.) via Tweet­Deck, Hootsui­te & Co..
Else, my first 4 days on an Android device were less hec­tic. I recei­ved the pho­ne, instal­led the latest avail­ab­le update (it's still on Android 2.1!) and down­loa­ded a pletho­ra of inte­res­ting apps. Apps that I can even share with the rest of the world via App­brain. Wow!
You know it's a bit irri­ta­ting when you'­re alrea­dy using Goog­le Chro­me, have a Gmail account, sync ever­ything via this account and then you are won­de­ring whe­re your book­marks are. Not syn­ced! Why? No brow­ser on Android sup­ports this. Yes, the­re's an extra app for this + I am a LastPass/Xmarks Pro user, so solu­ti­ons are avail­ab­le, but still — this cha­os at Goog­le reminds me of Noki­a's Ovi.
Unfor­tu­n­a­te­ly, the Moto Defy also still has some open soft­ware issu­es and tends to "for­get" a few set­tings after each reboot. I will also need to opti­mi­ze ener­gy con­sump­ti­on on it — my Sym­bi­an approach of clo­sing apps which are not in use does not real­ly work with Android.
As for the iOS vs. Android discussions:
Need games? => iOS
Need your (Goog­le) tasks & calen­dar on a home screen? => Android
You'­re fine with iTu­nes? => iOS
Want to back­up your pho­ne to a Drop­box account? => Android
To be honest, I am still at this point whe­re I think that an iPho­ne is the bet­ter pho­ne for most con­su­mers — even though I've seen a lot of iPho­ne users who'd even be ok with a simp­le Nokia S40 pho­ne (as they only need tele­pho­ny and SMS).