The Moto­ro­la DEFY ships with a simp­le (bul­ky) char­ger & a micro-USB cable.
Docking sta­ti­ons for mobi­le devices may not be on ever­yo­ne's agen­da, but sin­ce I am working from home most of the time and also use a docking sta­ti­on for my HP lap­top, I pre­fer the­se con­ve­ni­ent solu­ti­ons to have the pho­ne (or any other mobi­le device) char­ged when I need it. Bes­i­des, I've also used such docking sta­ti­ons for my pre­vious pho­nes, so I made sure I'd get mine for this new phone.
The pro­blem: the­re's no docking sta­ti­on avail­ab­le for the Moto­ro­la DEFY, even though it has been on the mar­ket sin­ce Novem­ber 2010 and has sin­ce then sold qui­te well.
The­re's an offer on eBay for such a third par­ty docking sta­ti­on from Chi­na, set to be avail­ab­le from March 2011 onwards — or later, becau­se the same was also said in Decem­eber and Janu­a­ry and the release date has been post­po­ned more than once.
Ano­t­her issue is that the micro USB port is cove­r­ed by a litt­le flap, so you'll always have to move it to the side while acces­sing the USB port. It may be against this back­ground that third par­ty manu­fac­tu­rers haven't come up with a docking sta­ti­on for the DEFY as of yet.
The solu­ti­on: build your own by modi­fy­ing one made for the Moto­ro­la Mile­stone. Such Mile­stone docking sta­ti­ons like the one below cur­r­ent­ly sell for 10,90 EUR via eBay.DE (incl ship­ping), which is ok.
Now, the beau­ty with the­se pho­nes is that they flip the screen when you insert them into such a docking sta­ti­on — and dis­play a spe­cial screen with access to basic func­tions like alarm, gal­le­ry, media, etc..
In fact, it has two screens — one for desk­top docking sta­ti­ons and one for car mounts. You can manu­al­ly acti­va­te the car mount dis­play (huge but­tons with access to the navi­ga­ti­on sys­tem, tele­pho­ne, music, etc. — very nice, see pre­vious post with bikertech.de image) via a link on the home screen, but I am still to find the link on the menu for this desk­top docking screen.
With this docking sta­ti­on, the screen auto­ma­ti­cal­ly rota­tes and shows the docking screen. How­'s that done? SIMPLE! The pho­ne responds to a magnet which I've moun­ted insi­de the docking sta­ti­on. In fact, this docking sta­ti­on also came with a small magnet for the Moto Mile­stone, but it never worked, so I used one of tho­se neo­dya­na­mic magnets from last week's MAKE: LED Thro­wies DIY pro­ject during our local Frank­furt Igni­te event wich does the job qui­te well. You insert the pho­ne et voi­là, the screen rota­tes. Perfect!
Here's what I did:
Remo­ved the covers on the screws.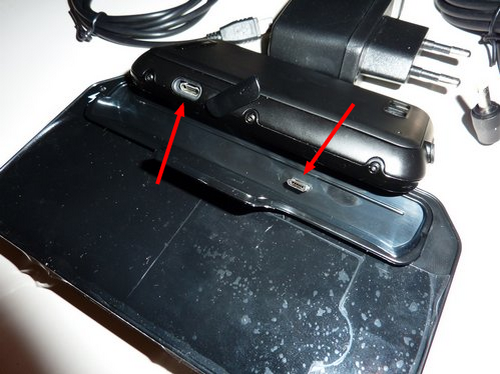 The posi­ti­on of the micro-USB port on the Moto­ro­la Mile­stone obvious­ly dif­fers from the one on the DEFY :-(
Let's open it up and see wha­t's inside:
The micro-USB plug is screwed to the plastic frame — good! Let's remo­ve it.…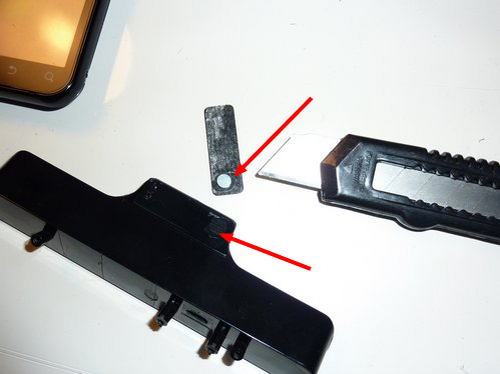 The old magnet from the Mile­stone docking unfor­tu­n­a­te­ly did­n't work for the DEFY…
Ok, now this is what you do when you don't have a Dremel ;-)
(using your sol­de­ring iron — very jua kali, but hey, it worked.…)
So I "dril­led" a new hole for the USB plug…
…and fixed ever­ything with hot glue (nas­ty stuff).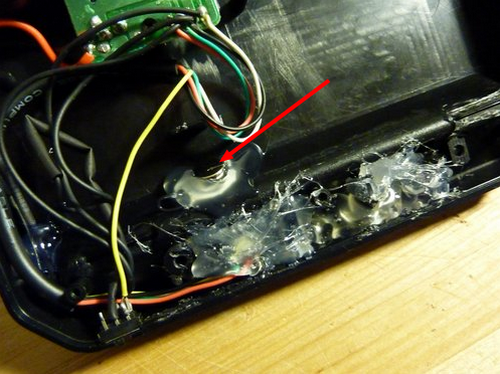 Can you see the magnet in the middle?
Ok, let's put the bot­tom cover back on and turn it around:
It may not look that nice.….
..but the final result it good, works fine & makes me happy! :-)
This DIY pro­ject is based on an idea I picked up on a Ger­man Android forum, which also has a pic of whe­re the magne­tic sen­sor is loca­ted insi­de the Moto­ro­la DEFY. Btw, the 2 screens for the docking sta­ti­on (a) this view (as abo­ve) and b) the car mount view) only depend on the pola­ri­ty of the magnet. Flip it over and the other screen will load. Obvious­ly, this isn't pos­si­ble with my con­struc­tion becau­se I've glued the magnet to the plastic frame. But you get the idea and may want to use it on your own DIY car mount.…
And yes, this docking sta­ti­on will cer­tain­ly never be as ele­gant as the slim one for the iPho­ne, but it fits the pho­ne and does what its sup­po­sed to do. Also, the­re's some­thing about Moto­ro­la I will never under­stand. The hard­ware and build qua­li­ty they offer is ter­ri­fic! But anything bey­ond that like adop­ting the open Android approach (i.e. open boot­loa­ders) or coope­ra­ting with third par­ty acces­so­ry dea­lers — nada. Moto­ro­la, to me, is like a head­mas­ter of a con­ser­va­ti­ve school that pre­fers adults (busi­ness cus­to­mers) only. Very strange…