So I did it.
I bought this Moto­ro­la DEFY mobi­le pho­ne today. It's my first Android device and I am still to find out if I can get along with its ope­ra­ting sys­tem, the avail­ab­le apps and the user inter­face. I've picked this model (and not the HTC Desi­re / HTC Desi­re HD / Sam­sung S / Nexus S, etc.) for the fol­lowing reasons:
It is dust­pro­of and water & scratch resistant. The­re are various vide­os on You­Tube that docu­ment how this pho­ne still works after (and while) being sub­mer­ged in water and other flu­ids. Try this with an iPhone :-)
It was recom­men­ded to me by my mate Adri­an who has 10 (!) of the­se and uses them for a sci­en­ti­fic (geo­lo­gic) pro­ject. Of cour­se, if I could afford it, I would pro­bab­ly also long for a Nexus S (like Adri­an) becau­se of the avai­la­bi­li­ty of a pure and fresh Android 2.3+. The Moto­ro­la DEFY cur­r­ent­ly runs on Android 2.1 with its own (lame) skin MOTOBLUR. Android 2.2 still needs to be rol­led out in this regi­on for this pho­ne, and it is uncer­tain whe­ther it will ever make it to 2.3. Of cour­se the­re are unof­fi­cial relea­ses, but Moto­ro­la only allows signed boot­loa­ders. F*** Y**, Moto­ro­la. Not good. Android is open. You'­re not. Why?
It was also recom­men­ded to me by fel­low blog­ger @bobbes who's a Linux guy and show­ed me his DEFY ear­lier last week.
It is afford­a­ble and has a very good pri­ce-per­for­mance ratio. This is an average device with an average came­ra. My old Nokia N95 (ex 2007) has a bet­ter came­ra. I've paid 265 EUR (this is a refur­bis­he­d/­li­ke-new pie­ce of hardware!).
Android! Becau­se I nee­ded a chan­ge. As a Win/Linux user, iTu­nes is a pain in the ass. Else, I still love my iPho­ne on iOS 3.1.2. The iPho­ne is very slow on the brow­ser, though, and urgent­ly requi­red an upgrade. I am not real­ly sure if Android will make me as hap­py as iOS did, but I'll never know unless I try.
480x854 pixel screen size. For an ope­ra­ting sys­tem, whe­re app com­pa­ti­bi­li­ty also depends on the pixel reso­lu­ti­on of the tar­get device, this is a wel­co­me screen resolution.
I've always kept & trea­ted my pho­nes & gad­gets in a good way, never had a bro­ken screen so far, but it just feels good to know that any sweat on the dis­play (hol­ding the pho­ne next to your ear) will not result in a water dama­ge. Given how fra­gi­le the­se pho­nes are on the insi­de, this DEFY hope­ful­ly defies all water attacks :-)
It's smal­ler than my iPho­ne, fas­ter and will pres­um­a­b­ly also run a bit lon­ger. This argu­ment about exch­ang­ab­le batteries.…in all hones­ty, I think no one real­ly needs that in rea­li­ty. And for tho­se moments you real­ly need it, you won't have a ful­ly char­ged spa­re bat­te­ry in your pocket. I usual­ly car­ry a bag with char­gers and spa­re bat­te­ries for all my pho­nes in my lap­top bag. During all the­se years, I've only used them twice. Once in Kenya, and once in Ger­ma­ny on the train (only to rea­li­ze that the cheap Mad­eIn­Chi­na spa­re bat­te­ries drai­ned too fast).
It has a good GPS chip­set. My iPho­ne Clas­sic does­n't have GPS. My Nokia N95 has GPS, albeit a very weak one that needs to be hard­ware hacked one day (exten­ding the anten­na, that is).
It has a microSD card. This alo­ne is rea­son enough to drop the iPho­ne (whe­re I used Drop­box for non-mul­ti­me­dia files).
It has two micro­pho­nes that "intel­li­gent­ly ampli­fy your voice and fil­ter out back­ground noi­se". This is sup­po­sed to be a modern stan­dard (worked fine on my E72), but my iPho­ne Clas­sic did­n't have this and I some­ti­mes mis­sed it. I don't like to use my iPho­ne as a tele­pho­ne, pre­fer Noki­as when it comes to pure tele­pho­ne func­tio­n­a­li­ty becau­se of the impro­ved acoustics. Estoni­mo­ja (with his beloved 6210) and Mentalacrobatic(s) (with his love for the 6230) will cer­train­ly agree on this.
As a hard­ware guy, I che­cked You­tube for "dis­as­sem­bly defy" and found this video. Going by the main PCB and the plastic cover, this pho­ne is very simi­lar to good Nokia pho­nes. You'll noti­ce the dif­fe­rence while ope­ning up iPho­nes or HTCs — which are much more fra­gi­le and con­sist of many small cables and parts direct­ly prin­ted on the­se cop­per cables. This obvious­ly is a busi­ness decisi­on and some­ti­mes the cau­se for fail­u­res (that you won't have with such sin­gle-board pho­nes, imo). In other words: good built qua­li­ty needs to be based on something.
This being an iP67 pho­ne, my assump­ti­on is that it will con­ti­nue to live des­pi­te any stu­pid Moto­ro­la boot­loa­der poli­ci­es. In other words: while this pho­ne has some­thing that makes it uni­que (the water/dust pro­of thing), other cur­rent Android devices may only be short lived and soon drop­ped by many users for the pro­spect of using bet­ter hard­ware. I think this Moto­ro­la Defy will stay with us for a long time, simi­lar to the Sie­mens ME45 or the recent Nokia 3720.
What I miss is a docking sta­ti­on, and/or the USB socket at the bot­tom of the device. I'll have to open the flap that covers the USB port (on the left side of the device, see pics), which is a bit annoy­ing. The iPho­ne (or the HTC Desi­re) clear­ly wins here. Obvious­ly, the­re's no per­fect pho­ne out there.
Oh, and you can buy this mobi­le pho­ne hol­der (yeah, simu hol­da­aaaa!! :-):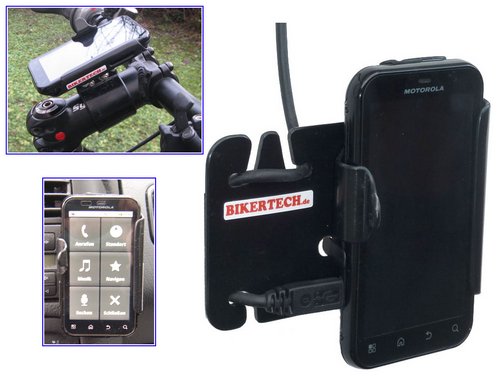 .… which will pro­bab­ly attract Endu­ro-fana­tics like Bwa­na Whiteaf­ri­can or Bwa­na Mzeeced­ric who need tough gear for their motorbikes.
This mobi­le pho­ne hol­der for bicyles and motor­bikes is avail­ab­le via bikertech.de — the abo­ve image is © by them. The guy who runs bikertech.de builds the­se hol­ders one by one, they are all hand made and can be adjus­ted to any spe­ci­fic requi­re­ments. Love it! In fact, see­ing this pic final­ly nai­led it for me. I can't ima­gi­ne using an iPho­ne in an Otter­box case (which are awe­so­me, see their review from my Nokia E72) on such a hol­der. But the DEFY? Of course!
Any­ways. I know the DEFY won't be the ulti­ma­te pho­ne, and pro­bab­ly also not be my last one. If it pro­ves to be as reli­able & ver­sa­ti­le as the iPho­ne Clas­sic, I'll be more than glad.
UPDATE: After recei­ving this pho­ne, che­cking out Android, instal­ling a lot of apps and slow­ly under­stan­ding what makes Android so spe­cial, I rea­li­zed that the sim­pli­fied car menu (see biker­tech image abo­ve for an examp­le) that gives you access to basic func­tio­n­a­li­ty is VERY nice and convenient.