The fol­lowing blog post may be filed under "things I do when I am sup­po­sed to do other, much more important stuff ins­tead", but I just need to wri­te it down and share it here.
I am in the pro­cess of buy­ing a new mobi­le pho­ne, and my switch to the iPho­ne Clas­sic some mon­th ago made me rea­li­ze that — in the end — I am no real soft­ware hacker (hard­ware, yes) and pre­fer a sys­tem tha­t's reli­able and just does the job.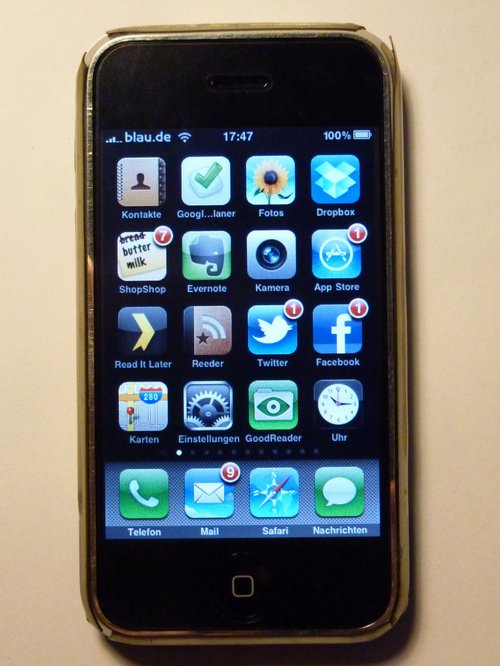 main screen on my iPho­ne Classic
(note the Full Body Film com­ing off on the top right corner)
Mea­ning, the limi­ted opti­ons on an iPho­ne Clas­sic with a jail­bro­ken iOS 3.1.2 aren't necessa­ri­ly nega­ti­ve, becau­se you end up using only a few apps of the 140+ apps I've mean­while instal­led on the sys­tem and also adjust to the user inter­face. I think we are human enough to accept user inter­face design flaws as long as we'­re get­ting things done.
From my expe­ri­ence with Sym­bi­an and iOS so far, I can tell that iOS is kick ass and only has a few things that I would pro­bab­ly like to chan­ge (on 3.1.2, but also 4.x). The­re's a pletho­ra of apps avail­ab­le for iOS, the­re are many good apps also ONLY avail­ab­le for iOS (like the app pro­vi­ded by my bank) and ever­ything is just very strai­ght for­ward. The­re's no doubt that App­le's / Ste­ve Job­'s ZEN approach and the things they DON'T do or offer on their devices isn't wrong, but ins­tead one of the main rea­sons for their suc­cess — even in Japan, whe­re ana­lysts fea­red that the some­what limi­ted iPho­nes would­n't suc­ceed (as sta­ted in this bril­li­ant arti­cle).
This week I went to a local Twit­ter meet­up and rea­li­zed that almost ever­yo­ne was using an iPho­ne. Except for two coders who were on Android devices.
the back side of my iPho­ne Clas­sic — with the part­ly worn out & yel­lo­wish Full Body Film (that covers the gaps on the alu­mi­ni­um back).
QR Code = my address for busi­ness contacts
Android and iOS. Let me be clear on this: I judge pho­nes on their relia­bi­li­ty and what I can do with them. I said it befo­re, Nokia does not inte­rest me any­mo­re des­pi­te their awe­so­me (real­ly awe­so­me and unbea­ten) hard­ware. The came­ra on my Nokia N95 from 2007 is still very good when com­pa­red to cur­rent devices. And this alt­hough it only has an LED flash!
It's the apps. No apps, no fun.
Hence it's only iOS or Android to me the­se days. Like­wi­se, any chan­ge of mobi­le pho­ne ope­ra­ting sys­tems has to be well plan­ned. Seach the now (even­tual­ly also via web acces­si­ble!) Android app store online and see which app rela­tes to the one you like best on your iPho­ne. Also, some­ti­mes the­re's no extra app necessa­ry on Android as the func­tio­n­a­li­ty is also inclu­ded on the default ope­ra­ting sys­tem. I am a bit afraid of soft­ware hacking any future pho­ne, but going through the various forums/fora online I rea­li­ze that a lot of ppl mana­ge to hack their Android devices, so I should also mana­ge to hack it to some extend.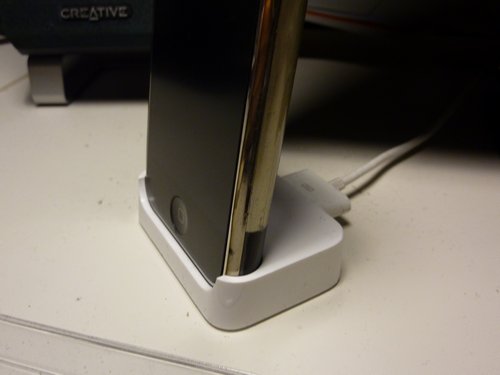 iPho­ne Clas­sic docking station
Hard­ware
What you see in the snapshot abo­ve is the very nice, small & slim docking sta­ti­on for my iPho­ne Clas­sic. I have two of them — one on my desk and one on my bed table. This is VERY con­ve­ni­ent and also necessa­ry, becau­se they bat­te­ry on this pho­ne isn't ori­gi­nal and only lasts 8–10 hours maxi­mum. I am using Kiri­kae mul­ti­tas­king swit­ches and SBS­tog­gles on the iPho­ne to kill unne­cessa­ry apps and free avail­ab­le RAM, the­re are no con­stant data con­nec­tions and I main­ly use it for Twitter/FB/Reader & as a pho­ne. The bat­te­ry and the dis­play are both not ori­gi­nal and thus a bit pecu­li­ar on ener­gy con­sump­ti­on. Mis­sing 3G speed, a lou­sy came­ra, bat­te­ry life and limi­ta­ti­ons of iOS 3.1.2 now made me con­si­der an upgrade to:
a) an iPho­ne 4, paid for in install­ments @ 25 EUR / mon­th, iOS 4.x (= 649 EUR)
or
b) a Moto­ro­la DEFY, Android 2.1 (+ unof­fi­cial UK upgrade to 2.2), cur­r­ent­ly sel­ling for ~ 290 EUR
Now, given that I can get the same things done with a che­a­per Android device like the Moto­ro­la DEFY, why should I upgrade to an Apple iPho­ne 4? From a "let's-be-real" per­spec­ti­ve, the DEFY will just do as well. Most of the apps I am using will also be avail­ab­le via Android Mar­ket, and sin­ce I've also alrea­dy jail­bro­ken my iOS device, I will pro­bab­ly be able to hack an Android device, right?
Right?
Inte­res­tin­g­ly, one of the main rea­sons why I still haven't bought the DEFY is the lack of a docking sta­ti­on. The DEFY also has its con­nec­tor on the left side, so you'll eit­her have to modi­fy a Moto­ro­la Mile­stone docking sta­ti­on (with a magnet, so that the dis­play flips 90° to the side) or build your own, but in any case I will always have to remo­ve the plastic/rubber flap that covers the USB port on the DEFY. Do I real­ly want that? And will they be dure­ab­le enough?
Ano­t­her alter­na­ti­ve would pro­bab­ly also be an HTC DESIRE on Android 2.2 becau­se it has its docking port at the bot­tom. This, the avai­la­bi­li­ty of many cus­tom firm­wares and the came­ra on the HTC DESIRE are rea­sons why I would go for an HTC DESIRE. But for the moment, also becau­se of it's rug­ged cha­rac­ter — the Moto­ro­la DEFY is rated as IP67 — the DEFY loo­ks like a cur­rent Android device with a very good value for money. The still mis­sing & rather com­pli­ca­ted docking sta­ti­on issue and the only average came­ra (I take a lot of pho­tos for use on my Pos­te­rous blog) — sijui… will still have to make up my mind on this.
The recent launch of the Hua­wei IDEOS U8150 in Kenya trig­ge­red my inte­rest in low-cost Android devices. A friend, who is cur­r­ent­ly pro­gramming a sci­en­ti­fic app for Android devices, also recent­ly recom­men­ded the DEFY (given my bud­get) as he's cur­r­ent­ly using one hims­elf. I had the chan­ce of play­ing with the DEFY for a few minu­tes and lik­ed what I saw. Of cour­se, it's not an iPho­ne 4, but it cos­ts only half as much and makes me get­ting things done.
So here's the ques­ti­on: wait for the iPhone5, buy an Android device like the DEFY or DESIRE, invest into an iPho­ne 4 or stick with the old one becau­se the­re's never "the right time" for buy­ing Android devices?
(pls note that I did­n't even men­ti­on the con­ve­ni­ent microSD card memo­ry on the­se Android devices & the lack of iTu­nes, which is a night­ma­re on Win­dows & also rea­son for the chan­ge to Android)