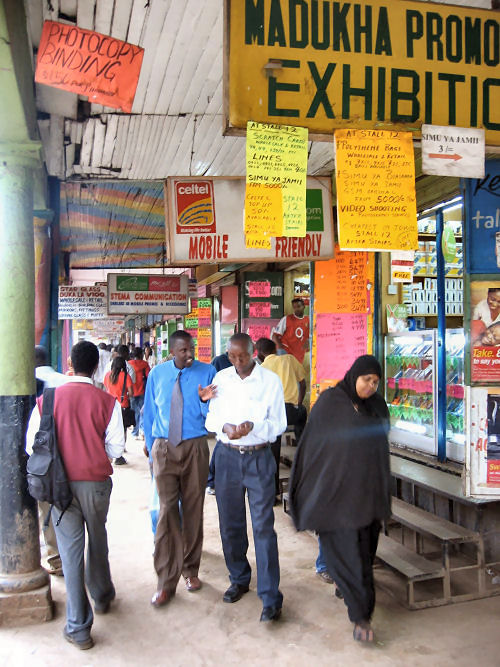 I was looking for a car holder / handsfree unit for use with mobile phones in a car. Something were you can put your mobile into once you enter the car to either have it placed somewhere near the radio or get it recharged. These rather passive holders aren't necessarily specific to a certain phone model but instead just work with many phones. In short: a "mobile phone holder". Just like a cup-holder, but for mobiles.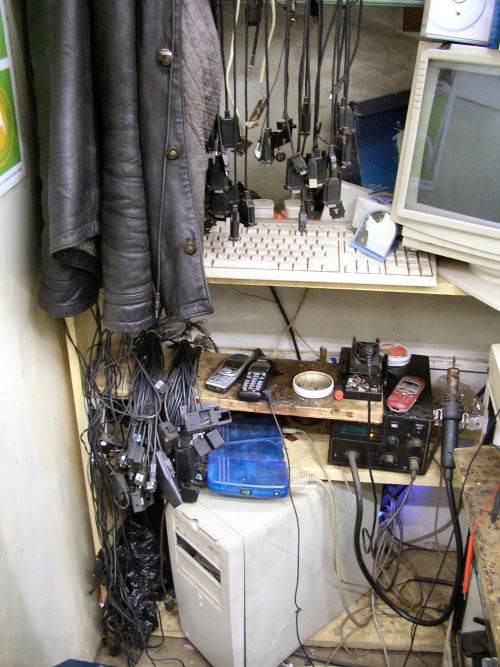 The booming telecommunications business with major cashcows like Safaricom attracted a lot of vendors in Nairobi who have specialized in mobile phone parts. While some are experts even in phone repairs (as pictured – using a hot air station to desolder the SMD pcbs and reflashing & unlocking the phone's firmware using these long caboooools), others are just vendors who basically have no idea about technology and just think in terms of mbeca.
Many of the old shops on Moi Avenue & Co have been turned into dukas / small stalls – sometimes containing up to 30 stalls in one big house and the owners are often owning 5-6 of these stalls.
The sheer amount of shops selling the same mobile phone parts and maybe only differing in their pricing makes you think that there's no business due to high competition, but nevertheless we were told some shops on the front row sell about 3-5 phones per day on average, leaving a profit of Kshs. 8.000/= per vendor – which is a lot for secondary school leavers with no further education. University Students also work there (I can already picture me renting one of these stalls for repairing phones & Co. :-).
Coming back to my phone holder – I asked almost ALL of these vendors for the desired nini but they never had it EXCEPT for ONE vendor on Biashara Street – who btw also had a neat solution for double SIM card adapters. Since his phone holder included a jua kali a.k.a. 1998-styled handsfree unit which we don't need (only the holder), there was nothing else but building my own mobile phone holder for use in a Suzuki Jimny (Samurai).

(pls try to ignore the temporary white adhesive tape – which btw also makes the whole construction to be pothole-proof…)
"Look for solutions, not problems" (Dan Eldon)