Lindt eas­ter bun­nies made of cho­co­la­te and alrea­dy on sale alt­hough it's still some weeks till Easter.
They btw star­ted sel­ling Xmas coo­kies as ear­ly as Sep­tem­ber last year.
Sca­ry.
Leek Flower Pas­te. I still haven't figu­red how to use this on food (@KPT — weißt Du es?) but it was real­ly cheap so I HAD to buy it. Loo­ks interesting.
Dai­fu­ku Mochi. I love the­se litt­le sti­cky rice cakes and so often for­get about buy­ing them when buy­ing food @ the Asi­an super­mar­ket. The ones pic­tu­red were a litt­le bit sal­ty though — com­ing from Korea…
Sushi rolls for a hef­ty pri­ce in Frank­furt down­town. I love Japa­ne­se food but not when it's that expen­si­ve + most of the­se rolls are fil­led with vege­ta­ble and other spe­cial com­bi­na­ti­ons for the Euro­pean market.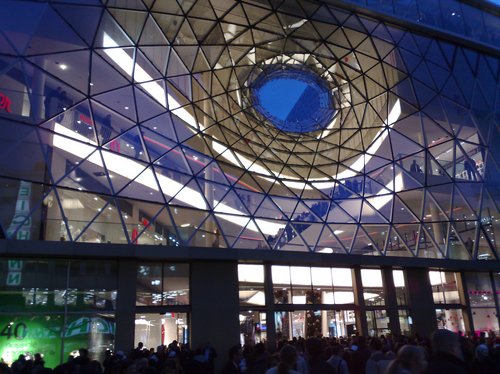 This new mall ope­ned in Frank­furt down­town — the pic­tu­re abo­ve is from Thurs­day last week when it ope­ned. Peop­le stor­med it until late in the evening like the­re's no tomor­row. I haven't been insi­de yet becau­se — after all — it's just ano­t­her mall. Tapio was the­re and did a video on it.
Very inte­res­ting archi­tec­tu­re. It's also very impres­si­ve to see what modern rein­for­ced con­cre­te con­struc­tion is capa­ble of — such thin walls and floo­rs, sta­ti­cal­ly inte­res­ting (for an engi­neer, at least).