I've just come home from atten­ding "Nutec" today — an inter­na­tio­nal con­gress and exhi­bi­ti­on on "Nutec: Nutri­ents — Upcy­cling — Trip­le-Top-Line-Eco-effec­ti­ve­ness-Commu­ni­ty" that took place right here in Frank­furt am Main, Ger­ma­ny during the last three days.
Nutec is all about nut­ri­ents that will remain in a bio­lo­gi­cal or tech­ni­cal loop, or as the tag­li­ne on their web­site reads: "Ever­las­ting Cycles: How Was­te beco­mes Food".
Nutec was part­ly orga­ni­zed by EPEA which is run by Prof. Dr. Micha­el Braun­gart — who is the B in MBDC (McDo­nough Braun­gart Design Che­mi­stry) — an inter­na­tio­nal con­sul­ting com­pa­ny that tri­es to a) sell the phi­lo­so­phy of the so-cal­led Crad­le to Crad­le (C2C) con­cept and b) tri­es to achie­ve this by con­vin­cing com­pa­nies to obtain a C2C certification.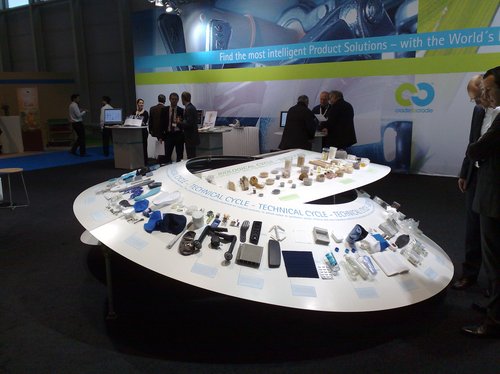 clo­sing the loop on tech­ni­cal and bio­lo­gi­al nutrients
Sin­ce Micha­el was my pro­fes­sor at uni­ver­si­ty and sin­ce I a firm belie­ver in this phi­lo­so­phy of clo­sing the loo­ps (which is one of the rea­sons I star­ted beco­m­ing acti­ve in the field of eco­lo­gi­cal sani­ta­ti­on), it was par­ti­cu­lar­ly inte­res­ting to see how this event was set up, whe­re the aims are, what kind of visi­tors it would attract and what any pos­si­ble out­co­mes are.
Tho­se of you who fre­quent­ly visit other green blogs like Treehugger.com, know that C2C is a "sexy" and alrea­dy very popu­lar approach at dealing with the pro­tec­tion of our envi­ron­ment. And tho­se who have read McDo­noughs & Braun­gart's famous Crad­le to Crad­le book often agree that their idea of ano­t­her indus­tri­al revo­lu­ti­on actual­ly is the way to go. May­be not at once, but in small steps and by star­ting today. I have even con­vin­ced some older folks in the busi­ness who have a very green back­ground of this new approach. Espe­cial­ly sin­ce this who­le green move­ment has been acti­ve here in Euro­pe way back in the 1980s when our US-Ame­ri­can friends only had green flower peop­le — so opi­ni­ons on "what needs to be done" had alrea­dy been sett­led, with the usu­al dis­cus­sions. Unfor­tu­n­a­te­ly, green acti­vists had in the past often only expe­ri­en­ced a nega­ti­ve image, part­ly due to their bad rhe­to­rics. You sim­ply can not tell anyo­ne he's doing some­ting bad if your only solu­ti­on is to advice him on doing less (bad things).
McDo­nough & Braun­gart both achie­ved to mar­ket their idea of ano­t­her indus­tri­al revo­lu­ti­on, whe­re they are asking com­pa­nies to rede­sign their pro­ducts into gree­ner pro­ducts. Pro­ducts who­se mate­ri­als remain as nut­ri­ents and may then be reu­sed for ano­t­her pur­po­se. I won't go into more details here becau­se I've blog­ged about this sub­ject more than once during the last three years and the­re are various other resour­ces online that give a much bet­ter insight into the subject.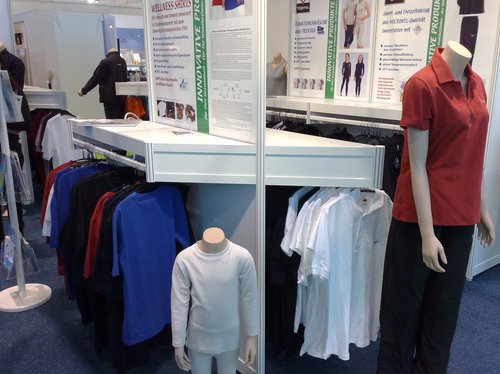 Tri­gema — Ger­many's famous manu­fac­tu­rer of clothes who pro­du­ces com­post­a­ble shirts right here in Ger­ma­ny. The CEO of Tri­gema was pre­sent at their booth and real­ly impres­sed me. Tal­king about Cor­po­ra­te Social Res­po­si­bi­li­ty - big up for Trigema!
Back to the Nutec exhi­bi­ti­on: this year's event was a tri­al set up by EPEA to see / test how the public and inter­na­tio­nal sce­ne reacts. Mes­se Frank­furt, the worl­d's lar­gest tra­de fair orga­ni­ser, actual­ly accep­ted a loss of 1,2 Mil­li­on Euros to host this event — pro­vi­ded that EPEA/Elca­Me­dia con­ti­nues to invi­te to ano­t­her Nutec con­fe­rence & fair, may­be next year in Hong Kong.
And this is what it was all about: an inter­na­tio­nal event, hos­ted to pool inte­res­ted visi­tors and their con­tri­bu­ti­ons, with about 60 exhi­bi­tors (this time only) that show­cas­ted some of their ide­as and approa­ches. And mind you, the idea behind all this is not to dis­play eco pro­ducts, but ins­tead show the world that a bet­ter world is pos­si­ble with eco­no­mic incen­ti­ves. After all, no com­pa­ny in this world will chan­ge its pro­ducts only becau­se of some envi­ron­men­tal con­cerns. Ins­tead, the­re's money to be made out of this — ana­ly­zing your mate­ri­al flow streams and pro­ces­ses will help you (as a com­pa­ny) to save on lots of hid­den cos­ts you may not have been awa­re of. So ins­tead of tel­ling com­pa­nies to stop pol­lu­ting the envi­ron­ment, the­se guys inven­ted the C2C cer­ti­fi­ca­ti­on which pro­vi­des a detail­ed ana­ly­sis of pro­duc­tion pro­ces­ses and shows them a way forward.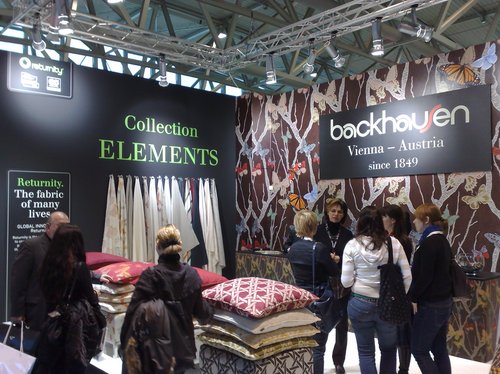 Back­hau­sen - an Aus­tri­an com­pa­ny pro­du­cing return­ab­le fab­rics. The­se guys were cer­ti­fied with a GOLD C2C cer­ti­fi­ca­te for their products.
The C2C cer­ti­fi­ca­ti­on has in the last few mon­th also recei­ved some cri­ti­cism online, espe­cial­ly as por­tray­ed in this sto­ry on Fast­Com­pa­ny last mon­th. Des­pi­te of some per­so­nal resent­ments some CEOs may have with MBDC, the C2C cer­ti­fi­ca­ti­on is a smart way to cash-in on envi­ron­men­tal pro­tec­tion, as it hel­ps ever­yo­ne involved.
For some rea­sons, which may also inclu­de this 49-minu­tes long docu­men­ta­ry on MBDC, the C2C phi­lo­so­phy has beco­me very popu­lar in The Nether­lands late­ly. It pro­bab­ly also is one of the rea­sons why Nutec this time attrac­ted many Dut­ch exhi­bi­tors — green start-ups that are often loo­king for inves­tors and who have some very smart ideas.
Braun­gart is a Ger­man though, and when I look back at uni­ver­si­ty, I think I am save to assu­me that only a hand­ful of stu­dents real­ly unders­tood his con­cepts and the impor­t­ance of his mes­sa­ge. It's like the pro­phet who's an out­si­der at home. I bla­me this on the Ger­man cul­tu­re, and often wish my fel­low coun­try­men here would be much more open to new ide­as and wil­ling to take more risks. So it's very nice to see the Dut­ch side being so open to his ide­as. We urgent­ly need much more of this enthu­si­asm in Europe.
Other inte­res­ting exhi­bi­tors included: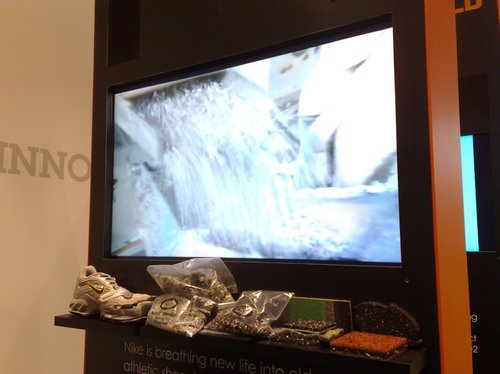 Nike — with a small booth dis­play­ing their shoe recy­cling concepts.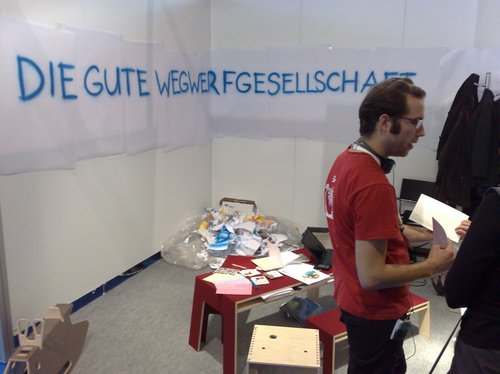 The­se guys from Aus­tria run a net­wor­king agen­cy and set up a pilot pro­ject in the city of Graz whe­re they mana­ged to obtain funds from the Euro­pean Uni­on that hel­ps them turn the city cent­re into a gree­ner place. Simp­le, but smart and making sure to use wha­t's avail­ab­le (the EU has the­se grants + the­re's a who­le indus­try busy try­ing to app­ly for these).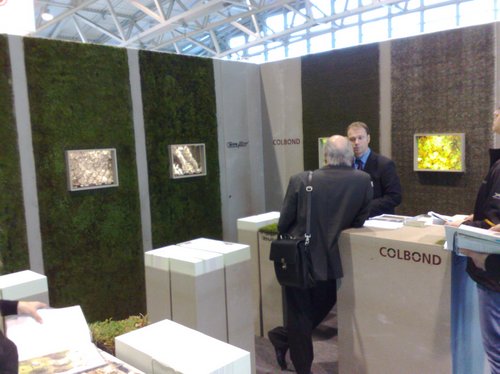 Xero­Flor — the­se are the guys that pro­vi­ded the green (grass) roof to the Ford Rouge Cen­ter in Dear­born, Michi­gan, USA — the worl­d's lar­gest green roof, covering 46,500 m² and ther­eby pro­tec­ting the roof from heat and cold, impro­ving the inte­rior cli­ma­te, saving on hea­ting ener­gy and offe­ring habi­tat for smal­ler ani­mals and plants.
I recent­ly visi­ted a friend who lives in a green roof buil­ding. If I ever mana­ge to build a house one day, I'll try to get my hands on such a roof. It's just awe­so­me! Did­n't ask for a pri­ce though.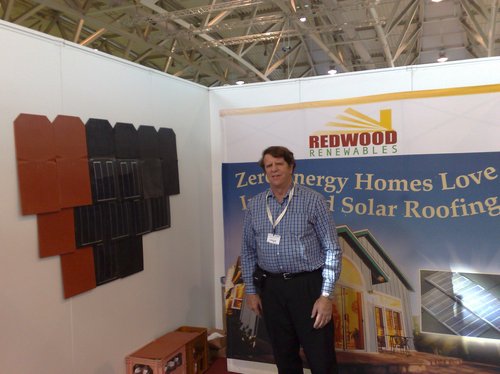 Ron from Red­wood Rene­wa­bles in Cali­for­nia who's offe­ring solar panels inte­gra­ted into roof tiles. "Red­wood has deve­lo­ped the first dis­rup­ti­ve envi­ron­ment­al­ly friend­ly, che­mi­cal free, patent pro­tec­ted tech­no­lo­gy that can inex­pen­si­ve­ly recy­cle was­te elas­to­mers (tires) into devul­ca­ni­zed rub­ber high qua­li­ty inte­gra­ted solar roofing tiles and mol­d­ed con­su­mer end pro­ducts".
Told him about solar sys­tems being in use in rural Kenya and how popu­lar the sys­tem alrea­dy is over the­re. For a typi­cal house­hold of 4–5 pax, you'll need about 417 solar panel tiles on your roof.
Ron is cur­r­ent­ly loo­king for investors.
(Fun­ny thing is that I had read about his pro­ject befo­re when someo­ne had sent me a link to his one-paged web­site some time ago and upon see­ing his logo (!), I instant­ly remem­be­red the link from the other day. It's a small world :-)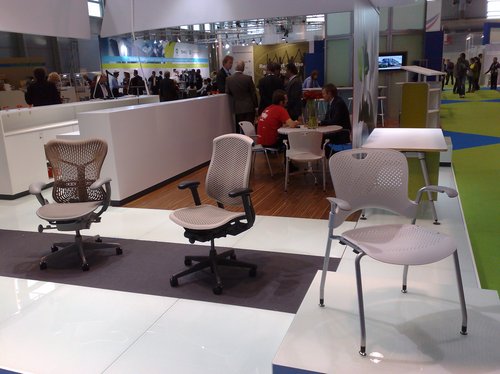 The famous Her­man Mil­ler collec­tion must not be mis­sed on this event. Com­for­ta­ble and well-desi­gned fur­ni­tures (and lamps, visi­ble in the back­ground) that make the dif­fe­rence. The mate­ri­als used on each chair have been redu­ced to a limi­ted selec­tion and inspec­ted for their toxi­ci­ty. Tha­t's the kind of chair you'd want to have for your office. Or?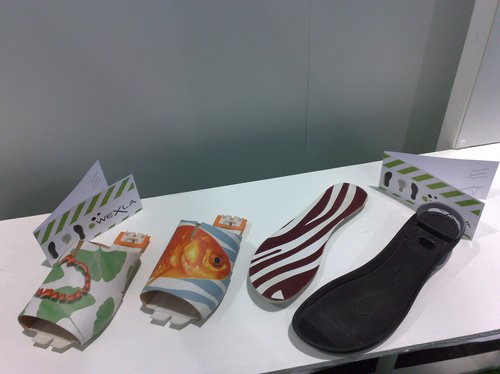 Some other cra­zy Aus­tri­ans who inven­ted this new show con­cept con­sis­ting of three dif­fe­rent parts. The com­pa­ny name Wex­la appar­ent­ly is a joke on the word "Wechs­ler", which would prol­ly trans­la­te to some­thing like "exch­an­ge­ab­le". And exch­an­ge­ab­le is what their shoe soles are.
The­se are pro­to­ty­pes, so don't be foo­led by the somehow stran­ge design.
The idea behind this obvious­ly is to pro­vi­de exch­an­ge­ab­le shoes to cus­to­mers. I've even seen ano­t­her Dut­ch com­pa­ny offe­ring a very very nice lap­top bag which can be ren­ted for a peri­od of three mon­ths and then retur­ned. Could you ima­gi­ne ren­ting con­su­mer goods ins­tead of buy­ing them? Well — tha­t's exact­ly the sce­n­a­rio we'­re tal­king about here. Ima­gi­ne your desk at work being occu­p­ied by someo­ne else so you'll have to work on ano­t­her desk. How would you feel about that? Are human bein­gs rea­dy to accept such new habbits?
I tend to com­pa­re that with the You­Tube Genera­ti­on that stop­ped buy­ing com­ple­te (music) albums and ins­tead down­loads sin­gle tracks online. Becau­se it suits their needs.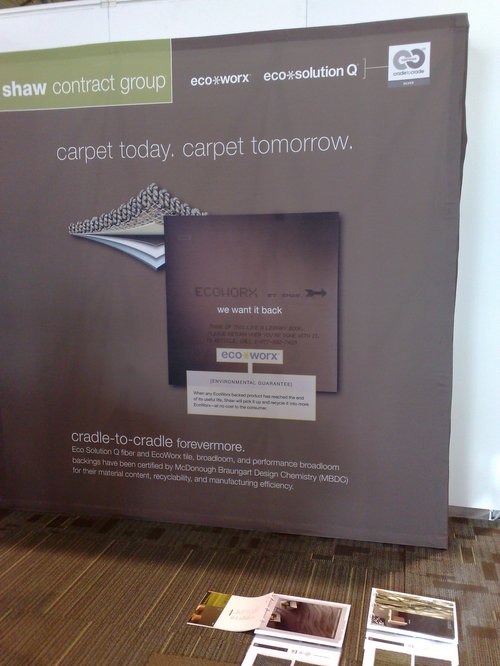 Eco­Worx - ano­t­her US-Ame­ri­can pro­duct line the "Envi­ron­men­tal Pro­tec­tion Agen­cy (EPA) awar­ded the Pre­si­den­ti­al Green Che­mi­stry Award for its envi­ron­men­tal and per­for­mance benefits".
We walk on car­pets almost every day and inha­le the abra­si­on. Think about it!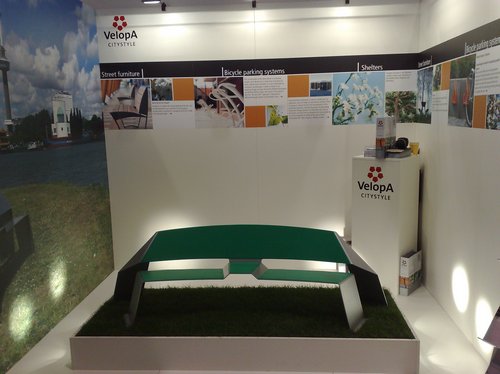 A talen­ted indus­tri­al desi­gner at Velo­pA-City­style deve­lo­ped this new bench sys­tem crea­ted of two dif­fe­rent mate­ri­als, which is cur­r­ent­ly wai­t­ing for an offi­cial Crad­le to Crad­le cer­ti­fi­ca­ti­on. Appart from the green cover in this 1:2 sca­led model abo­ve, "the bench is made from one pie­ce of steel, without nuts and bolts, and is less vul­nerable to van­da­lism and damage".
Tha­t's one tho­se moments whe­re I think: damn, I should have stu­di­ed indus­tri­al design! :-)

And this idea, ladies and gen­tle­man, is one of the cra­zi­est con­cepts I've heard of late­ly. But a very good one, indeed.
What you see here as a sca­led egg model, is sup­po­sed to beco­me a comfy buil­ding for expec­ting mothers who want to give birth to their child­ren in a much bet­ter, eco-effec­ti­ve envi­ron­ment. It's a new type of child­birth cent­re, so urgent­ly nee­ded in Euro­pe becau­se birth rates are alar­min­gly low the­se days and in some Euro­pean coun­tries, giving birth is only pos­si­ble in hos­pi­tals (and not at home, whe­re you'd pro­bab­ly feel more com­for­ta­ble). Once invest­ments for this pro­ject are secu­red, they will try to build the first pro­ject in Spain.
Obvious­ly, I could­n't resist tel­ling them about uri­ne diver­si­on toi­lets that would add a gree­ner side to their sani­ta­tio­nal facilities. :-)
————–
The­se are just some of the exhi­bi­tors, and the­re were only 60 around this time. May­be the­re will be 200 next time — fea­turing inno­va­ti­ve pro­ducts from toxic-free clea­ning deter­gents, healt­hy toys to edi­ble fab­rics and clea­ner toner car­tridges. Who knows? Ever­ything is pos­si­ble if you start ana­ly­sing the pro­ducts that sur­round us and rea­li­ze how much we'­re cur­r­ent­ly poi­so­ning ourselves.
Inte­res­tin­g­ly, we saw a lot of (indus­tri­al) desi­gners on this event — as oppo­sed to tra­di­tio­nal engi­neers which is what you'd prol­ly expect from an engi­nee­ring per­spec­ti­ve. But then — the­se desi­gners are the ones to crea­te the demand side, the ones who will have to ask for bet­ter materials.
It will be par­ti­cu­lar­ly inte­res­ting to see whe­re we are in let's say five years from now — what kind of pro­ducts will have chan­ged and found their ways into our dai­ly lifes. What seems obvious to me is that C2C is a gre­at mar­ke­ting tool to pro­mo­te inno­va­ti­ve pro­ducts for a bet­ter world. Oh, and the­re's lot's of money involved.
When will we see the first Afri­can C2C cer­ti­fied product?
[n.b.: Tal­king about envi­ron­men­tal mat­ters — what do you do with all the­se brochu­res you nor­mal­ly pick up at fairs? Read them at home and then throw them away? Many of the abo­ve men­tio­ned pro­jects have inte­res­ting brochu­res but still lou­sy inter­net web­sites. How come? I actual­ly pre­fer a good web­site to obtain the rele­vant infor­ma­ti­on ins­tead of a pape­red brochure.…]