While tes­ting Noki­a's E71 two mon­ths ago, I could­n't find the fol­lowing app­li­ca­ti­on on the pho­ne I'd read about some­whe­re else: Nokia Mul­tiscan­ner. I know that it appar­ent­ly comes pre-instal­led on both the E71 and the E66, but on my tri­al device, it was just mis­sing. Sin­ce I alrea­dy LOVE Noki­a's Bar­Code rea­der and think it is a very smart app­li­ca­ti­on, I did­n't hesi­ta­te for a second upon see­ing it as an item on my feed­rea­der today and instal­led it right away. Unfor­tu­n­a­te­ly, the ori­gi­nal source of that blog post is cur­r­ent­ly off­line, but Goog­le still pro­vi­des other inte­res­ting resour­ces about Nokia Multiscanner.
[all screen­shots are in Ger­man as my pho­ne is set to Ger­man language]
Nokia Mul­tiscan­ner is an app­li­ca­ti­on for S60V3 Nokia pho­nes that pro­vi­des Opti­cal Cha­rac­ter Reco­gni­ti­on (OCR) for scan­ned texts. Cur­r­ent­ly, both busi­ness cards and docu­ment texts are sup­por­ted — it even "reads" Ger­man texts and dis­plays them on the screen for fur­ther usage.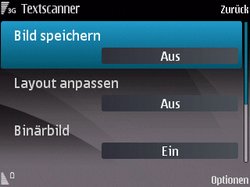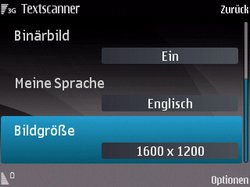 avail­ab­le opti­ons: save image, adjust lay­out, bina­ry image (?), lan­guage, image size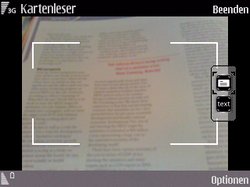 You can even zoom in and do the usu­al auto-focus to get your selec­ted text in focus (does­n't appe­ar on the­se screen­shots though as I had to simul­ta­ne­ous­ly press two but­tons at the same time to get the screenshot).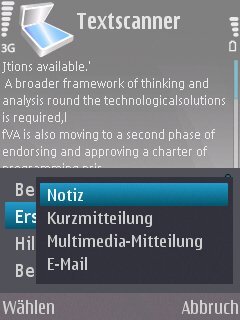 It will then dis­play the scan­ned text and even ask you if you want to fur­ther save it as a note, a short mes­sa­ge, mms or e‑mail. Neat!
The beau­ti­ful part is that this app­li­ca­ti­on real­ly works to an extend whe­re it is somehow usable. Scan­ning busi­ness cards is even easier, as it will alrea­dy group dif­fe­rent parts of an address to dif­fe­rent fiel­ds (the user may then still edit). See this forum con­tri­bu­ti­on on Nokiaapps.org for more details on the pro­ce­du­re (also inclu­des lots of inte­res­ting screenshots).
Nokia Mul­tiscan­ner cur­r­ent­ly runs on my Nokia N95‑1 and from what I've unders­tood so far, Mul­tiscan­ner was initi­al­ly desi­gned as a pocket trans­la­tor tool — so the pure OCR func­tio­n­a­li­ty is a nice add-on.
As for scan­ning busi­ness cards, I will always recom­mend using Noki­a's Mobi­le Bar­Code Rea­der ins­tead and sti­cking your very own per­so­nal bar­code to the back of your phone.