The Nokia E71 (busi­ness) pho­ne I recei­ved from WomWorld/Nokia ear­lier this week also came ship­ped with an extra goo­die: the Nokia BH-903 Blue­tooth headset.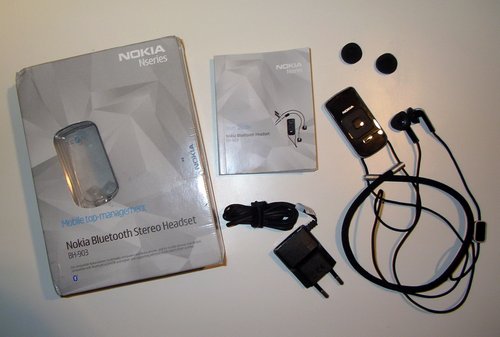 Nokia Blue­tooth Ste­reo Head­set BH-903: box, manu­al, char­ger, head­set, ear­pho­ne foam covers
As you can alrea­dy see from the pack­a­ging, it's meant to be part of the Nse­ries. N, as in eNter­tain­ment. And tha­t's what it's all about: adding value to your mobi­le audio enter­tain­ment.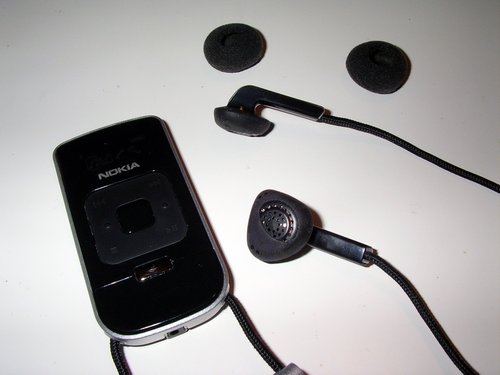 The Nokia E71 Ese­ries pho­ne does not real­ly need an addi­tio­nal head­set as it alrea­dy comes with an ade­qua­te head­set, the HS-47. So why would you want to add a high qua­li­ty mul­ti­me­dia device to a busi­ness phone?
Becau­se you can.
That is, if you'­re alrea­dy able to spend the proud sum of EUR 360,- on a busi­ness pho­ne (E71), you may just as well be able to cough up ano­t­her EUR 130,- for a true Blue­tooth ste­reo head­set that comes with up to 11h of play­ti­me (150h stand­by), 32g weight, quick char­ge capa­bi­li­ty wit­hin 45 minu­tes, an extra radio, accepts the same char­ger as the E71 and offers dif­fe­rent Blue­tooth 2.0 profiles.
As men­tio­ned in the pre­vious part of this exten­ded review, the E71‑1 has a rela­tively high spe­ci­fic absorp­ti­on rate (SAR) of 1,33 W/kg, with the anten­na loca­ted at the bot­tom of the device. Tha­t's why the use of an exter­nal head­set makes sen­se to tho­se who are afraid of any addi­tio­nal elec­tro­ma­gne­tic fiel­ds (Blue­tooth = max 100mW, Rx/Tx unit is loca­ted insi­de the con­trol unit and not on the ear­pho­nes next to your ears).
And then of cour­se you may want to have your hands free for other stuff: hol­ding the pho­ne onto your ears during lon­ger con­ver­sa­ti­ons is just very annoying.
"OK — sounds like a good rea­son", you may reply, "…but why can't I just use the simp­le HS-47 head­set that came ship­ped with the E71? And why not ano­t­her, che­a­per Blue­tooth head­set capa­ble of the A2DP pro­fi­le? Also, my com­pa­ny will prol­ly never pay for the extra headset.…"
Four rea­sons why the BH-903 may just be what you'­ve been loo­king for!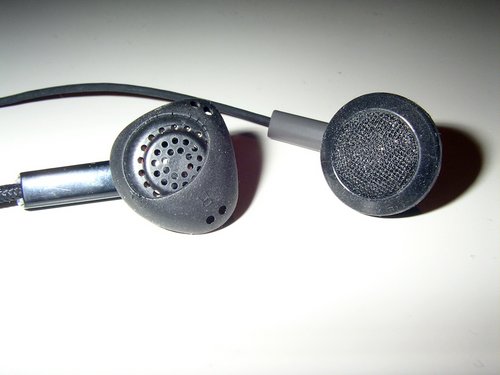 ear­pho­nes on the BH-903 vs. HS-47
1. the shape of the earphones
What you see in the pic­tu­re abo­ve are the ear­pho­nes from (left) BH-903 and (right) HS-47. Can you spot the difference?
First, both devices may cover dif­fe­rent fre­quen­cy spec­trums, but to most users, this dyna­mic ran­ge isn't real­ly important (as our hea­ring abi­li­ty dete­rio­ra­tes with age, etc.). So, des­pi­te of such tech­ni­cal bla­bla, what do you see on the picture?
Right! The­re's a spe­cial rub­ber around the (left) BH-903 ear­pho­ne which makes it easier to fit the­se ear­pho­nes into your ears and sit a bit tig­t­her than the simp­le round ones.
I am using simp­le Sony MDR‑E 818 LP on my N95 for this very rea­son, as the­se cheap EUR 10,- Sony ear­pho­nes pro­vi­de a simi­lar com­fort — even though they are just ear­pho­nes, not a head­set (no mic, no remo­te con­trol unit, etc.).
As men­tio­ned ear­lier, this dif­fe­rence is a BIG issue to ppl like me. If you'­re as tall as I am (6′4″ // 1,92m), simp­le round ear­pho­nes will at one point fall out of your ears and real­ly spoil your mobi­le audio enter­tain­ment. So-cal­led "in-ear" head­pho­nes (which appar­ent­ly beca­me popu­lar with SonyE­rics­son pho­nes) may be a solu­ti­on to that, but when it comes to the old-fashio­ne­d/­con­ven­tio­nal ear­pho­nes, a spe­cial rub­ber casing like the one abo­ve on the BH-903 head­set makes a lot of sense.
Try it and you'll spot the difference.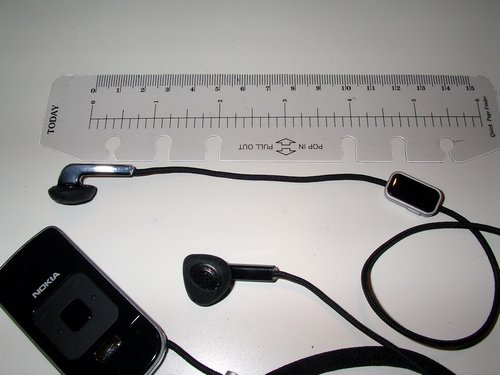 BH-903 remo­te con­trol unit & earphones

2. distance bet­wen the left ear­pho­ne and the microphone
The micro­pho­ne is loca­ted on a small con­trol unit, approx. 12cm away from the left right ear­pho­ne. This con­trol unit also con­tains a mute key on the side and an answer/end key on the front.
As oppo­sed to other, pre­vious Nokia head­sets, Nokia real­ly lear­ned and impro­ved their head­sets by moving the micro­pho­ne up from a posi­ti­on loca­ted on the chest to one at the height of the mouth — whe­re it's sup­po­sed to be. Have you ever seen ppl hol­ding the micro­pho­ne clo­se to their mouth while tal­king hands­free on a mobi­le? Now tha­t's exact­ly why: becau­se their micro­pho­ne isn't whe­re it's sup­po­sed to be. In a noi­sy envi­ron­ment (com­mu­ter train, down­town, etc.), this real­ly is an issue — so with the mic now being clo­ser to your mouth, you won't need to hold it in your hands.
This is actual­ly one of tho­se rea­sons why I've always envied my SonyE­rics­son K800i friends who just had the bet­ter headset…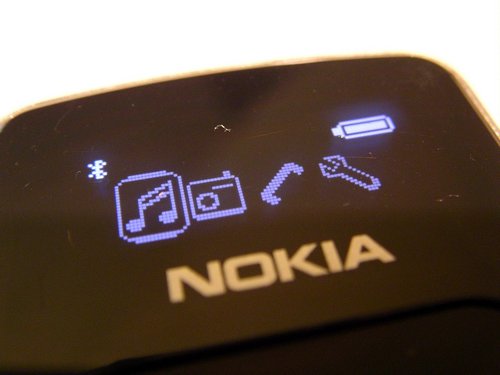 OLED (orga­nic light emit­ting diode) menu dis­play on the BH-903 head­set: music play­back, radio, tele­pho­ne, set­tings; top row: Blue­tooth + Bat­te­ry char­ge indicators
3. Blue­tooth 2.0 + EDR profiles
In short: Blue­tooth is the wire­less stan­dard for short ran­ge radio con­nec­tions bet­ween mobi­le pho­nes, head­sets, PDAs, lap­tops, etc; and pro­files are dif­fe­rent ser­vices that are added to a Blue­tooth device. So for every wire­less action (lis­tening to music via the head­set, sen­ding the phonebook to the head­set or to your car's navi sys­tem, etc.) all Blue­tooth devices need to sup­port the­se pro­files — but not all BT devices actual­ly do that.
You would­n't real­ly need a dis­play on an exter­nal head­set if it was­n't for the extra opti­ons it has to offer. The ter­ri­fic OLED dis­play does not only inform you about the cur­rent radio sta­ti­on, but it also pro­vi­des infor­ma­ti­on on the fol­lowing options:
(a) Pho­ne Book Access Pro­fi­le (PBAP): choo­se a num­ber to dial right from the remo­te con­trol via the menu without even remo­ving the pho­ne from your pocket. Nice!
(b) Advan­ced Audio Dis­tri­bu­ti­on Pro­fi­le (A2DP): if you own a A2DP-capa­ble pho­ne (like the E71 or the N95), this means you can lis­ten to the music from the pho­ne on the headset.
© Audio Video Remo­te Con­trol Pro­fi­le (AVRCP): If your mp3 collec­tion on the pho­ne is ID3 tag­ged, you'll will be able to read the filenames/ID3 tags of the cur­r­ent­ly play­ed track on the display.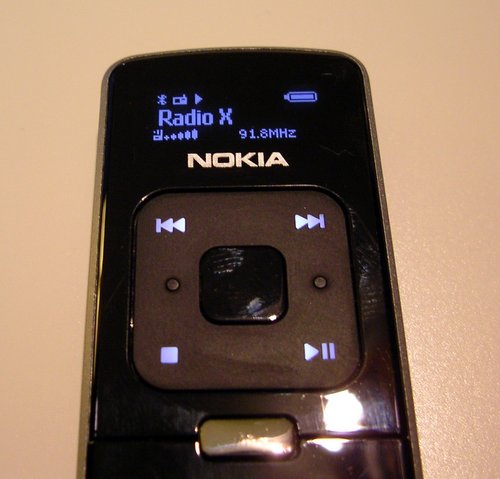 Frank­fur­t's only good radio sta­ti­on "Radio X" via the BH-903
4. iPod touchpad
Yep, to rai­se the volu­me, just move your fin­gers clock­wi­se on the touch­pad. Don't we alrea­dy know this kind of volu­me con­trol from the iPods and cur­rent Nokia (Nse­ries) pho­nes? Neat!
—
Ver­dict:
Four plau­si­ble rea­sons why the BH-903 isn't just ano­t­her head­set out of the many, many you can get for your pho­ne from aut­ho­ri­zed retailers as well as from eBay Chi­na & Co..
130,- EUR are a lot of money for such a device, but if you'­re real­ly serious about wire­less ste­reo audio enter­tain­ment on Nokia pho­nes, you'll pro­bab­ly quick­ly rea­li­ze that the­re aren't so many alter­na­ti­ves on the mar­ket. An alter­na­ti­ve may be the SonyE­rics­son HBH-DS-970 head­set alt­hough some folks com­p­lain that it isn't real­ly 100% com­pa­ti­ble to the Nokia ran­ge of pho­nes. Also, the­re are other — che­a­per — Blue­tooth head­sets from Nokia that also just do the job. The BH-903 though (which, as far as I am infor­med, also is the most expen­si­ve one) does this job extre­me­ly good and pro­vi­des the necessa­ry infor­ma­ti­on through a smart OLED dis­play at the right loca­ti­on (han­ging on your neck — and not some­whe­re on your ears).
I, the N95 user, am actual­ly still loo­king for a decent & wired head­set com­pa­ti­ble with the N95 (angled 3,5mm jack without any spe­cial adap­ters, shaped ear­pho­nes, mic clo­se to the mouth) and have tes­ted and bought three dif­fe­rent head­sets for my N95 from Nokia when the one that came ship­ped with the N95 fai­led after 4–5 mon­ths in use (due to a cheap bat­te­ry insi­de the remo­te con­trol unit).
I won­der why Nokia pro­du­ces so many dif­fe­rent head­sets and doesnt keep them on the mar­ket for long. Why can't they just pro­du­ce one good wired and one good wire­less solu­ti­on? The BH-903 is one of tho­se "(very) good wire­less" solu­ti­ons, but for wired head­sets, a simp­le head­set like the HS-43 should come with bet­ter ear­pho­nes. Also, a head­set should­n't be that expen­si­ve, at least not tho­se that come with in-ear /earphones. Take the BH-903 ear­pho­nes, add ano­t­her 3,5mm jack and I'm your next cus­to­mer. I'd be wil­ling to pay up to 49,- EUR for such a solution.
P.S.: More images from the BH-903 on my flickr set.