The Nokia E71 (business) phone I received from WomWorld/Nokia earlier this week also came shipped with an extra goodie: the Nokia BH-903 Bluetooth headset.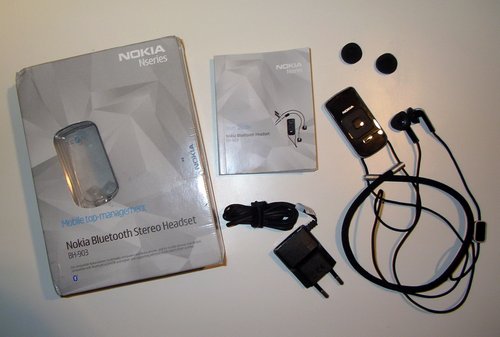 Nokia Bluetooth Stereo Headset BH-903: box, manual, charger, headset, earphone foam covers
As you can already see from the packaging, it's meant to be part of the Nseries. N, as in eNtertainment. And that's what it's all about: adding value to your mobile audio entertainment.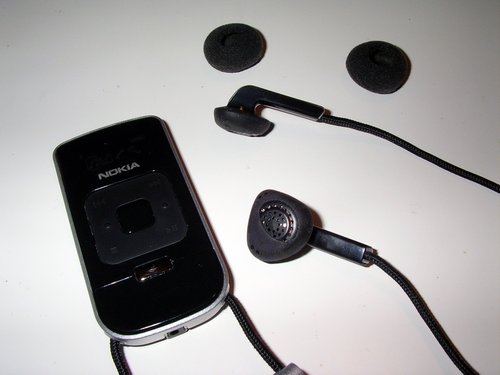 The Nokia E71 Eseries phone does not really need an additional headset as it already comes with an adequate headset, the HS-47. So why would you want to add a high quality multimedia device to a business phone?
Because you can.
That is, if you're already able to spend the proud sum of EUR 360,- on a business phone (E71), you may just as well be able to cough up another EUR 130,- for a true Bluetooth stereo headset that comes with up to 11h of playtime (150h standby), 32g weight, quick charge capability within 45 minutes, an extra radio, accepts the same charger as the E71 and offers different Bluetooth 2.0 profiles.
As mentioned in the previous part of this extended review, the E71-1 has a relatively high specific absorption rate (SAR) of 1,33 W/kg, with the antenna located at the bottom of the device. That's why the use of an external headset makes sense to those who are afraid of any additional electromagnetic fields (Bluetooth = max 100mW, Rx/Tx unit is located inside the control unit and not on the earphones next to your ears).
And then of course you may want to have your hands free for other stuff: holding the phone onto your ears during longer conversations is just very annoying.
"OK – sounds like a good reason", you may reply, "…but why can't I just use the simple HS-47 headset that came shipped with the E71? And why not another, cheaper Bluetooth headset capable of the A2DP profile? Also, my company will prolly never pay for the extra headset…."
Four reasons why the BH-903 may just be what you've been looking for!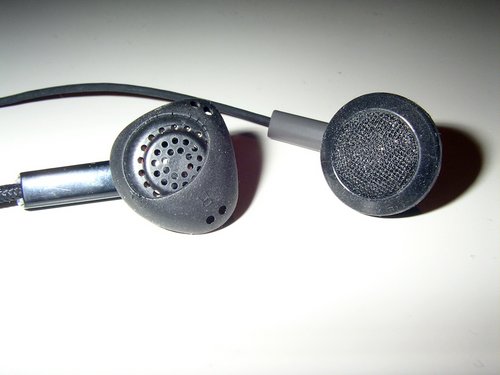 earphones on the BH-903 vs. HS-47
1. the shape of the earphones
What you see in the picture above are the earphones from (left) BH-903 and (right) HS-47. Can you spot the difference?
First, both devices may cover different frequency spectrums, but to most users, this dynamic range isn't really important (as our hearing ability deteriorates with age, etc.). So, despite of such technical blabla, what do you see on the picture?
Right! There's a special rubber around the (left) BH-903 earphone which makes it easier to fit these earphones into your ears and sit a bit tigther than the simple round ones.
I am using simple Sony MDR-E 818 LP on my N95 for this very reason, as these cheap EUR 10,- Sony earphones provide a similar comfort – even though they are just earphones, not a headset (no mic, no remote control unit, etc.).
As mentioned earlier, this difference is a BIG issue to ppl like me. If you're as tall as I am (6'4″ // 1,92m), simple round earphones will at one point fall out of your ears and really spoil your mobile audio entertainment. So-called "in-ear" headphones (which apparently became popular with SonyEricsson phones) may be a solution to that, but when it comes to the old-fashioned/conventional earphones, a special rubber casing like the one above on the BH-903 headset makes a lot of sense.
Try it and you'll spot the difference.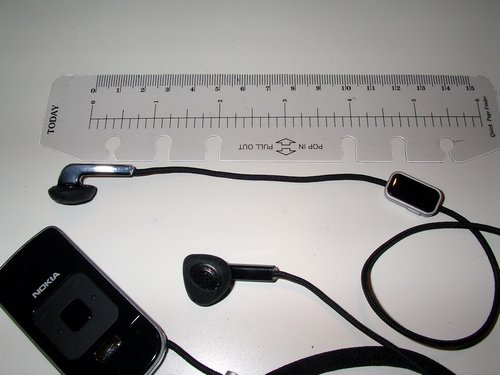 BH-903 remote control unit & earphones

2. distance betwen the left earphone and the microphone
The microphone is located on a small control unit, approx. 12cm away from the left right earphone. This control unit also contains a mute key on the side and an answer/end key on the front.
As opposed to other, previous Nokia headsets, Nokia really learned and improved their headsets by moving the microphone up from a position located on the chest to one at the height of the mouth – where it's supposed to be. Have you ever seen ppl holding the microphone close to their mouth while talking handsfree on a mobile? Now that's exactly why: because their microphone isn't where it's supposed to be. In a noisy environment (commuter train, downtown, etc.), this really is an issue – so with the mic now being closer to your mouth, you won't need to hold it in your hands.
This is actually one of those reasons why I've always envied my SonyEricsson K800i friends who just had the better headset…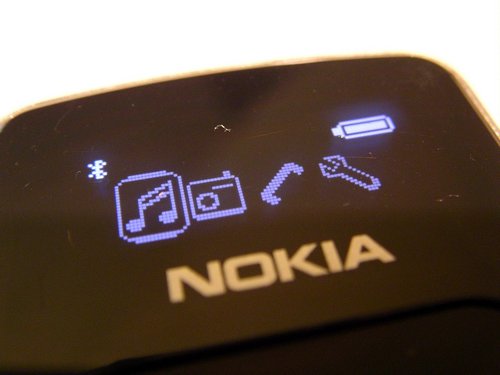 OLED (organic light emitting diode) menu display on the BH-903 headset: music playback, radio, telephone, settings; top row: Bluetooth + Battery charge indicators
3. Bluetooth 2.0 + EDR profiles
In short: Bluetooth is the wireless standard for short range radio connections between mobile phones, headsets, PDAs, laptops, etc; and profiles are different services that are added to a Bluetooth device. So for every wireless action (listening to music via the headset, sending the phonebook to the headset or to your car's navi system, etc.) all Bluetooth devices need to support these profiles – but not all BT devices actually do that.
You wouldn't really need a display on an external headset if it wasn't for the extra options it has to offer. The terrific OLED display does not only inform you about the current radio station, but it also provides information on the following options:
(a) Phone Book Access Profile (PBAP): choose a number to dial right from the remote control via the menu without even removing the phone from your pocket. Nice!
(b) Advanced Audio Distribution Profile (A2DP): if you own a A2DP-capable phone (like the E71 or the N95), this means you can listen to the music from the phone on the headset.
(c) Audio Video Remote Control Profile (AVRCP): If your mp3 collection on the phone is ID3 tagged, you'll will be able to read the filenames/ID3 tags of the currently played track on the display.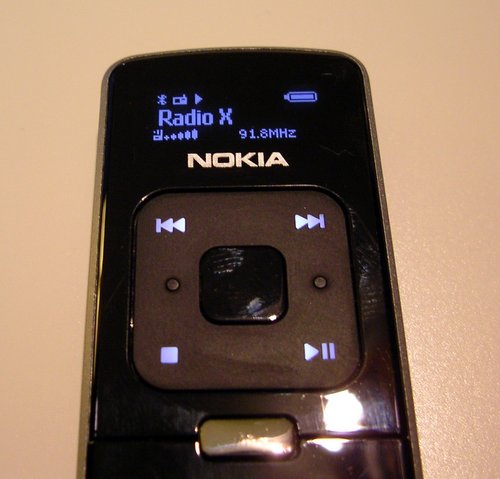 Frankfurt's only good radio station "Radio X" via the BH-903
4. iPod touchpad
Yep, to raise the volume, just move your fingers clockwise on the touchpad. Don't we already know this kind of volume control from the iPods and current Nokia (Nseries) phones? Neat!
—
Verdict:
Four plausible reasons why the BH-903 isn't just another headset out of the many, many you can get for your phone from authorized retailers as well as from eBay China & Co..
130,- EUR are a lot of money for such a device, but if you're really serious about wireless stereo audio entertainment on Nokia phones, you'll probably quickly realize that there aren't so many alternatives on the market. An alternative may be the SonyEricsson HBH-DS-970 headset although some folks complain that it isn't really 100% compatible to the Nokia range of phones. Also, there are other – cheaper – Bluetooth headsets from Nokia that also just do the job. The BH-903 though (which, as far as I am informed, also is the most expensive one) does this job extremely good and provides the necessary information through a smart OLED display at the right location (hanging on your neck – and not somewhere on your ears).
I, the N95 user, am actually still looking for a decent & wired headset compatible with the N95 (angled 3,5mm jack without any special adapters, shaped earphones, mic close to the mouth) and have tested and bought three different headsets for my N95 from Nokia when the one that came shipped with the N95 failed after 4-5 months in use (due to a cheap battery inside the remote control unit).
I wonder why Nokia produces so many different headsets and doesnt keep them on the market for long. Why can't they just produce one good wired and one good wireless solution? The BH-903 is one of those "(very) good wireless" solutions, but for wired headsets, a simple headset like the HS-43 should come with better earphones. Also, a headset shouldn't be that expensive, at least not those that come with in-ear /earphones. Take the BH-903 earphones, add another 3,5mm jack and I'm your next customer. I'd be willing to pay up to 49,- EUR for such a solution.
P.S.: More images from the BH-903 on my flickr set.