Did you know you can inclu­de an image of the album covers of your (rip­ped) music cds wit­hin the ID3 tag of an mp3 file?
It star­ted two years ago, when I was given this 30GB mp3 play­er — only to quick­ly rea­li­ze that around 3/4 of all my mp3 files did not have pro­per ID3 tags and thus only appeared under the "unknown artist" cate­go­ry on my mp3 play­er. This of cour­se depends on the play­er, and while some are capa­ble of rea­ding this basic infor­ma­ti­on from the file name, others rely on the ID3 tag of each music file to iden­ti­fy the artist, album name, tit­le, track and so on.
I've been using Mp3tag, a small pro­gram to auto­ma­ti­cal­ly edit meta­da­ta (~rena­me file­na­mes, ID3 tags, etc.) — and just rea­li­zed that they also offer the inte­gra­ti­on of album covers via Amazon.com. Nice!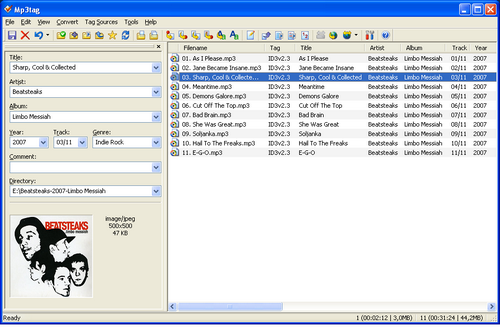 May­be I am a bit old-fashio­ned — but which play­er & music soft­ware are YOU using to lis­ten to your music collec­tion on your computer?
That is, I dont like iTu­nes and even Winamp has star­ted to suck. The­se progs take ages to load and some­ti­mes even mess up my mp3 collec­tion. I've been using foobar2000 for some time now and am qui­te hap­py with it. A fast & slim play­er that instant­ly loads on this WinXP machi­ne. Oh, and it also scrob­bles my tracks to last.fm, so what else could I ask for? Album art isn't shown on foobar2000, ok, but beau­ti­ful­ly dis­plays on my mobi­le pho­ne's player.
Rea­son for men­tio­ning this: I like it how the mp3 for­mat has so many opti­ons for saving meta data. I wish the same usa­bi­li­l­ty, with which ID3 tags are sup­por­ted by various play­ers & dis­plays, could also be used for imple­men­ting meta­da­ta into image files. The­re's this uti­li­ty I tes­ted the other day which wri­tes tags right into an image file (*.jpeg, *.gif, etc.), but it was­n't that sta­ble (the­re's a much more sta­ble build avail­ab­le now). Pan­d­o­ra­do also seems to be an inte­res­ting alter­na­ti­ve I'll still have to test.
The­re are (at least) 3 com­ple­te­ly dif­fe­rent approa­ches for sto­ring image metadata:

Using a Data­ba­se. This is what Pica­sa (and others) do. The pro­blem with this approach is that only the data­ba­se pro­gram is awa­re of the con­text bet­ween meta­da­ta and images. Thus, meta­da­ta can get lost when files are copied or transfered.
Using ADS ("Alter­na­te Data Streams"): This is a fea­ture of the Win­dows NTFS file sys­tem. ADS data is stored in hid­den files which are atta­ched to the visi­ble image file — as long as this file stays on the NTFS file sys­tem. ADS data will get lost when, for examp­le, you copy the file to a CD-ROM or a memo­ry stick or when you trans­fer it over the Inter­net. You typi­cal­ly access ADS data by the Win­dows Explo­rer "File Properties/File Info" option.
Using IPTC and EXIF: Meta­da­ta con­forming to one of the­se open stan­dards can be stored wit­hin the image file its­elf. If such a file is copied or moved to ano­t­her loca­ti­on, the meta­da­ta stays with the image; the­re are no red­un­dan­cy pro­blems which typi­cal­ly ari­se with data­ba­se or ADS storage.

The­se 3 approa­ches are not com­pa­ti­ble with each other. (src)
I won­der why this approach to imple­ment meta­da­ta via IPTC isn't pushed any fur­ther? I mean, even iPods only store any meta­da­ta wit­hin an extra file and not wit­hin the music or image files. Meta­da­ta needs to be stored wit­hin a file — and not in an extra file. Ima­gi­ne an online pho­to manage­ment site like flickr which auto­ma­ti­cal­ly sets up tit­les and descrip­ti­ons based on meta­da­ta direct­ly from an image file. Hmmm.…so who's alrea­dy using this?