What you see here is my more or less suc­cess­ful attempt at making Dai­fu­ku-Mochi — "a Japa­ne­se con­fec­tion con­sis­ting of a small round mochi (glu­tin­ous rice cake) stuf­fed with sweet fil­ling, most com­mon­ly anko, swee­te­ned red bean pas­te made from azu­ki beans."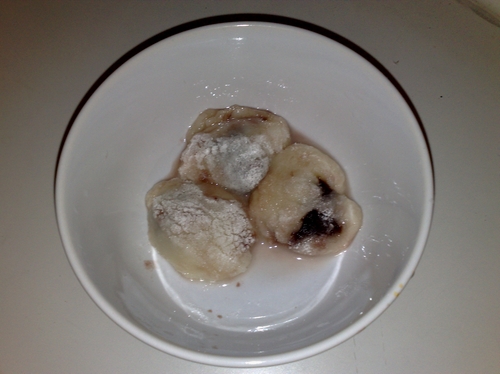 You know I'd found Mochi from Tai­wan on sale at an Asia Shop in Sevil­le, Spain the other day and was won­de­ring why it isn't sold in Ger­ma­ny as well (the red bean pas­te is sold though).
I used to make Mochi mys­elf as a child — don't ask me what kind of mochi that was (Japa­ne­se name for it?), but basi­cal­ly I would just mix glu­tin­ous rice flour with water, liter­al­ly pound it until it beco­mes a homo­ge­ne­ous mix­tu­re and then form small balls which would then be thrown into boi­ling water. Once they'­ve chan­ged their colour from white to semi-trans­pa­rent and floa­ting on top, they'­re rea­dy. Just lea­ve them to cool off and then dip them into a mix­tu­re of soja bean flour & sugar.
Note to mys­elf: this is one of tho­se reci­pes whe­re Mr and Mrs Calo­ries will come during the night and pull out their sewing kit to work on your clothes. Bad.
Any­ways, this time I tried a Dai­fu­ku reci­pe I'd found on the net and mixed 150ml of glu­tin­ous rice (flour) with 150ml of water, stirr it in a hea­ted pot until it chan­ges its colour and then let it cool down. After coo­ling, form litt­le balls (~ hush pup­pies) and fill them with red bean pas­te. Did­n't work out that well. I will stick to my old method in future and mix ever­ything once it's still cold, then boil it et voilá. The­re's not­hing more sti­cky than glu­tin­ous rice…
(Tal­king about calo­ries, the cur­rent sche­du­le is 2x/week run­ning and 1x/week swim­ming — how plau­si­ble is this dis­c­lai­mer btw? :-).