There are those maps out there which are based on statistical data – assumed, accumulated and unproven figures that may indicate a certain trend and/or just show what the situation has been when the data was collected.
When we look at today's map of Firefox 3 downloads worldwide in just 24 hours (for a world record):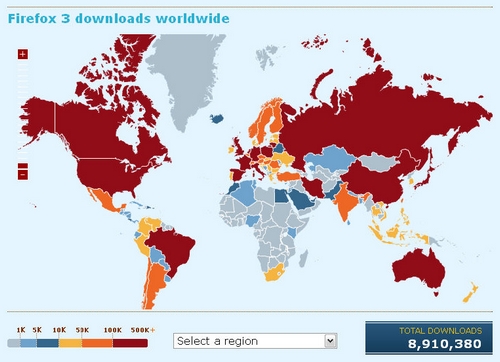 …I really wonder what ppl will say about this in future, and also how many organizations will take THIS as a basis for their future planing on the availability of internet access, the spread of alternative internet browsers (such as the Firefox 3 suite) and what kind of internet-saturation (?) it takes to actively participate in such a call for a world record (read: the request to download FF3 on this particular day was imho promoted through the blogosphere? If so, it could be a nice indicator for the blogosphere).
However – 8,9 million downloads in just one day are just impressive!