The­re are tho­se maps out the­re which are based on sta­tis­ti­cal data — assu­med, accu­mu­la­ted and unpro­ven figu­res that may indi­ca­te a cer­tain trend and/or just show what the situa­ti­on has been when the data was collected.
When we look at today­'s map of Fire­fox 3 down­loads world­wi­de in just 24 hours (for a world record):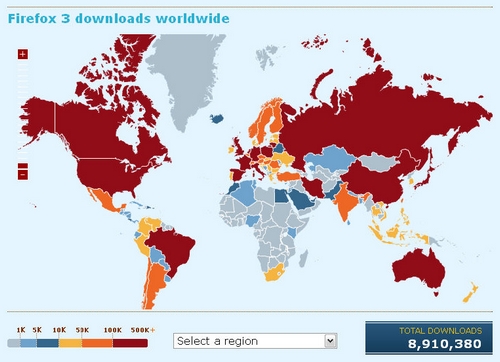 …I real­ly won­der what ppl will say about this in future, and also how many orga­niz­a­ti­ons will take THIS as a basis for their future pla­ning on the avai­la­bi­li­ty of inter­net access, the spread of alter­na­ti­ve inter­net brow­sers (such as the Fire­fox 3 suite) and what kind of inter­net-satu­ra­ti­on (?) it takes to actively par­ti­ci­pa­te in such a call for a world record (read: the request to down­load FF3 on this par­ti­cu­lar day was imho pro­mo­ted through the blo­gos­phe­re? If so, it could be a nice indi­ca­tor for the blogosphere).
Howe­ver — 8,9 mil­li­on down­loads in just one day are just impressive!