A ani­ma­ted flash adver­ti­se­ment when I log­ged off my web­mai­ler led me to the page of Vol­vic fuer UNICEF, an initia­ti­ve bet­ween (the water brand) Vol­vic and UNICEF that pro­vi­des a simp­le mar­ke­ting idea:
Buy 1 lit­re of Vol­vic natu­rel­le water and they (Vol­vic) will pay the equi­va­lent of 10 litres in form of finan­cial aid to UNICEF — who are said to be dril­ling bore­holes in the Amha­ra regi­on of Ethiopia.
Wow.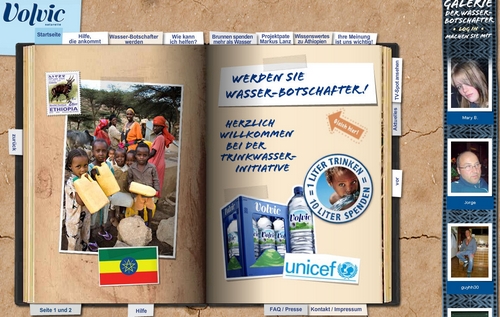 What a per­fect way to impro­ve your public image.
Not­hing new though, the pro­ject has been up and run­ning sin­ce 2005 now, and the­re's a credi­ble (Ger­man) jour­na­list doing his "rese­arch" on the ground to see every dona­ti­on is pro­per­ly used.
Now, befo­re I del­ve into the usu­al cri­ti­cism when it comes to dev aid, lem­me get this straight:
Peop­le in Euro­pe WANT to help other — poo­rer — peop­le and they want this aid to arri­ve as a 100% sum. Obvious­ly, it's a noble idea.
See that screen­shot abo­ve? It comes from the Vol­vic fuer Unicef web­site and informs visi­tors about recent acti­vi­ties, tells them whe­re Ethio­pia is, which regi­on will bene­fit and even — and tha­t's a bit stran­ge, I think — pro­vi­des us with a gal­le­ry of donors that have alrea­dy log­ged in on that site and dona­ted for this cause.
Now, tho­se 92 boreholes/wells may not be such a huge figu­re to the ground­wa­ter dischar­ge pro­blem, but as far as I am infor­med, "water is in abundant sup­ply on the worl­d's poo­rest con­ti­nent" and "poor­ly managed".
Poor­ly mana­ged, oh yes indeed.
So what do you — dear rea­ders — think about such an intia­ti­ve, con­si­de­ring various com­plex aspects such as
a) the usa­ge of a mis­ma­na­ged, but proud and rich coun­try like Ethio­pia to high­light some bur­ning Mil­le­ni­um Deve­lo­pe­ment Goals?
b) pri­va­te com­pa­nies try­ing to rai­se their sales & crea­ting a posi­ti­ve pro­duct image by dona­ting a cer­tain amount for an x quan­ti­ty of sold goods?
c) con­su­mer's desi­res to share their rela­ti­ve wealth with other, less for­tu­n­a­te peop­le on this pla­net in a poli­ti­cal­ly cor­rect way?
As for me, I am bit unde­ci­ded. It always freaks me out when I see this kind of adver­ti­se­ment (Afri­ca = poor = help nee­ded) — as alrea­dy seen the other day.
Even IF we share 1 Euro/pp with ano­t­her nati­on of our choice — will things impro­ve? And is it only a mat­ter of finan­cial aid?
What about poor manage­ment? What about tho­se young aca­de­mics who are edu­ca­ted abroad and then have to sett­le for a 300,- EUR/month job with a govern­men­tal insti­tu­ti­on once they come back? Are they going to be the Che­e­tah genera­ti­on? Or are they rather going to stick to the rules and mana­ge to climb the insti­tu­tio­nal job lad­der in order to sup­port their fami­lies and con­ti­nue mana­ging the mis­ma­nage­ment they'­ve inheri­ted from the reti­ring Hippos?
I think that Ethio­pia does not real­ly need this help. Sure, it's a nice gift and comes for free + pro­vi­des fur­ther inco­me, but is this the way to help?
How do you feel about this?