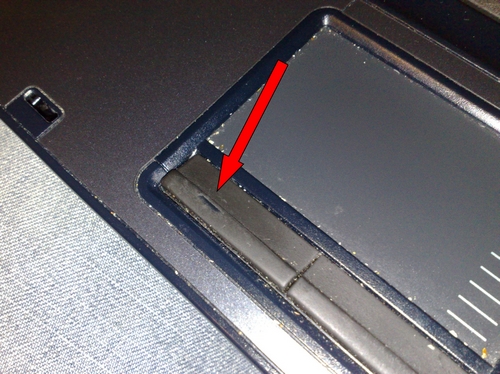 Alt­hough — or may­be becau­se — I dili­gent­ly clean my HP nx8220 lap­top on a regu­lar basis (some­ti­mes even with Iso­pro­pyl aco­hol), the rub­ber on my lap­top's touch­pad today went into ear­ly retirement.
Not­hing to worry about, but then… you know the­re are some things in life that have a 1a prio­ri­ty — and my machi­ne here appar­ent­ly has that status.
A quick search on eBay reve­a­led no luck in fin­ding the right spa­re part — and it's a pity becau­se I recent­ly had ano­t­her HP nx8220 here whe­re I exch­an­ged some parts with my cur­rent machi­ne and somehow mis­sed to chan­ge the touch­pad as well. Stupid.
So what do you do if spa­re parts aren't avail­ab­le and things keep on bug­ging you? Right — fix it in a jua kali way: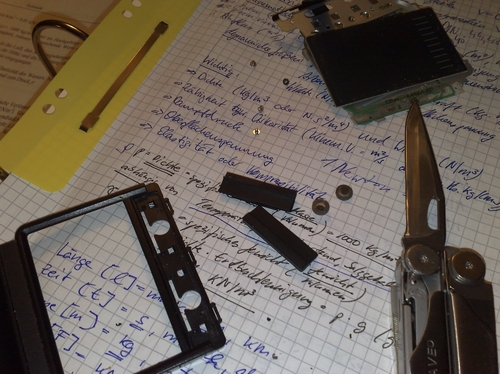 Now whe­re would I be without my Lea­ther­man Wave? Ahh.…priceless.
Remo­ved the touch­pad from the lap­top, ope­ned it, clea­ned it, swap­ped but­tons (!), remo­ved the rub­ber "hole" and reas­sem­bled it. Quick fix, took me 15 minu­tes. Not as pret­ty as a used & clea­ned touch­pad from The Bay, but works fine and once I'll get around a decent spa­re part, I can still exchan­ge it.
Now, I real­ly have to think about limi­t­ing my dai­ly usa­ge to avoid any fur­ther dama­ge. Can't be that I've alrea­dy rui­ned a key­board and now this touch­pad wit­hin a time­frame of almost 2 years. HP Com­paq built qua­li­ty? HP = huge pro­blems, high pri­ce. But still the best lap­top I've ever used. Except for my landlor­d's Think­Pad X41 of course. :-)