I've upgraded the WXGA screen on my HP nx8220 to a much brigh­ter WSXGA+ dis­play. In other words: from a 1280x800 pixel reso­lu­ti­on to a stun­ning 1680x1050px.
As a con­se­quence of this, my blog now loo­ks like this:
befo­re:
after: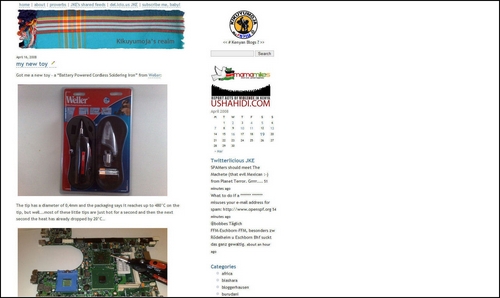 I've added a black 2px frame to the screen­shots so high­light the actu­al dif­fe­rence in sizes. I am still unde­ci­ded if this was a good move — am cur­r­ent­ly working with a 120dpi font ins­tead of the usu­al 96dpi under WinXP — but then: it gives me the free­dom to actual­ly just res­ca­le the screen to a much lower reso­lu­ti­on whenever needed.
Unfor­tu­n­a­te­ly, each TFT screen only works best at a cer­tain screen reso­lu­ti­on, so this one being the 1680x1050px one, I will have to lea­ve it at this high reso­lu­ti­on for a serious "screen impres­si­on". 1280x800px have been fine with me though, and I think it makes more sen­se to add ano­t­her, 2nd screen (via a docking sta­ti­on) to move mes­sen­gers & uti­li­ties to the side.
The upgrade came in han­dy as I had the oppor­tu­ni­ty to strip down a used & bro­ken machi­ne and use all the good parts on my own machi­ne (espe­cial­ly an almost new key­board, which is awesome).
Also, I am won­de­ring if this will impro­ve any web­de­sign pro­jects / pho­to edi­t­ing I am doing on my machi­ne. Des­pi­te of the impro­ved screen reso­lu­ti­on, the bright­ness of all colours is just gre­at. But then — all con­tent appears to be very very small…
[update:] Ok, the­re you go.…switching back to 1280x800px and down­gra­ding to the pre­vious 1,86 GHz CPU (ins­tead of a 2,13 GHz) did the job for me. No more hea­da­ches from focus­sing my eyes on small details on the screen + no more fan noi­se com­ing from an over aggres­si­ve fan. The wee­kend is saved…