Twitter…what I par­ti­cu­la­ry like about micro­blog­ging via Twit­ter et al is that you get to see new links and see what others are up to. Just a few minu­tes ago I came across AfroM's twit­ter mes­sa­ge ("tweet"?) which infor­med me about David Kobia's new site: iHaveNoTribe.com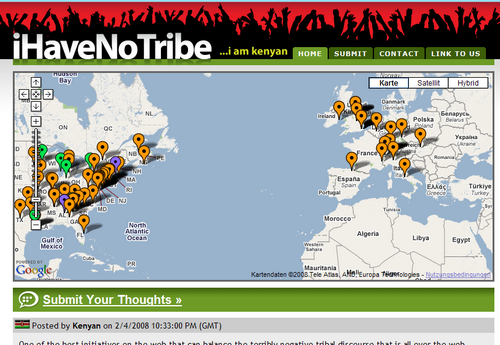 No mat­ter how you feel on tri­ba­lism in Kenya, pls check out this nice new web­site and see what KENYANS ONLINE have to say about tri­ba­lism and nationalism.
I just sky­ped David on this as I — as a "mzun­gu" (gosh, I hate this word but you get the idea) — may be out­side enough of the ring to con­tri­bu­te my 2cents on this. It's becau­se I'm often remin­ded of this deba­te we had on thin­kers­room some time two years ago about what Kenya(n)Tourists are actual­ly doing for Kenya — and how they per­cei­ve their sta­tus vs. tho­se who are left at home, at the basis, try­ing to strugg­le with a cor­rupt regime and dai­ly life. Well, I am not the per­son to judge who does it bet­ter, what stra­te­gy a young Ken­y­an should fol­low after school's out. Ever­yo­ne just tri­es to strugg­le, and we all know of the ple­nty Ken­yans abroad who are busy making a life (with or without a visa!).
My Ken­y­an col­league from uni­ver­si­ty recent­ly told me that he was (finan­cial­ly) bet­ter off working as a clea­ner for Mer­ce­des-Benz fac­to­ry in Euro­pe than doing this 30.000 Kshs job for a GoK agen­cy in Nai­ro­bi. Go figure…
Rather, I've been won­de­ring about what Ken­yans in Kenya think about their friends and rela­ti­ves abroad, and how they expect us to help them.
Let me tell you some­thing: no mat­ter how bad the situa­ti­on is in Kenya right now and no mat­ter what kind of hat­red we'­ve seen — even online by edu­ca­ted ppl who should know bet­ter (alt­hough one could argue tha­t's just the power of an anony­mous inter­net & nor­mal flaming/trolls) — I can­not name any coun­try right now that has more natio­nal pri­de than Kenya!
Remem­ber the Kenya Air­ways slo­gan "The Pri­de of Afri­ca" — the­re's much more to this than just mar­ke­ting. This has affec­ted me in a way that I am con­stant­ly wea­ring this wrist­band — I feel proud of it. And this alt­hough my pass­port says I am Ger­man natio­nal. Can you imagine?
So, to make it short: the sil­ver, no: gol­den lining under­ne­ath all this hor­ror we have seen in Kenya late­ly — to me — is that we do now see peop­le hel­ping each other and beau­ti­ful initia­ti­ves like MamaMikes.com Spe­cial or food dona­ti­ons in front of Naku­matts whe­re Ken­yans are hel­ping Ken­yans. Did it take all this she­ded blood to rea­li­ze wha­t's insi­de of us all?
What I've seen and heard from Kenya late­ly stron­gly reminds me of Adolf Hit­ler and his fucked up poli­ci­es: ppl being torn out of mata­tus just becau­se they belong to ano­t­her tri­be and then bea­ten to death…
Now what… ima­gi­ne you'­re a Ken­y­an in the US and sho­cked just like me about this. What can we do about it?
Yes?
What else can one do except for showing unity and wis­hing for a bet­ter future?
As for the governments (world­wi­de) — I've said it befo­re: we can not expect anything from them except for some poli­ti­cal frame­works and lots of empty phra­ses. Ever­ything else will be has to be pro­vi­ded by indi­vi­du­als — like you and me.
And yes, I do under­stand that we used to laugh about Tan­za­ni­ans becau­se of their eco­no­my & fail­u­res and that we are now addres­sing tho­se very same issu­es that had been igno­red in Kenya for a long long time due to "pro­gress" + not even having a natio­nal lan­guage like Kis­wa­hi­li. But so what? Does _unity_ depend on government decisions?
(on a ligh­ter note: I take it that I am the only one out the­re who may call hims­elf a "Kikuyu" the­se days :-)