Been on the road and had pro­blems get­ting online. An irri­ta­ting situa­ti­on as I wan­ted to stay infor­med on the news from Kenya.
486 lives lost (accord­ing to offi­cial figu­res) due to such unne­cessa­ry, avo­ida­ble and stu­pid riots. An uncoun­ta­ble num­ber of cau­s­al­ties and dis­pla­ced per­sons, a nati­on in shock — not becau­se of riots which ever­yo­ne more or less anti­ci­pa­ted at one point, but becau­se of a con­flict that — accord­ing to the inter­na­tio­nal media — boi­led down to a tri­ba­listic rea­so­ning and the clear fail­u­re of the so-cal­led "lea­ders". And tho­se who did actual­ly con­tri­bu­te to the con­ver­sa­ti­ons had to rely on citi­zen media as the offi­cial broad­cas­ters were muzzled.
Anyo­ne remem­bers the floo­ds in Garis­sa in Nov 2006? It took the GoK at least three days to send the local poli­ce heli­co­p­ter to save some lost kids from trees (who had stay­ed the­re for three days without any food or water). While floo­ds are tem­pora­ry, a government that has chea­ted its own peop­le will stay for good.
I had drea­med about Kenya during the­se days, had to think of my friends and loved ones who are struggling hard to make a living in an envi­ron­ment whe­re the Government will only inter­vene when busi­ness is at stake.
I am so gra­te­ful for the various blog­gers out the­re who took their time and money to keep us — ever­yo­ne — up to date on wha­t's going on in Kenya. We did­n't have Blog Awards for the Ken­y­an blo­gos­phe­re in 2007, but may­be we should just give them to tho­se who con­tri­bu­t­ed con­tent during the Ken­y­an elec­tions 2007.
Also, I com­ment Ory on her work as she lets others speak up and posts their very own sto­ries. Glo­bal Voices taken to ano­t­her level. I say: if you'­re inte­res­ted in Kenya as a coun­try and have some­thing to share, go ahead, come up with a blog, com­ment on other blogs and con­tri­bu­te to the ongo­ing con­ver­sa­ti­ons. Peop­le are con­nec­ted in 2008, even via mobi­le pho­nes, and the ban on live coverage does not help to end any con­flicts. We can­not rely on "lea­ders" to come up with a top-down approach to imple­ment any peace approa­ches. This is why I am so con­vin­ced of the power of the­se online tools.
Oh and btw: a Hap­py New Year to ever­yo­ne! 2008. What a start.
AOB:
UNITED Ole Maa­sai. UNITED!!!
Been to this (gre­at!) Ken­y­an bar right here in Frank­furt on Sato evening. My wife Ische has never been to Kenya befo­re, so I wan­ted to intro­du­ce her to some important things she needs to be awa­re of. Sort of a "soft start", if you like.
1. loud music (even if the­re's no one dancing)
2. peop­le orde­ring more than one bot­t­le of beer
3. Ken­y­an hospitality.
Ver­dict: she likes it A LOT and even lik­ed the beer…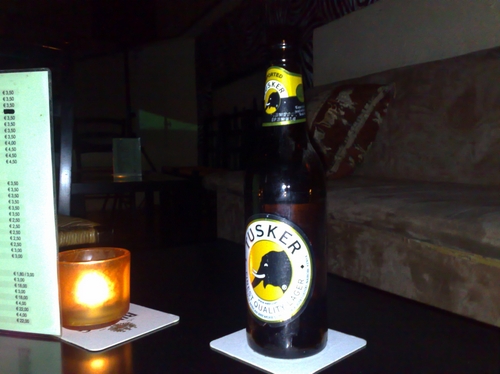 I felt a bit irri­ta­ted, nip­ping on a Ken­y­an beer in a Ken­y­an bar while peop­le are dying at the same time back home. This is also why I am a bit lost for words the­se days as I am struggling to adjust to this world. The­re's so much more even words could­n't descri­be — and I just couldnt stop thin­king about this old, worn-out pro­verb that once again pro­ved to be so true:
"When ele­phants fight, the grass gets hurt."
Quo­te of the day:
Befo­re the elec­tions, the majo­ri­ty of Ken­yans were in an upbeat mood, expec­ting their par­ties to clinch vic­to­ry, but the vio­lence that bro­ke out after the announ­ce­ment of the pre­si­den­ti­al result has ter­ri­b­ly ero­ded our demo­cra­tic gains, says Tho­mas Odhiam­bo. He now wis­hes that Pre­si­dent Kibaki could reac­ti­va­te the SMS num­ber he had adver­ti­sed for voters to use to dis­cuss issu­es with him during the cam­pai­gn peri­od. "I would have infor­med him that many of us are suf­fe­ring, having fled our homes due to vio­lence," says Tho­mas. (src, reg needeed)