"If blogging is your strength, then do that", sista Kui told me some minutes ago. I told her about a message I had received this morning at 6 am which really disturbed me, and also relieved me to some extend. And that I would want to blog on it no matter what.
It's about my father. My mum informed me this morning that my father had peacefully stopped breathing at about 3 am after a long illness we call Alzheimer's disease.
"How are you feeling?", people started asking me. Well, how am I supposed to feel? I don't know. I know there is something inside that wants to break free and cry, and I feel this urge inside to put these emotions into words because that's my way of expressing my feelings. It feels like there are a thousand words that describe the situation, and at the same time there is nothing left to say.
But I didn't come here to tell you about my grief. I came here to tell you about a wonderful and positive experience I had this evening.
Right now I am staying at a friend's place who's running a children orphanage. Since everyone was kinda busy tonight, I was asked to take care of a little boy for a few hours. His 16year old mother had tried to abort him 2,5 years ago, and together with her mother and grandmother, they tried to get rid of him in a pit latrine after he had refused to die right after the abortion.
This very same boy is now very healthy and very smart. His joyful smile and vital way of learning new things showed me once again what life is all about. And it helped me a lot to let go and welcome new life. For me, meeting this young man showed me that I am the adult now, the 31year old dude who needs to get his own family and keep that life thing going. And I liked it. I am ready for it.
These days when life does strange things with you while you're busy making other plans, it is good to close each day with a smile on your face and accept those things you can not change with some easiness that is driven by content from within.
—
Also, the older I become, I realize how much I resemble my father: his passion for arts, music, literature, antiques and other things. Heck, some of his older friends even tell me how much I look like him!
You see, he was about my age when he took up his first assignment in India in the mid 1960s as a German language teacher. Moving from Germany down to a chaotic New Delhi meant a lot during those days, but he somehow managed it, and it also shaped him in many ways. Some of his students are still keeping contact with us after all these years!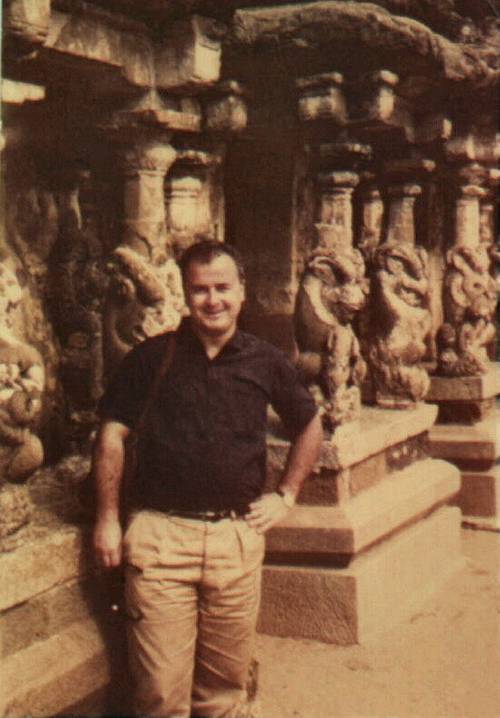 my father somewhere in India, 1966
And just like him, I decided to give up all these securities in Germany and move to Kenya with an uncertain future, taking into account that my father might die when I am abroad. It is this place here at this distance which allowed me to eventually think about a lot of things that happened in the past, how we used to take care of him and how he loved me and my sister, and especially my mum.
It is the distance between him and us due to this shitty Alzheimer's disease that taught us a lot of things about family, love and being there for each other.
How am I supposed to feel grief inside if I keep on being remembered of the good things that came along with all this? Instead, it is this happiness inside that gives me the strength to keep on doing my thing in a way which somehow resembles his.
—
Talking about death, there's one more thing I would like to mention: I told you about this funeral I'd been attending late last year somewhere in Mwingi district. During those 3 hours of a funeral service in a language I didn't understand, where me and my colleagues where the guests of honour, I eventually realized the role death plays and how a funeral is regarded to be part of the culture here. At times when lots of people are dying before their age due to AIDS and other diseases, people have started to accept it being a part of their life. Contrary to a funeral in Germany, where everyone is dressed in dark clothes and just silent, this funeral in Mwingi included a choir singing warm songs and thus giving me, the outsider, an understanding of what this is all about. It made me realize that I am very much ready to accept these things and that I may just trust in my faith.
When I am going back to Germany now to attend his funeral and eventually finish my studies soon, I will try to export some of these spirits and remember how I was welcomed to this place I always considered my second home.
And to be honest, I have no idea when I will able to return and what this new year which has just started will have to offer. But at least I am not afraid anymore, and that's a damn good feeling.