At Nakumatt Likoni (in Mombasa) the chocolate is stored in the fridge. A great idea!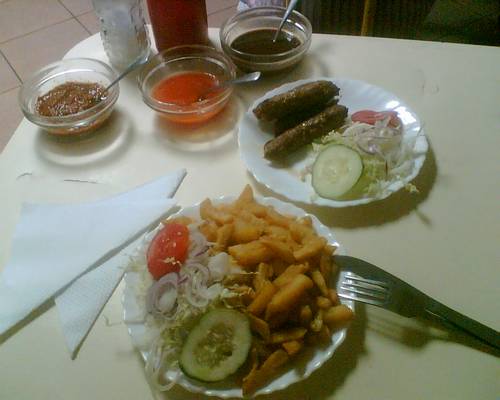 Mombasa: Crispy chips, spicy beef kebap, lots of salads and 5 sauces to choose from.
Mandazi & other sweets as sold on Mombasa streets. I also tried some delicious Swahili Pizza (egg + minced meat) for 50/= as well as Kabibi, those rice cakes.
The Coast Region really is a culinary delight.
Back in Embu I was welcomed by oily, half-fried chips. Hmmm.
You see, I met my butcher yesterday and he asked me why I had never come back to his shop. I told him straight away that his meat tasted like OMO and that I would just LOVE to see at least ONE person in this Githeri/Mataahaaa-infested rural town to come up with the smart idea of running a Nyama Choma joint where beef kebap is sold. Those beef cubes / shashlik skewered on a stick. I am sure ppl would buy and love it. Also because those sticks don't take too long on a grill as mbuzi choma normally takes about 45 minutes or even longer. My butcher liked the idea but of course doesn't have the funds to start his own Nyama Choma joint.